*This post may contain affiliate links, which means we may receive a small commission, at no additional cost to you, if you make a purchase through a link. Thank You! We really appreciate it!*
The Algarve is well-known for having some of Portugal's most gorgeous beaches. This region has a wide range of beaches, which covers the entirety of southern Portugal.
Everything from secluded coves to long stretches of dune-backed beach can be found in the area.
There's also the unadulterated energy of the Atlantic coast, where surf locations and stunning inlets beckon wave riders, cliff walkers, and other adventure enthusiasts.
Astounding beaches and gorgeous scenery fill the Algarve, which is home to some of the longest beaches. When visiting the Algarve, finding the best beaches might be a challenge.
The best beaches in the Algarve are included here, along with helpful information and insider tips so you can make the most of your stay there.
With that in mind, let's dive right into the must-visit beaches in the Algarve!
Sao Rafael Beach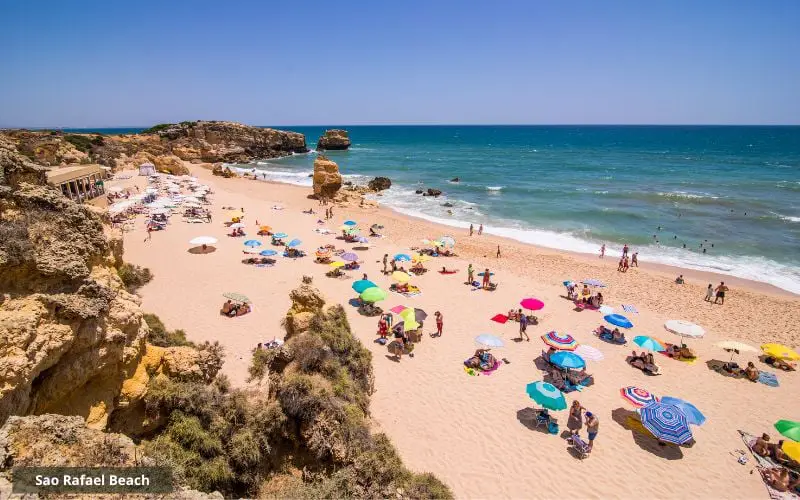 Sao Rafael, with its crystal clear, shallow seas and silky soft golden sand, is one of the most beautiful beaches in the Albufeira area. Just far enough away from the resort town to avoid overcrowding but close enough to be accessible.
Sao Rafael is evocative of many of the Algarve's beaches because it is situated in a picturesque cove and is surrounded by towering ochre-colored limestone cliffs.
The wind and waves have sculpted a variety of fascinating rock formations along the shoreline for thousands of years.
There are numerous grottoes and caverns to discover as well. As far as snorkeling on the Algarve goes, you can't do much better than in this area.
Porto Mós Beach
During the summer, the beach might become crowded. Porto Mos beach is less crowded than other Lagos beaches due to its location. This is the beach's best feature, and it serves to set Porto de Mós apart from Lagos's more crowded beaches.
The cliffs around the beach provide a fantastic perspective of Praia de Porto de Mós. From these cliffs, you can trek all the way to Ponta da Piedade's lighthouse. This walk is highly recommended since it offers breathtaking views of the Lagos coast.
There is also a hiking track to the west. This trail leads to Atalaia, a great lookout spot. The entire coastline up to Sagres is visible from here, as is the village of Luz.
Praia de Porto de Mós is a great place to take a stroll along the beach because of its vastness. It takes about 20 to 30 minutes to walk the entire length of the beach.
A walk along the beach at Praia de Porto de Mós will provide you with even more serenity. No doubt it's a great place to escape from the crowd!
Beliche Beach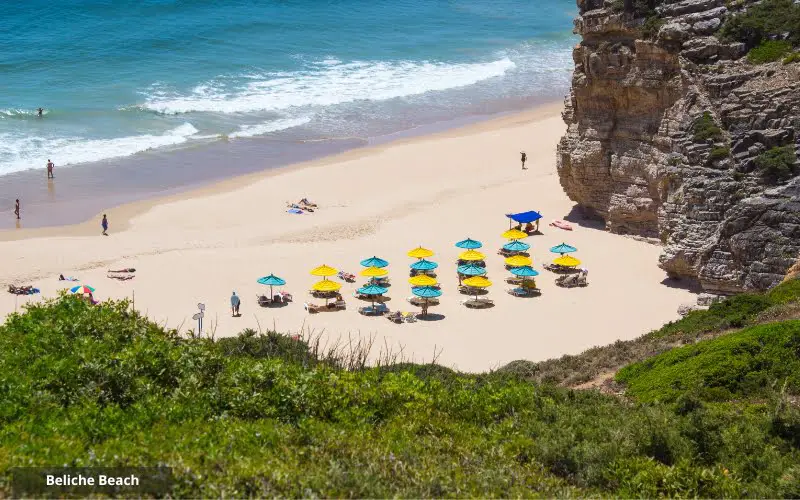 Beliche is protected from the prevailing winds by Sagres Point and Cape St. Vincent, which form a broad harbor around it.
It looks to have been excavated from the rocky outcroppings, and the only way to get to it is by descending a massive stairwell.
There are several layers and fissures, tunnels, and the remnants of large rockfalls in the sheer limestone cliffs that you can see as you make your way down.
The variety of rock formations carved by erosion will surprise you again when you reach the sand.
Beliche Beach sits at the center of the Sagres Biogenetic Reserve because of the importance of the coastal plant communities.
Some of these indigenous species have colonized the limestone pavements on the cliffs, which you can see.
This is a popular beach for both surfing and bodyboarding because it is protected from the north wind.
Estudantes Beach
Estudantes Beach is a tiny beach area. Praia dos Estudantes literalmente means "Student Beach." This beach is also known as Praia da Formosa, and it is nestled among rocky formations.
Despite its "Student Beach" title, this popular destination attracts visitors of all ages. However, due to its small size, it can quickly become congested.
There is nothing to do here unless it is a great place to sunbathe and enjoy the sea scenery.
Because the beach is so close to Lagos, it is ideal for a quick visit when you are passing through. There is a beautiful man-made arch connecting one of the rocks to the mainland there.
Marinha Beach
Marinha is a lovely beach close to Lagoa. According to Lonely Planet, it is CNN's favorite beach in the Algarve. It is regarded as one of the world's most beautiful beaches.
Marinha is a popular tourist destination in the Algarve. The beach is even more beautiful in person than it seems in photographs.
It is one of Portugal's most beautiful beaches and one of the best things to do in the Algarve.
It's easy to lose a whole day at Marinha Beach if you desire. Praia da Marinha's sand is soft, and the beach is well-kept.
The sea is usually quiet, but occasionally, the waves can get a little higher (but not too high). Because of the adjacent cliffs, it isn't as windy here.
Bring sunscreen with you if you intend to be outdoors for any amount of time.
Cacela Velha Beach
Cacela Velha is a beautiful beach located in the town of Vila Real de Santo António. This beach has gained a cult following for its stunning sunsets and dreamlike surroundings.
This is one of the nicest beaches in the Algarve, in our view, and we aren't the only ones who feel this way.
In terms of beach length, Cacela Praia is a long one. It is approximately 1,7 kilometers long. A broader beach can be found eastward, whereas a smaller beach can be found westward.
A Praia do Sítio da Fábrica is another name for the beach. Praia da Manta Rota is to the west, while Praia de Cacela Velha is to the south.
You could walk from Cacela Velha to Praia de Santo António if you wanted.
Balanca Beach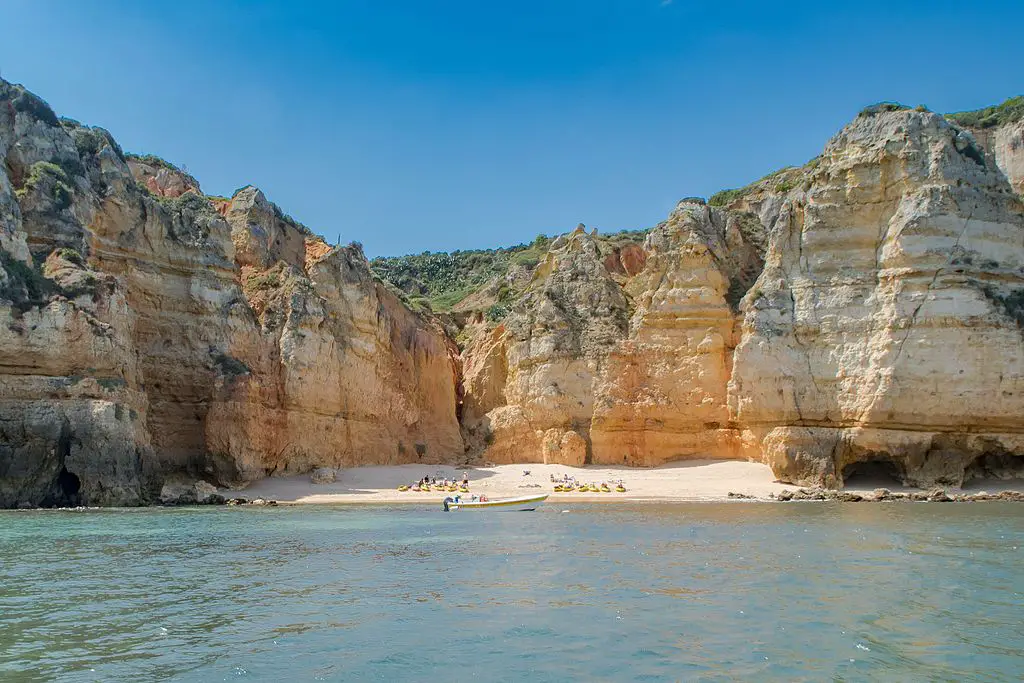 Credit: Dronepicr (Wikimedia Commons)
The beach in Praia da Balança is tough to get to. Because the cliffs are so steep, you probably won't be able to see the beach from the cliffs.
Kayaking is the most acceptable method of getting access to the beach. Arriving at the beach is a gift in itself. It's a gorgeous, secluded beach that's completely deserted. Take a deep breath and relish the serenity.
Spectacular vistas of cliffs stand out at Balança. Dwarf fan palms and other Mediterranean flora can be seen on a few of the walking pathways.
At Praia da Balana, you can view the incredible results of erosion in the form of numerous rocky ledges, arches, caverns, and sinkholes, among other things.
To see the rock formations from the water, launch a boat from the adjacent lighthouse at Ponta da Piedade.
Accessing the beach here without taking the risk of falling is difficult. This means that unless you have your own boat, you're better off just admiring the beach from afar!