*This post may contain affiliate links, which means we may receive a small commission, at no additional cost to you, if you make a purchase through a link. Thank You! We really appreciate it!*
Switzerland is a landlocked country in Central Europe with a population of over 8 million people. It is bordered by France, Italy, Austria, and Germany. The Swiss Alps cover nearly two-thirds of the country and are home to some of Europe's highest peaks.
Bern's capital city is located in the western part of the country, while Zurich and Geneva are situated in the central and eastern regions. Switzerland is known for its Alpine scenery, watchmaking industry, chocolate production, and banking sector.
Christmas is a time for celebration and spending time with loved ones. Switzerland is the perfect destination if you're looking for a beautiful and festive place to celebrate Christmas. Many charming villages and towns in Switzerland make for a magical.
Gruyères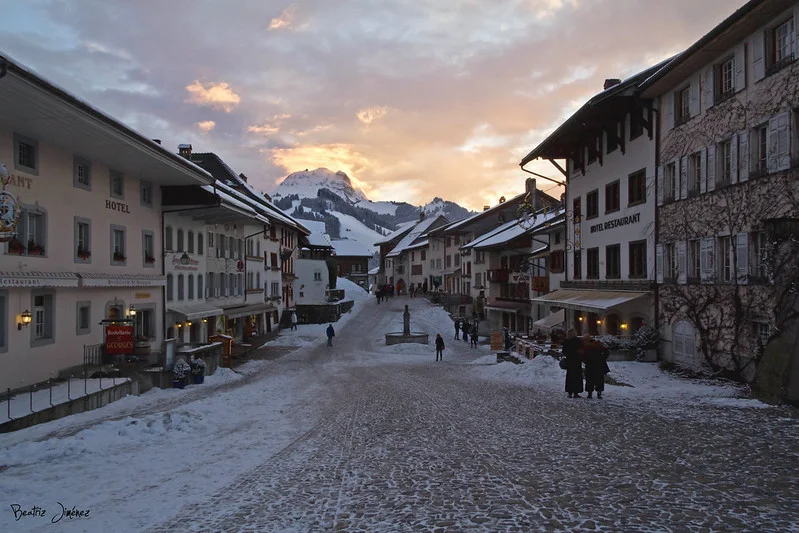 Credit: Beatriz Jiménez
There are many reasons to visit Gruyères, Switzerland. First of all, the scenery is breathtaking. The town is nestled in the Alps and surrounded by forests and meadows.
In addition, the area has several well-preserved medieval castles, including the Château de Gruyères, which are open to visitors. It is also home to several museums, art galleries, and delicious local cheese.
Besides, no visit to Gruyères would be complete without taking a trip on the famous Swiss chocolate train. With so much to see and do, it's no wonder this beautiful town is one of Switzerland's most popular tourist destinations.
If you're looking for a festive and picturesque European Christmas destination, look no further than Gruyères, Switzerland. Situated in the foothills of the Alps, Gruyères is a medieval town with a fairytale charm. Gruyeres host one of the largest Christmas markets, making it one of the best places to spend Christmas.
The streets are lined with quaint shops and cafes, and the air is filled with the scent of fresh baked gingerbread and roasting chestnuts. At night, the town is illuminated by thousands of twinkling lights, creating a truly magical atmosphere.
Montreux
Credit: Olivier Bruchez
Montreux city is located on the shores of Lake Geneva, making it a popular destination for those who love the outdoors. The mild climate and picturesque setting make an ideal place to relax and enjoy the area's natural beauty.
Montreux is home to many cultural attractions, including the Chateau de Chillon, a medieval castle that is one of the most popular tourist destinations in Switzerland.
One of the best things about Montreux during Christmas is the festive events. Of course, the traditional biggest Christmas market is full of charming stalls selling handmade gifts and delicious holiday treats. Then there's the lakeside ice rink, where you can skate surrounded by a magical winter wonderland.
If you're looking for something unique, don't miss the "Cabaret Noel" – a festive offer of entertainment for all ages.
So why not add it to your holiday list this year? You're sure to have a merry time!
Lugano
Lugano is a beautiful Ticino Region city that is worth a visit! Situated on the shores of Lake Lugano, the city offers stunning views of the Alps.
There are plenty of things to do, from exploring the old town to taking a cable car up to Monte Brè for panoramic views of the lake and city. Lugano is also a great place for shopping, with various high-end stores and markets selling local produce.
Are you looking for a festive and picturesque setting for your Christmas celebration this year? If so, you may want to consider Lugano, Switzerland. This charming city comes alive with holiday cheer during the winter months.
The streets are lined with twinkling lights, and the air is filled with the scent of cinnamon and pine. You can shop for unique gifts at the local markets, skate on the frozen lake, or take a sleigh ride through the snow-covered countryside. Whatever your plans, you will have a magical Christmas experience in Lugano. 
The Christmas market is set up in the center, and all the main plazas are converted into the Christmas village. Imagine the fun going on during these months. 
Zermatt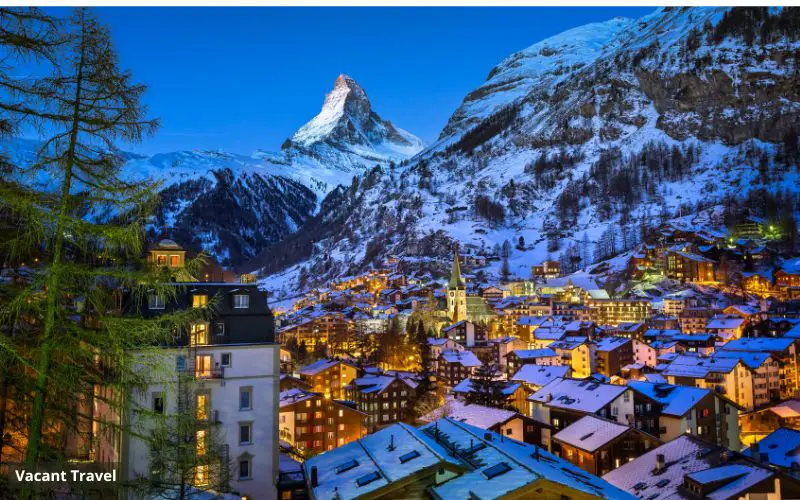 Head to the beautiful Swiss Alps and the quaint village of Zermatt. Nestled at the foot of the Matterhorn, Zermatt is a popular tourist destination all year round. Zermatt is another winter wonderland to spend the dream vacations of Christmas.
But in winter during Christmas, it transforms into an actual fairytale setting, with twinkling lights and snow-capped buildings. There are plenty of activities on offer to keep you entertained during your time, from skiing and snowboarding to dog sledding and ice skating.
If you want to take it easy, you can enjoy the stunning scenery with hot chocolate in hand.
St Moritz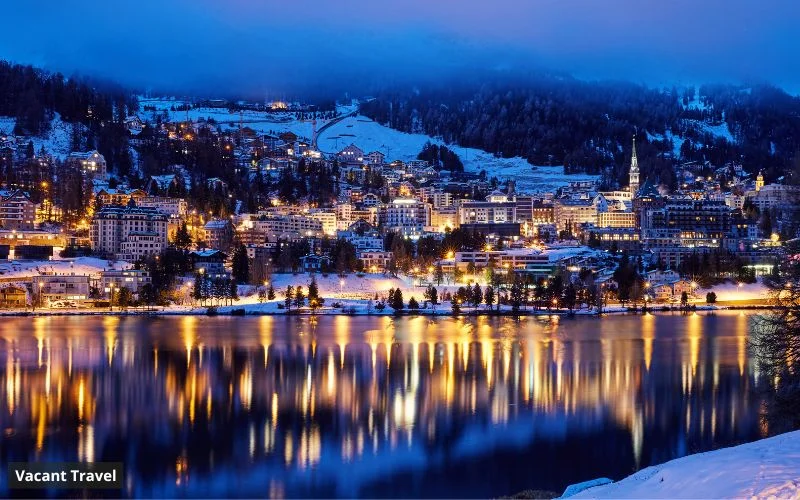 There are many reasons to visit St Moritz, Switzerland. It is a beautiful mountain town with a lot to offer regarding scenery and outdoor activities. Visitors can enjoy skiing and snowboarding in the winter, and there are plenty of hiking and biking trails to explore in the summer.
Additionally, St Moritz is home to many luxury hotels and restaurants, making it an excellent destination for a relaxing vacation. So whether you're looking for a winter wonderland or a summer escape, St Moritz is worth a visit.
If you're looking for a truly magical Christmas experience, there's nowhere better to visit than St Moritz. This chic Alpine resort is renowned for its sparkling snow-covered landscapes and world-class ski slopes.
During the festive season, the town comes alive with decorated shops and Christmas markets selling traditional Swiss goods. You can also enjoy various festive activities, from sleigh rides and ice skating to festive concerts and plays.
Gstaad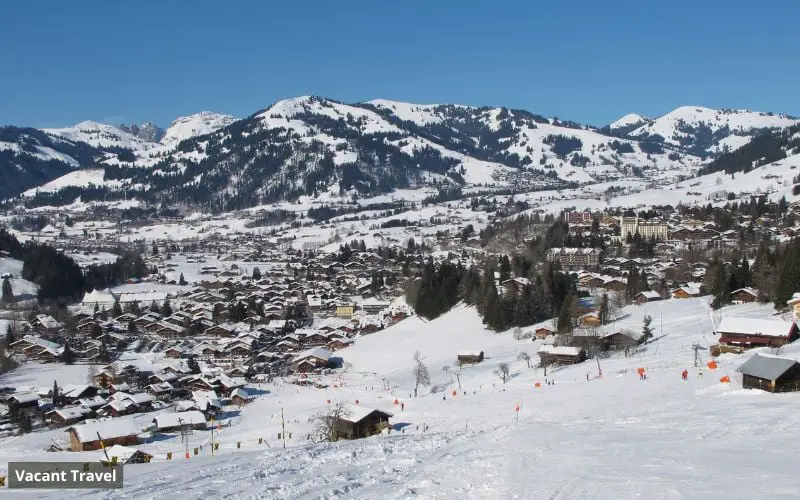 The scenery might be the most compelling of all the reasons to visit Gstaad, Switzerland. Because the town is Nestled in the Alps, the town is surrounded by towering mountains, pristine glaciers, and verdant valleys.
In winter, the area is a mecca for winter activities, with several world-class resorts within proximity. Christmas is a time for family and friends to celebrate the season's joys. And what better place to do that than in a picturesque Alpine village like Gstaad, Switzerland? Nestled in the Bernese Oberland, it is renowned for its pristine ski slopes and luxurious resorts.
But even if you don't ski, there's plenty to enjoy in this winter wonderland. Stroll through the quaint pedestrian-only streets lined with charming shops and cafes. Or take a horse-drawn sleigh ride through the snow-covered countryside.
But Gstaad is also an ideal destination in summer when hikers and mountain bikers can explore the hundreds of miles of trails that wind through the region. And no matter what time of year you visit, you'll find plenty of charming cafes and shops to enjoy in the town.
Stein am Rhein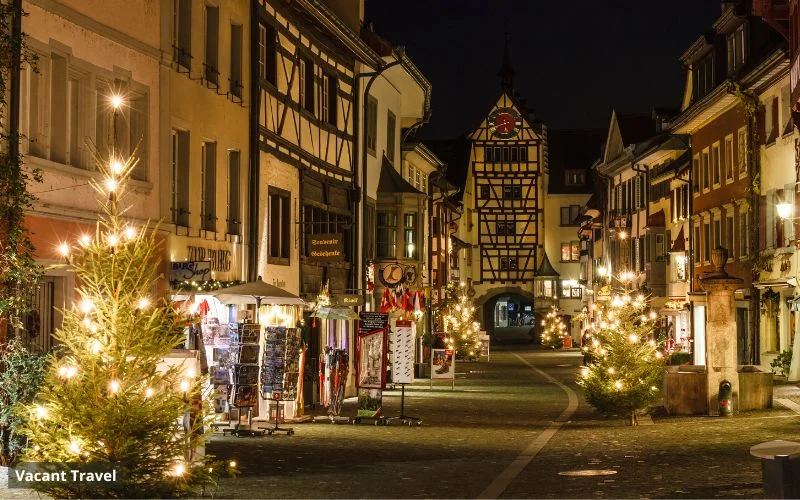 The town is known for its well-preserved medieval architecture, which includes half-timbered houses and colorful frescoes. Visitors during Christmas can also enjoy views of the river and the Alps from the town's stone bridges.
In addition, Stein am Rhein is home to several museums. With its beautiful setting and wealth of history, Stein am Rhein is an ideal destination for a day trip or extended stay.
During Christmas, the streets are lined with decorated stalls selling traditional Swiss goods, and the air is filled with the scent of freshly baked cookies and gingerbread. The town's 12th-century cathedral and castle make for a truly magical setting.
Lucerne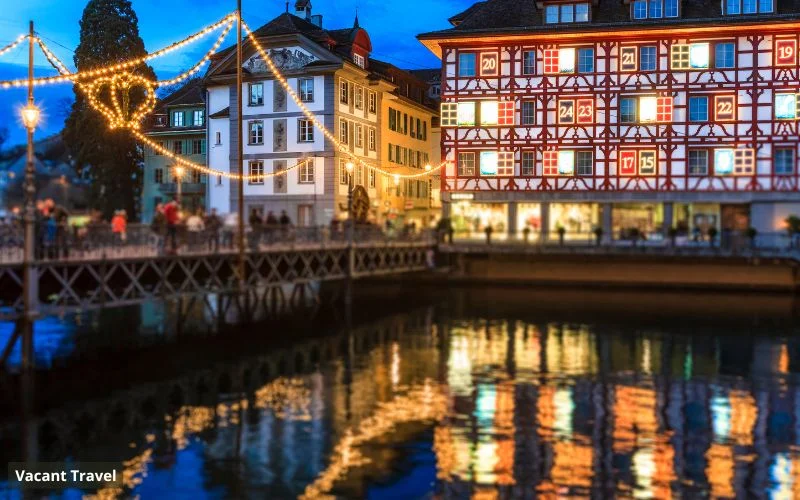 Lucerne, Switzerland, is a beautiful village that comes alive during Christmas. The town is decorated with lights, and there are many activities to enjoy. You can go ice skating, visit the Christmas market, or take a horse-drawn carriage ride.
There are also many restaurants and cafes to enjoy. The perfect place to spend Christmas if you're looking for a festive and romantic place to spend Christmas.
 There is also a giant Christmas tree in the center of the village. The streets are lined with shops selling Christmas gifts and treats. There is also a large ice rink where people can skate.
Grindelwald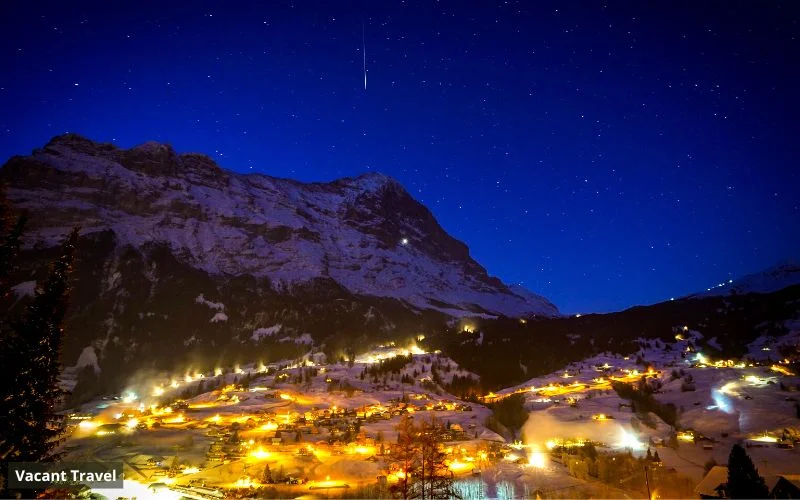 Grindelwald is one of the most beautiful places in Switzerland. It's located in the Bernese Alps and is surrounded by snow-capped mountains. The village is small, but it's very charming.
There are many traditional Swiss buildings, and the Christmas markets are a must-see. The markets have a wide variety of goods, including handmade gifts, Christmas decorations, and delicious food.
There are many activities to do in Grindelwald during Christmas, such as skiing, snowboarding, hiking, and mountain biking. These make your Christmas the best of all if you are a professional in these activities. There are many restaurants in the area where you can go and enjoy delicious food.
Einsiedeln
For many people, Christmas is a time to spend with family, exchange gifts, and enjoy festive meals. But for others, it's a time to travel and explore new places. If you're looking for somewhere special to spend Christmas this year, why not consider Einsiedeln, Switzerland?
Nestled in the foothills of the Alps, Einsiedeln is known for its beautiful Baroque monastery, which hosts a traditional Advent market. The market is the perfect place to find unique gifts, handicrafts, delicious Swiss food, and drink.
If you're lucky enough to be in Einsiedeln on December 25, you can attend mass at the monastery and listen to the world-famous boys' choir.
These towns and villages have to offer everything to make your time here as best as possible. There are many activities to enjoy, such as skiing, skating, shopping in the Christmas market, festivals, and enjoying the delicious food.