*This post may contain affiliate links, which means we may receive a small commission, at no additional cost to you, if you make a purchase through a link. Thank You! We really appreciate it!*
Long Beach, California, is a worth visiting place due to its awesome weather. If you want to spend a day out with your friends or families, parks are one of the interesting attractions to visit in Long Beach.
With so many options you can choose from, we listed the ten best parks in long beach, California, you can consider visiting.
Bluff Park
If you love the ocean view or want to walk and run on the bank of the river with your dog, you must visit Bluff Park. You can take your dog with you as dogs are allowed. The total area of Bluff Park is 13.2 Acres. It is one of the great places of natural attraction, and the sunset view is amazing at Bluff Park.
It consists of restrooms, Paved walking tracks, green spaces, and much more. While visiting Bluff Park with your family, don't forget to capture the Nice Lone Sailor Statue.
People around the world and locals visit this place to enjoy the sea breeze and stunning view of the Pacific Ocean. While many people jog with their pets, you can also join the yoga classes and other recreational activities.
There is nothing to worry about the parking as street parking and a private lot parking facility are available.
Credit: Karl Garske (Wikimedia Commons)
Bixby Park
The park was named Bixby Park after the Jotham Bixby Company donated land in 1948. The Bixby Park is located at 130 Cherry Ave and is spread over 16.7 acres.
The park has a parking facility, a community center, a playground, sports facilities & more. There is some live music and events, a farmers market on Tuesday and Saturday, a skate area for young visitors, and barbeque areas. So there are plenty of things to keep the family entertained.
If you are looking for the best parks on long beach, Bixby is one of the best choices for you and your family. 
Martin Luther King Jr. Park California
If you want to visit the best parks in long beach, California, the third on our list is Martin Luther King Jr. Park. The park is located at 1950 Lemon Ave and has spread over 8.9 acres. It was named after the assassination of Dr. Martin Luther King, Jr. in 1968.
While visiting the park, always update yourself during the visiting hours as the visiting hours may vary for winter, spring, fall, and Sunday. For Spring, Fall, and Winter, the visiting hours are 12 to 6 pm Monday to Friday. While for summer the visiting hours are 12 to 8 pm. You cannot visit the park on Saturday and Sunday as it is closed on weekends.
Martin Luther King Park consists of a community recreation center and different type sorts areas such as tennis and basketball court and a baseball field. If you just love swimming, the park has an outdoor swimming facility. Besides this, the park is a hot spot for all types of recreational kids' activities.
Admiral Kidd Par
Admiral Kidd Park is located at 2125 Santa Fe Ave. Long Beach CA 90810. Spread over an area of 12.3 acres, it acts as an open-source for different types of programming activities. School kids from ages 5 to 12 can take part in different types of recreational activities.
The Admiral Kidd Park consists of different sports areas, such as a soccer field, volleyball, table tennis, and basketball courtrooms. If we look at the park's history, it was used by the armed forces during the Second World war. Besides this, it also consists of a recreational center, kids' play area, and fitness zone.
Admiral Kidd Park is the best place to visit. The timing is 12 to 6 Pm Monday to Friday. Plus, Admiral Kidd Park has a sidewalk mile marker for pedestrians and walking purposes.
Marina Vista Park
Marina Vista Park is spread over 20 Acres area and is located at 5355 E Eliot St, Long Beach, California. The two great soccer fields, lush green grass, and palm trees make it more attractive to visitors.
Besides this, the park has tennis courts and a play area for kids. The kid's recreation area, Picnic area, tables, and benches are available on a large scale. That is the reason it accommodates plenty of visitors.
Hilltop Park, Signal Hill
If you want to enjoy the aerial view of Los Angeles County, there is no best place other than Hilltop Park, Signal Hill. It is located at 2351 Dawson Ave. It gives you the longest ocean view. Besides this, the sightline includes a long beach and out past the ocean.
The park is situated in the middle of Long Beach. A lot of entertainment and recreation facilities are available at the hilltop Park signal Hill. Picnic tables, Barbecue Areas, restrooms, and paved walking paths make it more interesting and worth visiting.
If you just want to enjoy the sunset with your loved one while having ice cream or any other fast food. We suggest visiting Hilltop Park, Signal Hill. Parking facilities, as well as different types of kids' recreation facilities, are available.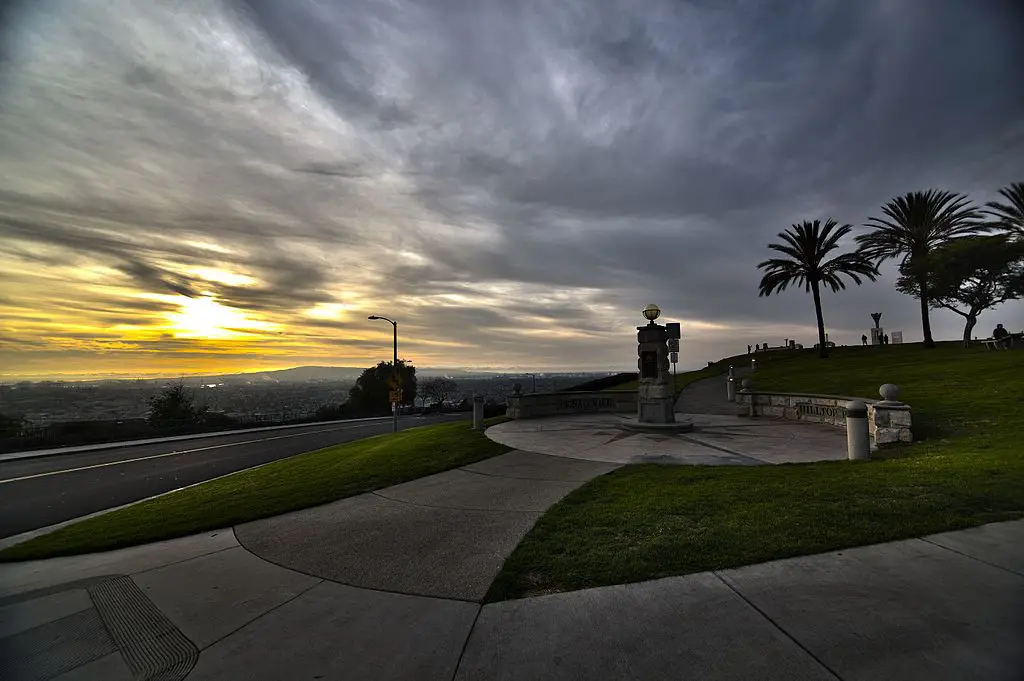 Credit: Dylan Avery (Wikimedia Commons)
Pan American Park
Pan American Park is located in Lakewood Village at 5157 Centralia Avenue & Heather Road. It is spread over 12.5 Acres area. It has different amenities like a soccer field, volleyball, basketball, and tennis courts.
Besides this, there are different other types of kid's recreation centers and restrooms. Different types of adult classes, teen programs, weight lifting programs for adults, and preschool and after-school kid's activities-based programs are available.
Parking lots and setting tables are easily available and are your best choice to visit with family.
---
You May Also Like:
---
Los Cerritos Park
The next on the list of 10 best parks in long beach, California, is Los Cerritos Park. The park is located near the I-405 and I-710 intersection in the north of downtown. It has a tennis court and a large playground of up to 7 acres. Due to the large space, it is a popular home for Long Beach Municipal Band concerts. 
The night lighting facility is available. Besides this, the clean restrooms, tree shades, and kids' play area make it more suitable for people to visit. Los Cerritos Park is accessible via different routes and the visiting hours are flexible. The park is accessible by wheelchair.
If you are looking for an outdoor location for a wedding or any other type of party Los Cerritos Park is another best option for you.
Heartwell Park
If you are looking for an outdoor community recreation area on the long beach, Heartwell Pak is one of the best places to visit. It is one of the largest parks, spread over 158 acres area. Heartwell park is divided and connected with multiple sections of different areas.
Different types of sports facilities are available at Heartwell park. That is why it is a favorite spot for kids and youngsters. You can play tennis, baseball, basketball, football, hockey, and Volleyball in Heartwell park. If you just love to walk or jog. Multiple paths are available.
The lush green trees, ponds, and fountains make it worth visiting. Enjoy the noise of birds and water fountains around the lake while sitting on the mat.
El Dorado Park West
El Dorado Park is located at 2800 Studebaker Road and has an area of more than 275 acres. It consists of Marine Administration offices, community centers, picnic spots, tennis courts, a golf area, and extra space.
Visitors can play roller hockey, baseball, Volley Ball, tennis, and football at the designated areas. The park has multiple reserved picnic sites where you can spend time with your friends and family. Besides, you can enjoy hiking tracks with your pets.
You don't have to worry about the parking, as many parking spaces at El Dorado Park are available.