*This post may contain affiliate links, which means we may receive a small commission, at no additional cost to you, if you make a purchase through a link. Thank You! We really appreciate it!*
The Maldives and Bora Bora are among the most popular honeymoon destinations. They are the dream of every couple, and these two spots have a lot of similarities, such as islands comprising of golden sand and blue waters. The beaches are more beautiful than the ones you see in ads and magazines.
Couples are usually confused when narrowing their options to one of the two, and we know how hard it can be because both places are worth going to. You can have the best time of your life while having a honeymoon on their beaches and islands and staying in fancy and luxury hotels.
But before that, you've to make a tough decision to decide between one and fortunately we have rectified your problem by comparing these two beautiful places so you can choose between the Maldives and Bora Bora on your own.
What to Know About Bora Bora?
Bora-Bora, like the Maldives, is also made up of multiple small islands where you can spend your vacation on the beaches and their resort. It is more beautiful than the beaches and islands you see in pictures.
The best time to visit is summer, as the summer season is dry. Avoid visiting the island in winter because it rains most of the time, and there is no time to enjoy outside. You can have luxurious stays at the water bungalows but keep in mind that they're not muchly affordable, and you should stay there only if you have a reasonable budget.
Bora Bora must be seen both on land and at sea. Although it is a small island, there is enough to see and do, such as snorkeling. Take a 44-mile round island tour to learn about the island's history and culture, and then schedule a lagoon snorkeling excursion to explore the lagoon's natural beauty and purity.
What to Know About The Maldives?
The Maldives is a country that consists of 1200 Islands and is a perfect spot for a honeymoon. Before traveling to the Maldives, there are some things you should know about this beautiful island so you can have a perfect vacation in the Maldives.
The official religion is Islam, and according to their state laws, you can't bring Alcohol, and if you bring it, it will get confiscated, so we suggest you not bring them along with you to avoid any problems.
The best time to visit is winter, as the weather is dry in winter; otherwise, you will spend your whole honeymoon in the monsoon rains. The best places to visit are their beaches, and you can rent at luxurious prices.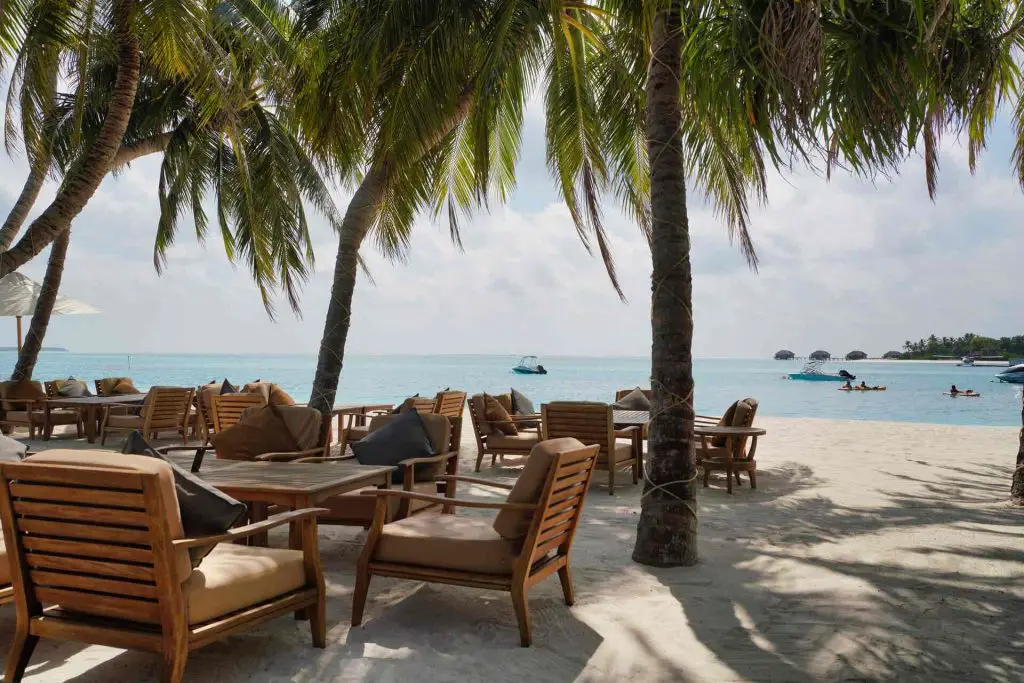 Accommodations
The Maldives and Bora Bora offer luxury resorts on the water bungalows where you and your partner can spend the most beautiful days of your life. The Bora has a few of these luxury resorts you can stay for a memorable vacation with your partner.
You can stay at these water bungalows if budget isn't a problem. Moreover, the options in Bora Bora for these resorts are also limited.
The Maldives is the best option if you want an affordable package with various resorts on the water bungalows. If you want the same luxury at a lower price, definitely give the Maldives ago! It has affordable resorts, and the resorts are somewhat more affordable than the bora-bora.
The fun and luxury in both islands are the same, but the only difference is between the pricing and variety of options.
Accessibility
Accessibility to your destination should also be considered if you or your partner don't like long flight hours. If you are traveling from Europe, then the Maldives is more accessible, and if you're traveling from America or Australia, then Bora Bora is more accessible.
It takes 10-12 hours to reach the Maldives from Europe and up to 24 hours to reach Bora Bora. From the United States, it takes around 11 hours to reach Bora Bora and 27 hours to reach the Maldives; thus, if you want to fly less and enjoy more, consider this factor.
The other factor is that flying to Maldives or Bora doesn't end your traveling period as you may have to travel by boat or any other vehicle to reach your dream destination.
Activities
There are similar activities to do while in Bora Bora or the Maldives. The main goal of having the vacation is that you get the time to enjoy your life to the fullest and have time to relax at the same time Fotunartely these two spots are the perfect combination of two.
You can relax at the luxurious resorts on water gardens and have fun with the activities such as snorkeling and swimming. Bora Bora has a variety of islands which you can visit to have a beach experience and fun activities such as scuba diving and swimming.
Coral Gardens and the Bora Bora Lagoonarium, a natural aquarium where you may interact with local blacktip reef sharks and stingrays in their natural environments, are also good snorkeling places.
If you're not a fan of these water activities, there is no need to worry as you have still left them plenty of options such as fishing and boating. The islands are also an option to explore along with the guide to learn about the history and culture of these beautiful countries.
The Maldives is famous for its beaches, lagoons, and coral life. This is an excellent place for people who like water activities. You can have the most exciting life activity by viewing marine life.
You can do many water activities in the Maldives, such as scuba diving, swimming, snorkeling, and sky diving. Now imagine all these activities with your partner! Sounds exciting?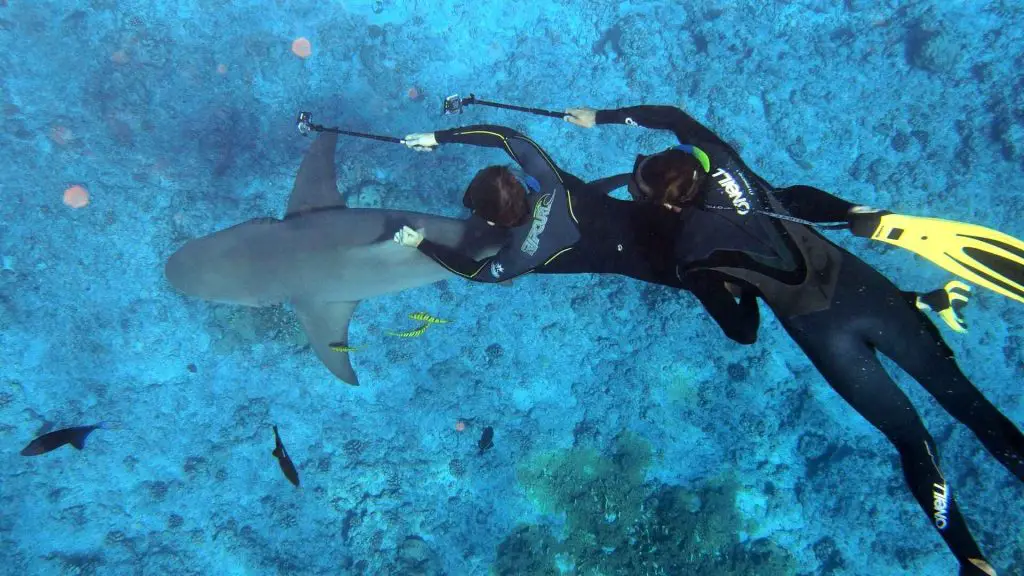 Food
Bora Bora has been a French colony, so there is a lot of influence cuisine on their food, and if you love French cuisines, such as delicious bread and pastries, you can easily find them here. The food you should try in bora-bora is mainly seafood such as Poisson Cru and Bonito.
Nutrient-rich fruits such as bananas and coconut are grown here, and you can eat them by plucking them straight from the trees.
The Maldives, on the other hand, has the Influence of Indian and Asian cuisine so that you can eat a bit different spicy curry-based food. The food you should try while staying at their luxury resort is seafood and curry. Now there are many resorts in the Maldives, and fortunately, you can have a lot of options.
Different resorts have different food options, including the international menu. Still, we suggest you try their local food to know more about their cultural food instead of the traditional food we can eat in our country too!
Beaches
Both are famous for their beaches, and these beaches are why they have become the most popular honeymoon destinations. The beaches comprise golden sand and blue turquoise water, and breathtaking wind.
There is no comparison between these two beaches because we think that both of them have equally alluring beaches. You can spend your honeymoon here by renting a water bungalow where you and your partner can have the luxury of having some water activities in complete privacy.
Here are some of the beaches to visit in the Maldives:
Kurumba Beach.
Hulhumale Beach.
Biyadhoo Beach.
Beaches to Visit in Bora Bora:
Matira Beach.
Beach at the Conrad Bora Bora Nui.
The beach at the Sofitel Bora Bora Private Island.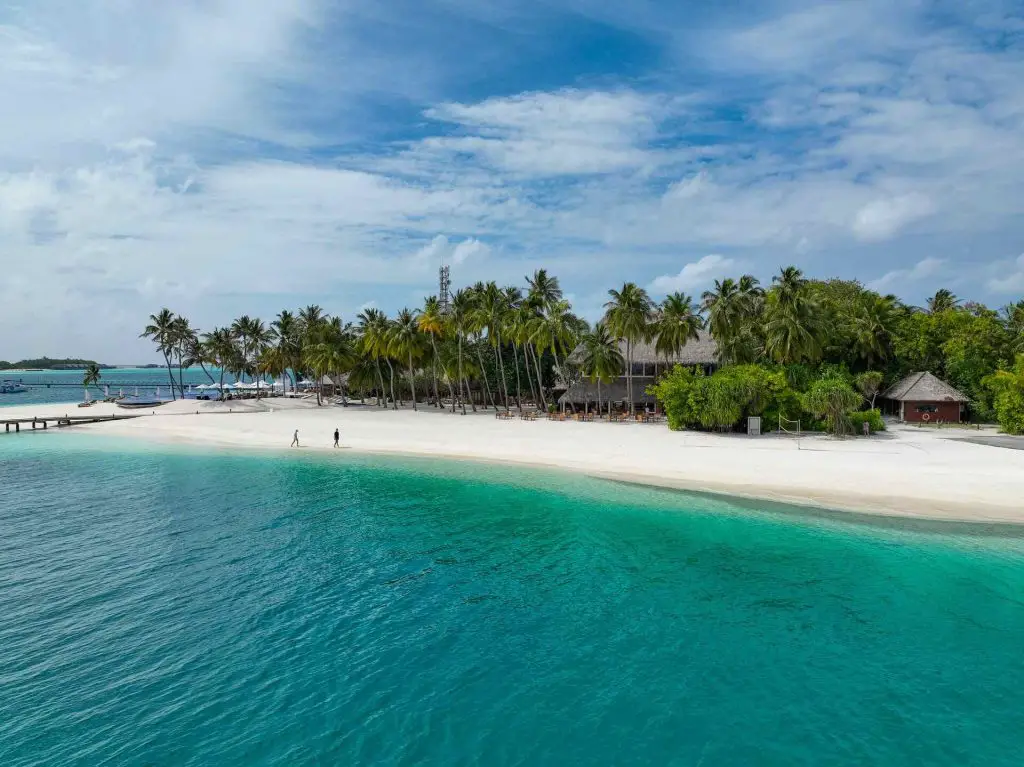 What time is the Best To Visit: Bora Bora vs The Maldives
This factor should also be considered to planning your marriage and honeymoon. Let's talk about the Bora Bora first. The average temperature in bora-bora is 70-80F, and the best time to visit is from April to November because it is the time when there is maximum sunshine and minimum rainfall.
Winter is not recommended for visiting because the winter season in Bora Bora is the wettest, and it usually rains all the time. Hence, you get significantly less time to enjoy yourself outside.
If you want to spend your dream honeymoon in Bora Bora, then plan your marriage in the summers and get to your honeymoon place right after the best day.
If you can't plan your wedding in the summer for some reason, there is no worry because you still have the option to visit the Maldives. The Maldives offer almost the same experience as Bora-bora. The Maldives has a monsoon season in the summer, and it mostly rains, canceling all outdoor activities.
The winter is dry, and the best time to visit the Maldives is between December and April. The monsoon starts in May, and there is a high risk that your whole honeymoon gets ruined by the heavy monsoon rains. You can keep Bora Bora for summers and the Maldives for winter.
Conclusion
Ahead head comparison of the Maldives and Bora-Bora shows that both countries are great places to visit. They both have several activities, such as staying in the water gardens and enjoying fun activities like swimming, snorkeling, and scuba diving.
If you're not a fan of water activities, you can explore their popular attractions and islands and the tour guide to learn about the culture and history of these fantastic places. Your food taste also plays a role when deciding between these two places. The Maldives has an Asian influence, while the bora-bora has a French influence in their food.
If you think of these places as a honeymoon place, both are excellent choices as you can have real luxury and privacy.
But from our detailed review of the two places, we think the Maldives is slightly ahead of Bora-bora because of two reasons. It has a variety of resorts that are a little more affordable and luxurious than that of Bora- Bora as well as they are a variety of food options when in the Maldives. However, it's your money. Pick where you want to go and enjoy a vacation with your partner.