*This post may contain affiliate links, which means we may receive a small commission, at no additional cost to you, if you make a purchase through a link. Thank You! We really appreciate it!*
A lot of natural beauty surrounds us that was created a thousand years. One of them is travertine terraces. 
Travertine was formed when geothermal waters precipitated calcium carbonate. The travertine has accumulated over time to produce terraces. This process creates gorgeous rock formations and stepped terraces.
Let's find out ten amazing travertine terraces around the world that you can put on your bucket list.
Plitvice National Park (Croatia)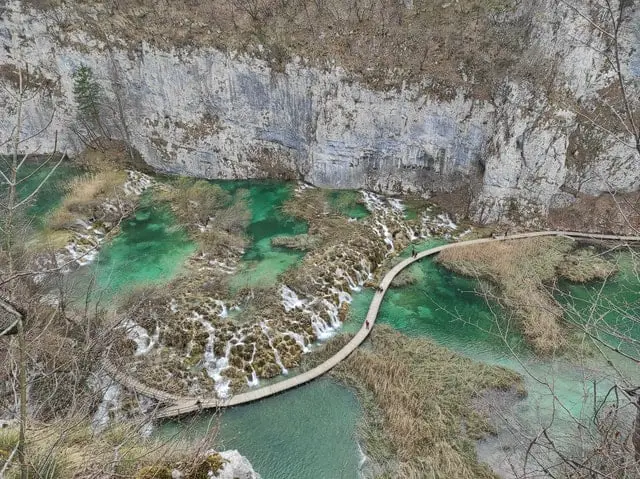 One of the amazing travertine terraces that are worth visiting is the Plitvice National Park. The Park is located in central Croatia and expanded over 297 Sq. Km area. It is one of the oldest and largest National Park in Croatia.
The chain of sixteen terraced lakes attracts visitors of all ages around the world. The photogenic waterfalls, walking trails, and Boardwalks offer the visitors a fantastic view. While the water falling from height takes visitors to another level of enjoyment. Besides Lakes and waterfalls, the Plitvice National Park consists of a series of caves.
Around one million people visit this place. So, if you want to explore something new with your family, it is one of the best places to visit.
Cascate del mulino (Italy)
If you like swimming or want to bathe in natural hot water, there is no best place other than Cascate del Mulino. These springs are located at a distance of a few kilometers from the famous village Saturnia in Italy.
It will give you a fresh look when you bathe with 37.5° C sulfur water. Besides the small warm pools, the area consists of small waterfalls that increase the beauty and visitor involvement to the next level. At the same time, bathing in hot springs feels like bathing in the nature Tub and ultimately gives you a natural feel of heaven.
The access is free. However, you have to make your way through the crowd to reach the springs, pools, and water Falls. And you don't have to worry about the access, and the area is accessible by car. Here is the tip for easy access, just reach early as possible.
Bagni San Filippo (Italy)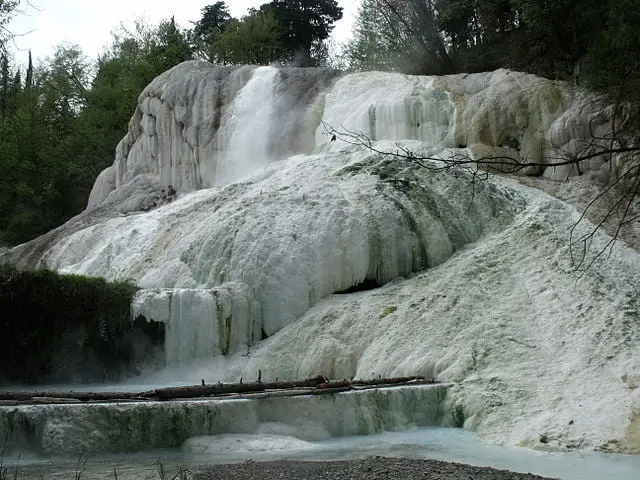 Credit: LigaDue (Wikimedia Commons)
If you are already in Italy and have visited Cascate del Mulino, you cannot skip the Bagni San Filippo. This is also a series of hot springs with calcium carbonate deposits in the Siena Province of Italy.
If you are in search of some wine, you can get the best Wine here that is locally produced. Many visitors visit Bagni San Filippo to get rid of different types of diseases but don't know whether it is true or not. But it was one of the main agendas of many visitors. 
Bagni San Filippo is one of the best places to get a bath with natural hot water. It will give you unforgettable memories while enjoying a long weekend with your family. This is a free entry space. However, you have to pay the parking fee if you park your vehicle on the roadside.
Semuc Champey (Guatemala)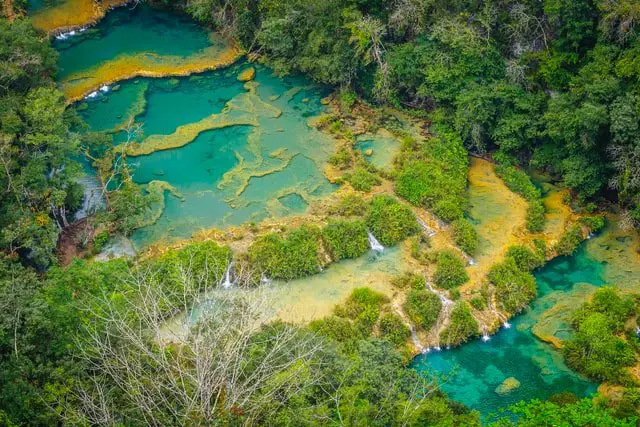 Do you know what Semuc Champey means? It means "where the rivers hide under the earth"? It is one of the famous monuments in Guatemala. It consists of a three-hundred-meters long limestone bridge.
It has incredible natural pools and stunning greeny turquoise clear water. A fantastic place to spend a day to relax, chill and enjoy nature. 
Suppose you are visiting the place for the first time. You might not be able to see the best view. You have to hike for around an hour or fifty minutes towards El Mirador's viewpoint. From there, you will enjoy the best panoramic view of the Semuc Champey. The place has an entry fee of around 6 to 7 dollars. 
A must place to visit when you are traveling to Guatemala.
Badab-e Surt (Iran)
Credit: Ninara (Flickr)
Suppose you are looking for low-cost places to visit. Badab-e Surt is the best and a fantastic Travertine Terraces that are worth visiting. The spot is located in the Mazandaran Province of Iran at a distance of 95 Kilometres from Sari City and located at the height of 6000 feet from sea level.
The history of the Badab-e Surt travertine terraces is thousand years old, where the carbon deposits are converted into travertine terraces. The unique color is due to the higher concentration of Iron Oxide.
The panoramic view is impressive. However, efforts will be required to reach the place. As the journey may consist of a long drive through stretch roads and some travel by foot. 
Egerszalok (Hungary)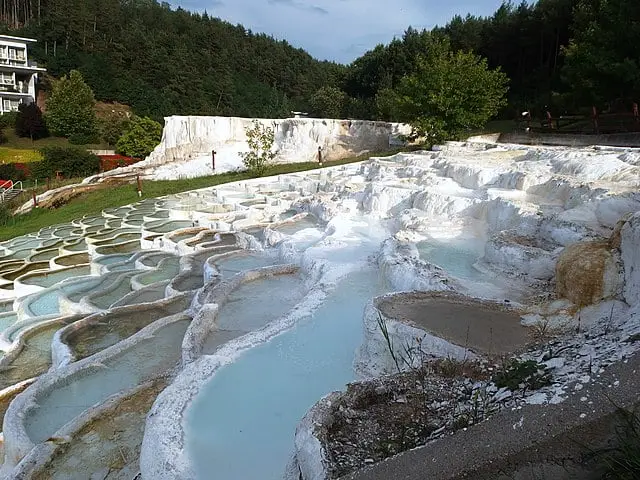 Credit: Palickap (Wikimedia Commons)
The spot is located in northeastern Hungary. Sometimes it is referred to as the valley of medicinal water and salt hills. Egerszalok salt mountains are created due to the thermal rising of water. These are over 27000 years old, and the area is about 1200 Sq. Meters.
Most of the visitors visit this spot to get a bath in the hot spring water, which is very rich in minerals. Thousands of visitors suffering from joint & rheumatic ailments visit this place. The water bubbles up from more than a thousand feet under the ground. 
Walking on foot will enable you to watch the panoramic view of orange & blue-toned white limestone steps.
White Water Terraces (China)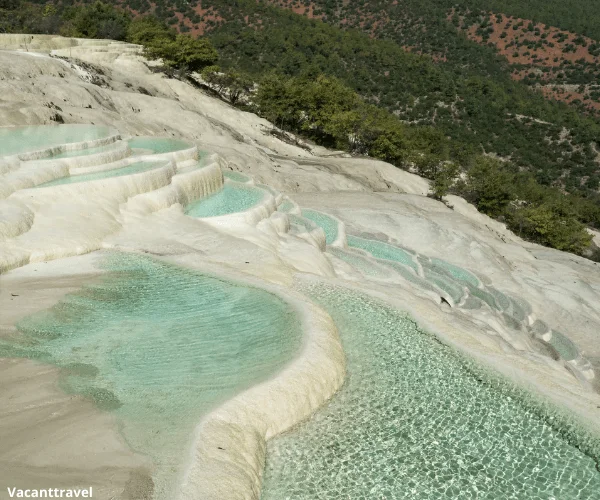 White Water Terraces (called Baishuitai in Chinese) is a tourist attraction located 106 KM from Shangri-la County. Also known as "China's Pamukkale" because these natural mineral terraces look like Pamukkale, one of the most popular attractions in Turkey. The history of Baishuitai White Water Terraces is thousands of years old. 
The spring water falling over the mountains has converted the area into beautiful terraces due to mineral deposits for years. To see the panoramic view, you have to move over the top. There are two ways to reach the spot, either using your own convince or visiting through a local bus.
Huanglong (China)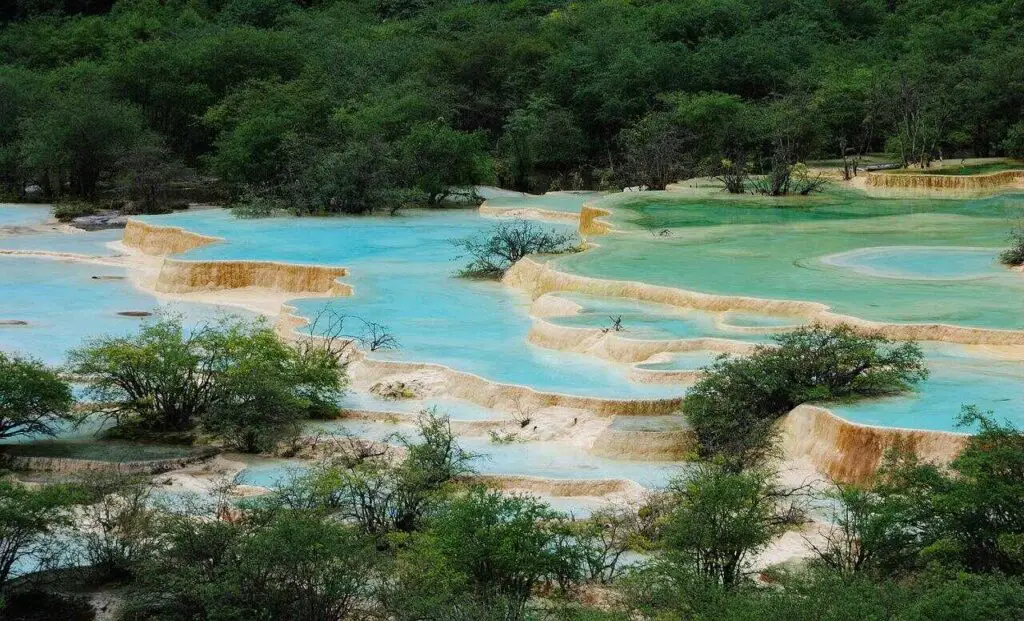 Huang Long is another UNESCO-approved heritage site famous for its fantastic Travertine Terraces. The spot is located in Song pan County, Ngawa (Aba) Tibetan, in the northwest part of Sichuan, China.
The thick forest, snow-covered mountain peaks, and beautiful colored lakes attract hundreds of thousands of tourists each year. The spot is also called World Wonder" & "Fairy Land on Earth.". Like other travertine terraces, the Huanglong terraces came into existence due to the mineral deposition of calcium carbonate in the water. In contrast, the process continued for thousands of years, which resulted in beautiful lakes.
The crystal-clear water at the lake and impressive waterfalls create a scenic view. And delight thousands of tourists. Besides this, you can also visit the Wishing Cave, located at a distance of 1.3 KM from Fuyuan Bridge.
Mammoth Hot Springs (United States)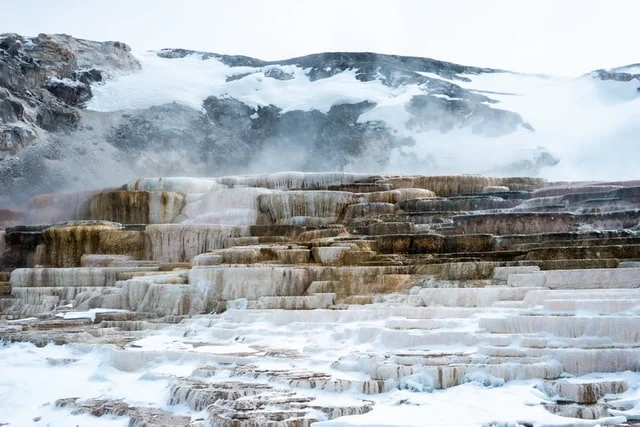 The Mammoth Hot Springs are located in Yellowstone National Park.  It consists of two terraces, the upper and the lower. The area is accessible by car and has a large space for parking. To get a better view, you have to either move to the height for half-hour.
What differentiates the Mammoth hot Spring Travertine terraces from other countries is their color. The Mammoth Hot Spring terraces vary in color, i.e., white pristine, pink, and dark red. The boardwalk length is up to 1.75 miles, connecting both upper and lower terraces.
Besides Mammoth Hot springs, there are other places you should keep on your visit list: Boiling River and hiking Bunsen Peak.
Pamukkale (Turkey)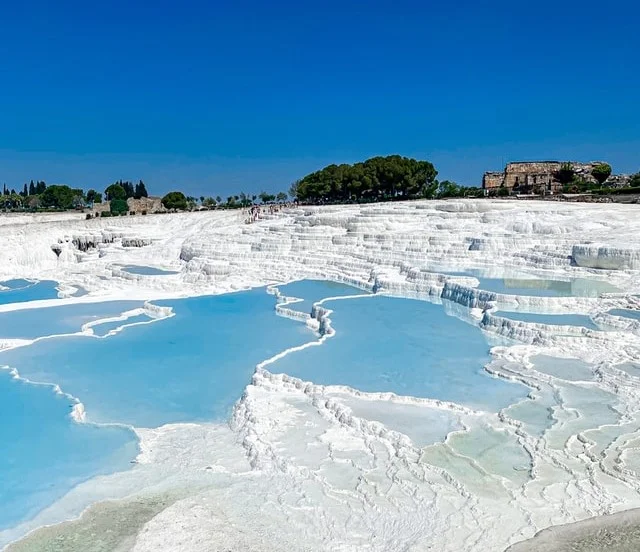 If you visit Turkey and don't visit Pamukkale, it means you have wasted your money. Pamukkale is a fantastic Travertine Terraces that are worth visiting. Pamukkale means Cotton Castle in Turkish. The adventurous site is located in the Denizli province of southwestern Turkey.
Like others, the Travertine Terraces of Pamukkale are also famous for healing. This is because the hot springs are usually concentrated with minerals such as calcium carbonate, etc. The spot has multiple thermal pools, where visitors get a bath with hot spring water.
If you are planning to visit Pamukkale, July is the best month. Besides the travertine terraces, we advise you to visit the ruins in the nearby area. To avoid crowds, you should go as early as possible. There is no place to store your belonging. Also, you cannot take your shoes to the pools.