*This post may contain affiliate links, which means we may receive a small commission, at no additional cost to you, if you make a purchase through a link. Thank You! We really appreciate it!*
Yellowstone is one of America's most well-known national parks. Located in the western United States consists of three states: Wyoming, Idaho, and Montana. Most of the national park area is in Wyoming.
This National Park was established on March 01, 1872, and became the oldest national park in the United States.
Yellowstone National park is probably the best-known national park in the United States. It attracts millions of people annually. This park was listed as UNESCO World Heritage Site in 1978.
It covers 8,983 square kilometers and includes lakes, canyons, rivers, and mountain ranges.
If you plan to visit Yellowstone National Park, we list the 12 amazing attractions in Yellowstone National Park for your reference.
Roosevelt Arch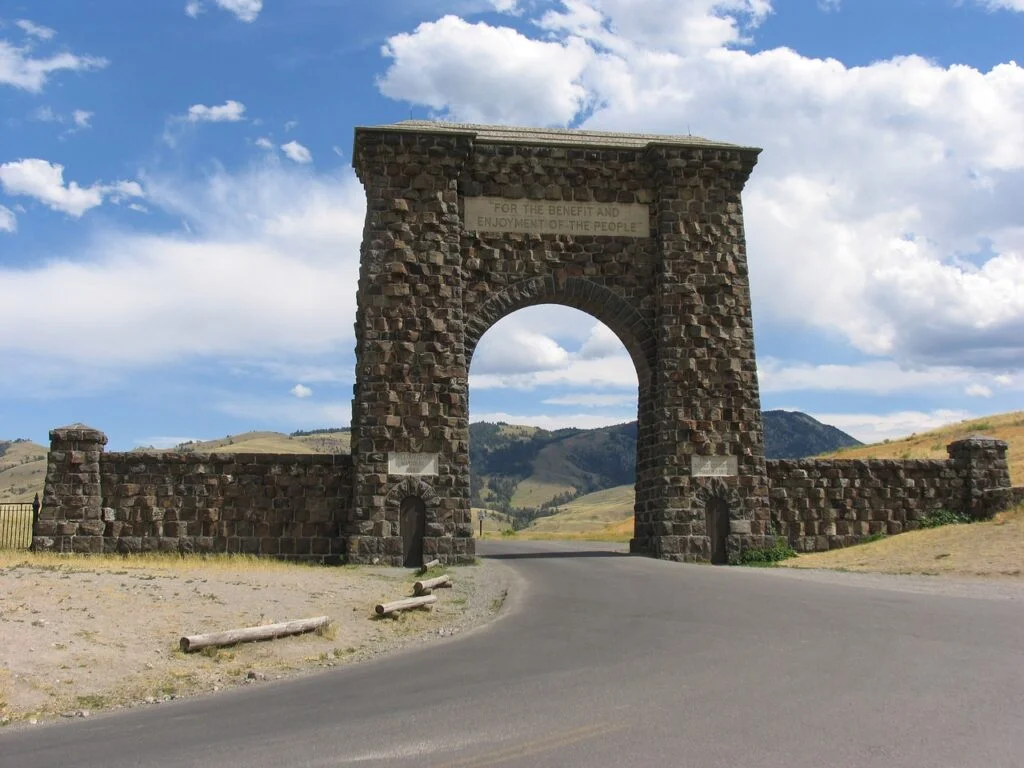 The Roosevelt Arch is one of the most iconic landmarks, located at the North Entrance of Yellowstone National Park.
You can see the phrase "For the Benefit and Enjoyment of the People" written on Arch's plaque.
Completed in 1903, The Roosevelt Arch has their own unique story. It's worth stopping for a quick visit and taking some good pictures.
Artists Paintpots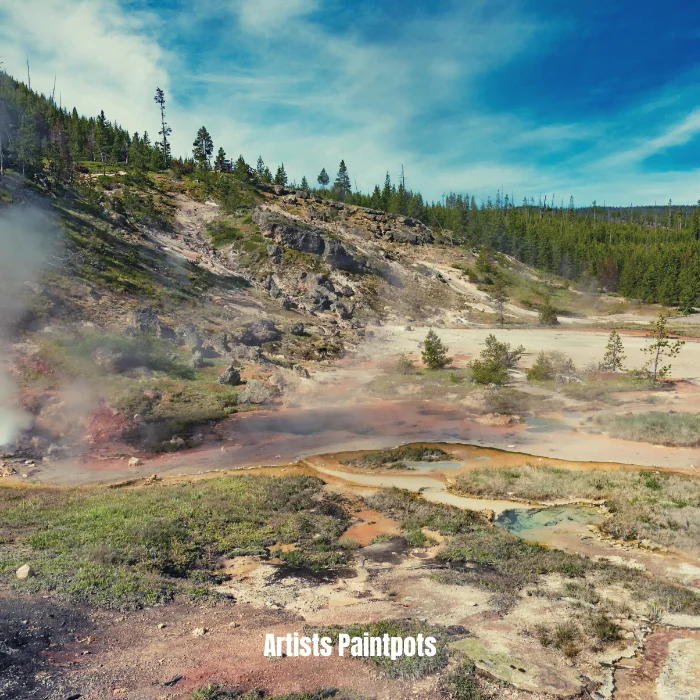 The Artist Paint Pots is a geothermal area where you can see hot springs, geysers, vents, and especially mud pots.
The top of the 1-mile lollipop boardwalk or trail provides the most outstanding views of Artist's Paintpots.
As a reminder, there is limited parking during the high season, so make sure to plan your trip.
Yellowstone Lake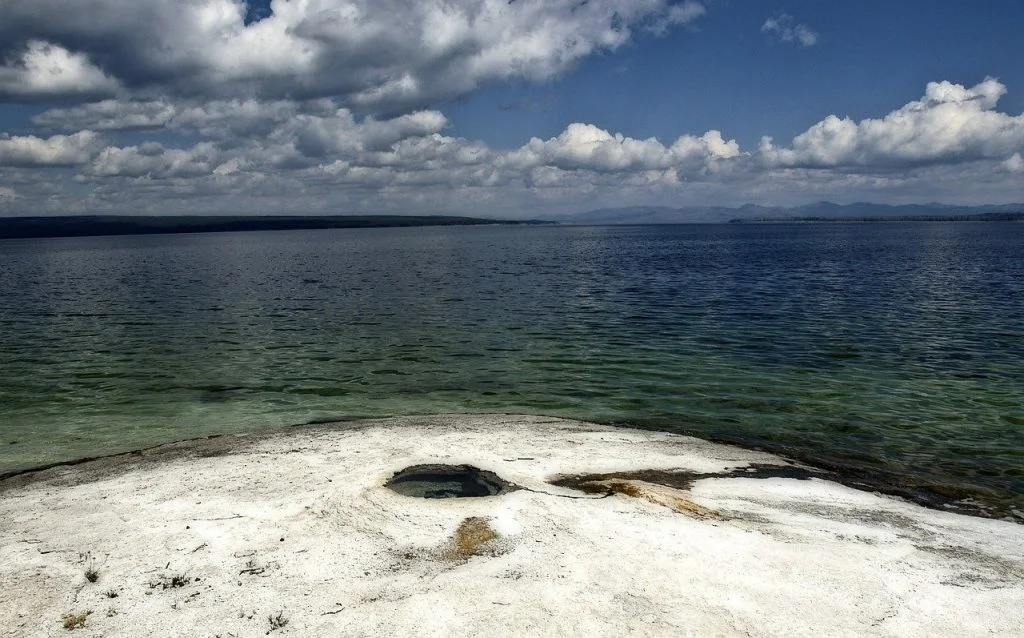 Yellowstone Lake is the largest natural high-altitude mountain lake in North America at an elevation above 7,000 feet above sea level. It's around 20 miles long and 14 miles wide, with a 132-square-mile surface area.
Boating and fishing (permit required) are allowed in Yellowstone Lake. It is the ideal location for people who enjoy fishing. This lake contains several species, such as cutthroat trout and longnose suckers.
For visitors who want to stay near the lake, there is some accommodation for you to stay in.
West Thumb Geyser Basin
Maybe not popular as places like Old Faithful, it is still worth visiting.
West Thumb Geyser Basin has the most scenic view due to its location along the shore of Yellowstone Lake. It's a great place to stop on your trip and get some fantastic photos.
One of the most popular features has been the Fishing Cone, yet other spectacular features such as Abyss Pool, Black Pool, etc.
Norris Geyser Basin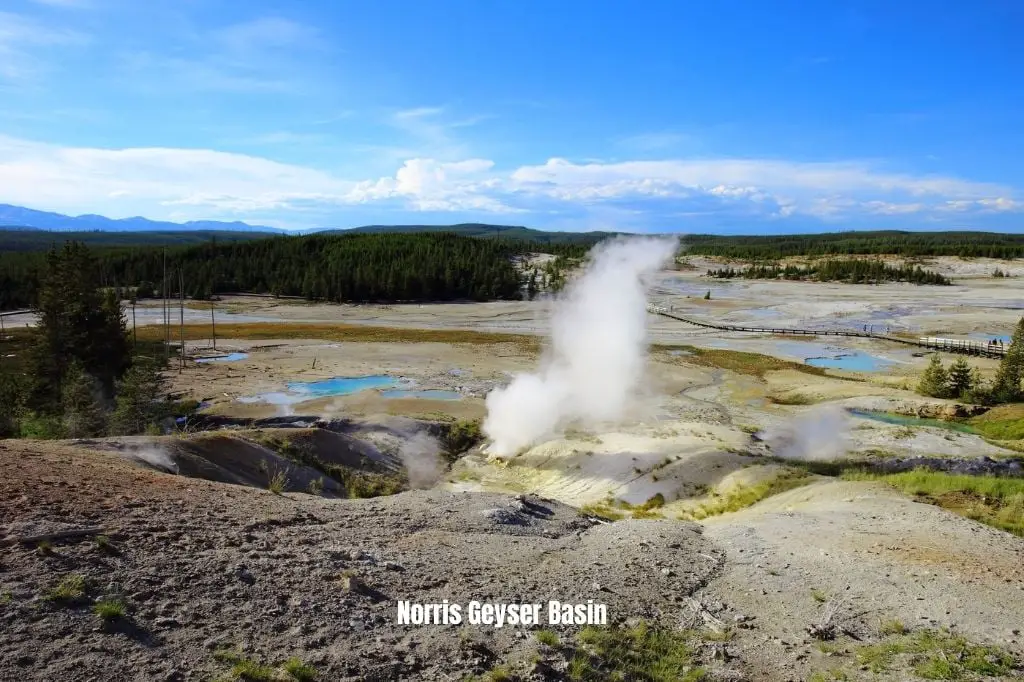 It's known as the hottest and oldest geyser in Yellowstone National Park.
Temperatures of 459°F were recorded in a scientific drill hole 1,087 feet below the surface. The world's tallest geyser right now is located here, a steamboat geyser.
The Porcelain Basin and the Back Basin are the two areas at Norris Geyser Basin. If you have time, visit these two areas.
The Norris Geyser Basin is an excellent place to witness Yellowstone's hydrothermal activity. The boardwalks make visiting the location easy and safe.
Morning Glory Pool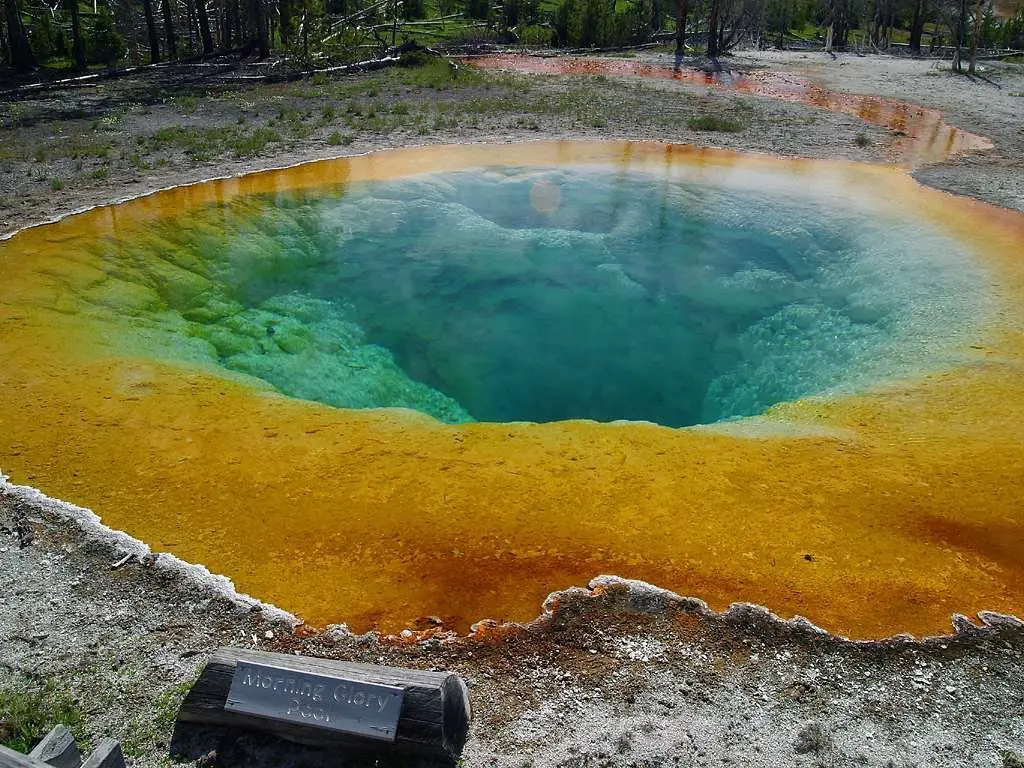 Morning Glory Pool is one of the biggest attractions in Yellowstone National Park. The pool gets its name because the shape of the pool looks like Morning Glory Flower.
If you visit Old Faithful Geyser, you do not want to miss seeing Morning Glory Pool. It's around a 1.5 -a mile walk from Old Faithful. Besides, you can see many geysers along the way.
Morning Glory is famous not just because of its shape but also because of the beautiful color of the water.
Morning Glory has undoubtedly changed significantly over the years. Some of this change may be due to earthquake activity and vandalism. People throw coins, rocks, and garbage into Morning Glory.
Mammoth Hot Springs
Mammoth Hot Springs is one of the fantastic travertine terraces in the world that were created over thousands of years. It is another natural wonder you do not want to miss while visiting Yellowstone.
It is located in the northwest of the park, near the north entrance. It means they're quite a bit away from Yellowstone's other attractions, including Old Faithful, but it is worth the drive to visit this place.
A magnificent image is created when steaming hot water flows over travertine terraces.
Grand Canyon of Yellowstone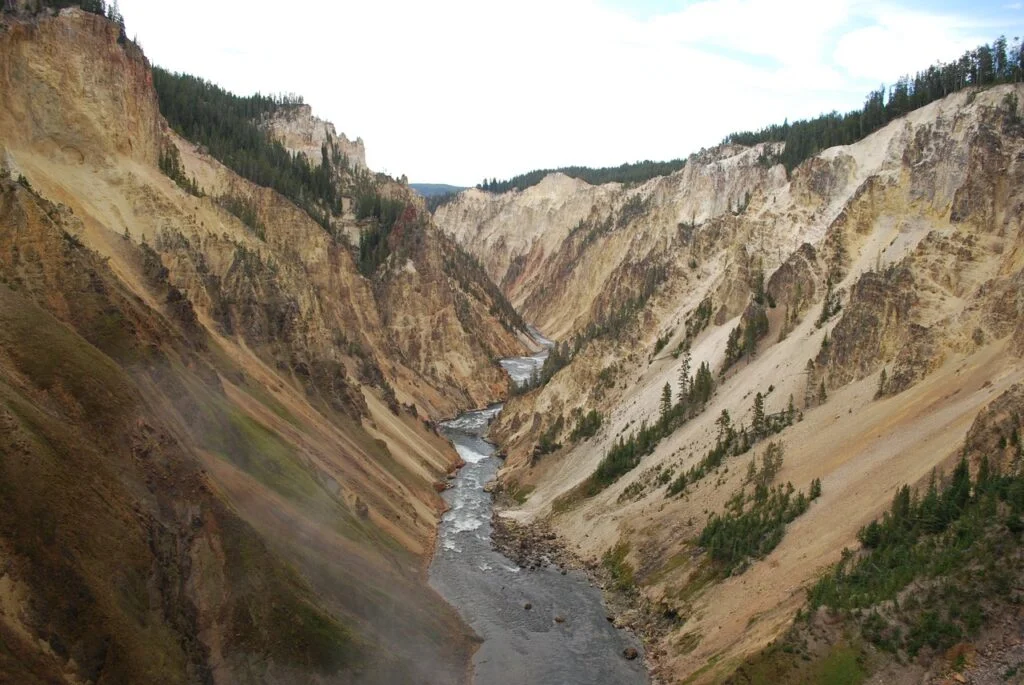 The Grand Canyon of Yellowstone is not as big as Arizona's Grand Canyon, yet it is nonetheless breathtaking. The Yellowstone Canyon was formed by volcanic eruptions and altered over thousands of years by river flow.  As a result, we have a breathtaking natural sight as we see today.
This place gives stunning views of Canyon walls, impressive waterfalls, and endless photo opportunities. The best way to feel the experience of  Yellowstone Canyon is by hiking.
The place you can't miss at Canyon is Artist Point.
Lamar and Hayden Valleys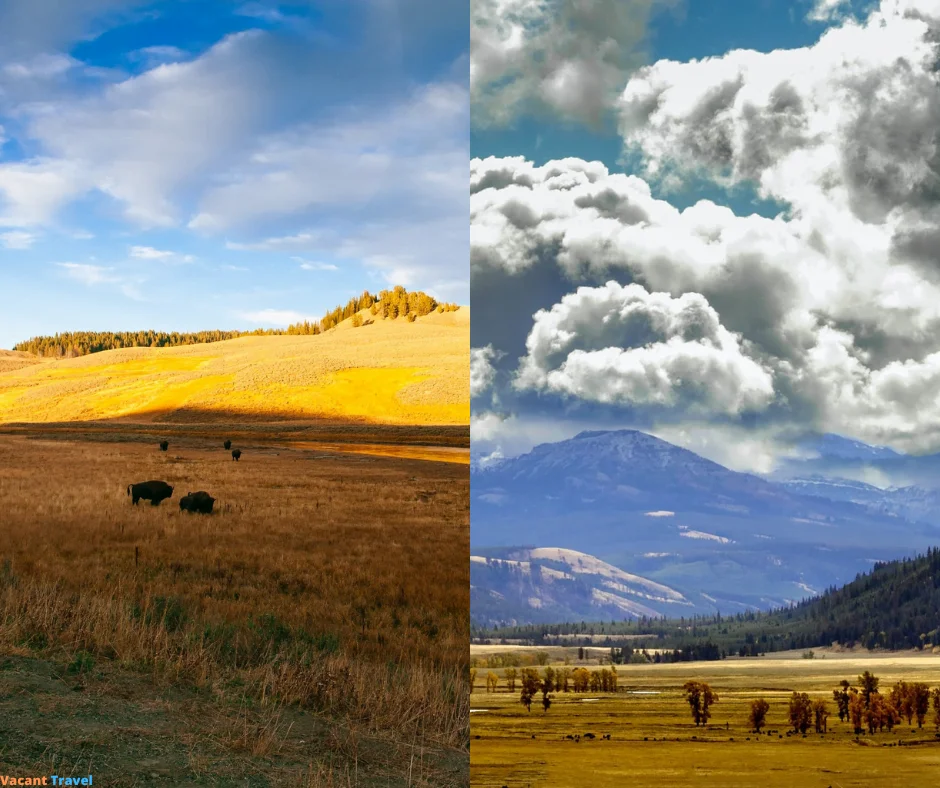 Yellowstone is home to a lot of wildlife. The best places to see wildlife at Yellowstone are Lamar and Hayden Valleys. These two valleys are for the best chances of seeing bears, wolves, bison, pronghorn, and a range of other wildlife.
These animals are dangerous, so keep a safe distance from them. Always remember not to feed or approach them. It's a good idea to bring your binoculars to catch a closer glimpse of more wild bison and Yellowstone's other animals.
Besides, while you drive in Lamar and Hayden valley, it will offer you beautiful scenery.
Mount Washburn
If you love hiking, you can't miss hiking Mount Washburn. It is one of Yellowstone National park's most popular day hike locations. With an elevation of around 10,200 feet, hiking Mount Washburn will offer an endless panorama that gives you a memorable experience.
There have two primary options for day hiking the Mount Washburn Trail:
In the fall, grizzly bears are often seen in the Mount Washburn area, searching for whitebark pine nuts. In September and October, it is not recommended for hiking. The trail is relatively easy, not too steep. When you reach the summit, you may take in the breathtaking views.
Check at a visitor center or ranger station for updates on trail conditions and area closures before going hiking.
Grand Prismatic Spring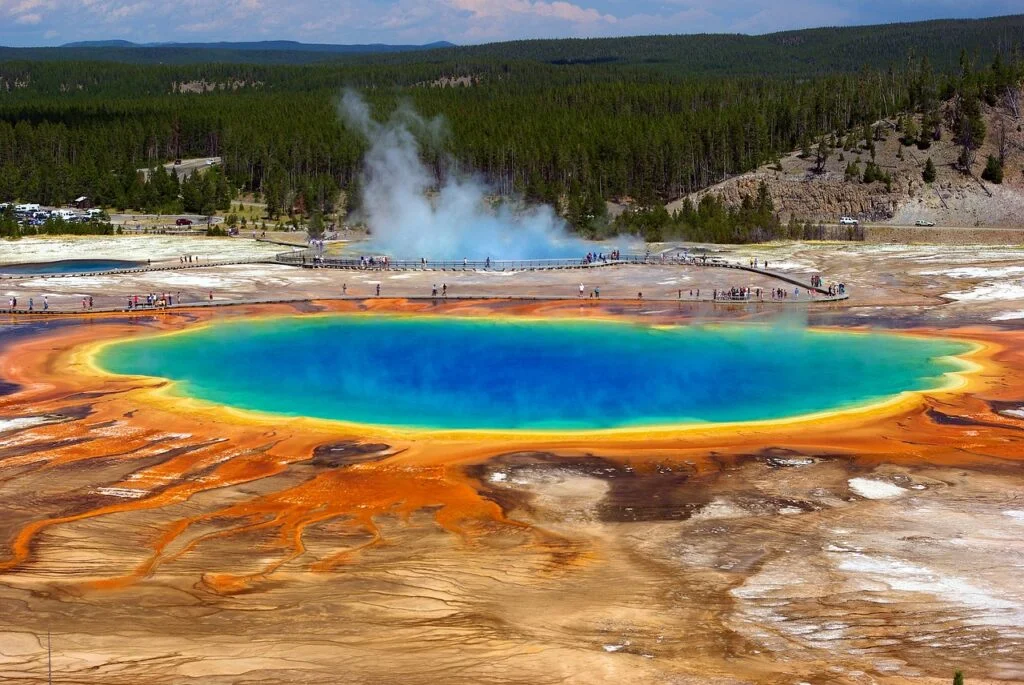 Grand Prismatic Spring is the third-biggest hot spring in the world and the largest in Yellowstone National Park.
It has a diameter of about 370 feet (110 meters) and a depth of over 160 feet (50 meters). The Grand Prismatic Spring is truly rainbow-colored. Give you one of the beautiful views at Yellowstone. The deep blue waters of the hot spring area are surrounded by bright orange, yellow, and green bands.
The Grand Prismatic Spring's rainbow colors result from a combination of mineral-rich water, pigmented bacteria found on the edge of the hot spring, and the water's temperature.
This natural wonder is one of Yellowstone National Park's most photographed sights.
Old Faithful Geyser
Discovered in 1870, Old Faithful Geyser, located in the Upper Geyser Basin, is a must-see and most popular attraction at Yellowstone. For more than a century, visitors have been attracted to this incredible natural feature. 
This place is visitor-friendly because the viewing area is the most accessible, with bench seating and a large parking lot. The average height of an Old Faithful eruption is between 130 and 140 feet.
Today, the geyser doesn't erupt every hour. On average, Old Faithful erupts every 90 minutes, around 16-17 times a day. Ready your camera to take stunning photos or videos of an Old Faithful eruption.
There are many things to do and places to visit in Yellowstone National Park. The list above is the top attraction you can see at Yellowstone.
Plan your trip to make sure your vacation goes smoothly. Have fun on your next trip!