*This post may contain affiliate links, which means we may receive a small commission, at no additional cost to you, if you make a purchase through a link. Thank You! We really appreciate it!*
Pennsylvania is located in the northeast of the United States and has so much to offer, such as beautiful landscapes and high peaks of mountains.
The state has played a significant role in civil and revolutionary wars, so there are many historical sites you can visit while here to learn about the history of important events that took place here.
Every popular location in Pennsylvania has museums located them. Pennsylvania is heaven for you if you are a history and nature lover. The state mainly consists of rural areas, but the lively cities of Pennsylvania have many tourist attractions to offer.
As the winter season comes in Pennsylvania, all the landscapes, mountains, and trees become covered with snow.
Many people think that there is not much they can do except for some indoor activities. That's not true, as Pennsylvania becomes an entirely different place in winter, with so many things to do and places to visit.
If you are getting a chance to visit Pennsylvania in winter, you might be confused right now about what to do here. Don't worry; we got you covered! We have shortlisted the ten best places to visit in Pennsylvania, and you can see them in winter to make the most out of your trip to PA.
Ricketts Glen State Park
Rickett Glen State Park is famous for its trail, and the area is visited by thousands of travelers every month. The favorite activity to do here is hiking, as there are several networks of trails.
These trails are closed for common people in the winter as these trails become very difficult for hiking. If you are an expert in hiking and have experience hiking through the snow-covered trails, you can get the permit and enjoy the hiking.
Be sure to bring all the required gear to avoid any inconvenience here. Imagine hiking in the snow in the heart of the wilderness.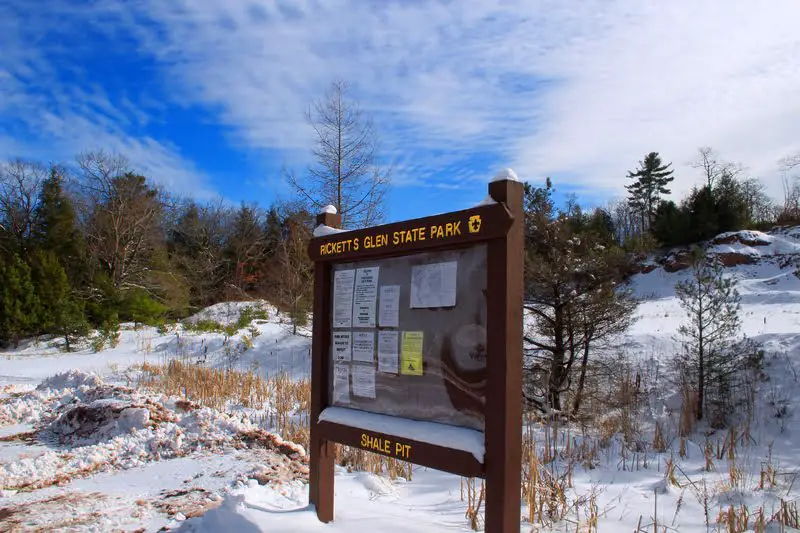 Credit: Nicholas A. Tonelli
Bellefonte
In winter, one of the best places to visit while in Pennsylvania is Bellefonte. Bellefonte is a small town located in the Nittany Valley of Pennsylvania, and it is just a few minutes away from Penn State University.
Bellefonte might be a small town, but it has too much to offer, such as historical sites, beautiful attractions you should visit, and several eateries and cafes where you can enjoy appetizing and delicious food.
The Bellefonte is full of Victorian charm. During the winter, you can take a stroll around the historic district of Bellefonte to appreciate the beauty and style of Victorian architecture.
During your walk must walk through some of the famous victorian buildings, which are a magnificent display of their style, such as Gothic revival, Queen Anne, and Fold victorian.
Another place which shouldn't be missed while in the Bellefonte is visiting the famous tourist attraction called Talleyrand park where you can enjoy the picturesque scenery. The park is a space where concerts and festivals are held throughout the year.
This place is great to be visited along with your family as there are paths and you can go for a walk, and there is also a playground for kids.
Valley Forge National Historical Park
Although many of the places in Pennsylvania offer both natural and historical experiences, if you're tired of nature activities such as hiking and skiing in the snow-covered mountains and want to immerse in the history, we suggest you head to the Valley forge national historical park.
The best time to visit the Valley Forge National Historical Park is in winter, as the park is where the Continental Army's winter encampment in 1777 took place.
The park is open all year, but it becomes a winter paradise when it snows. Besides hiking, other activities are biking and horse riding through the different trails built for these purposes.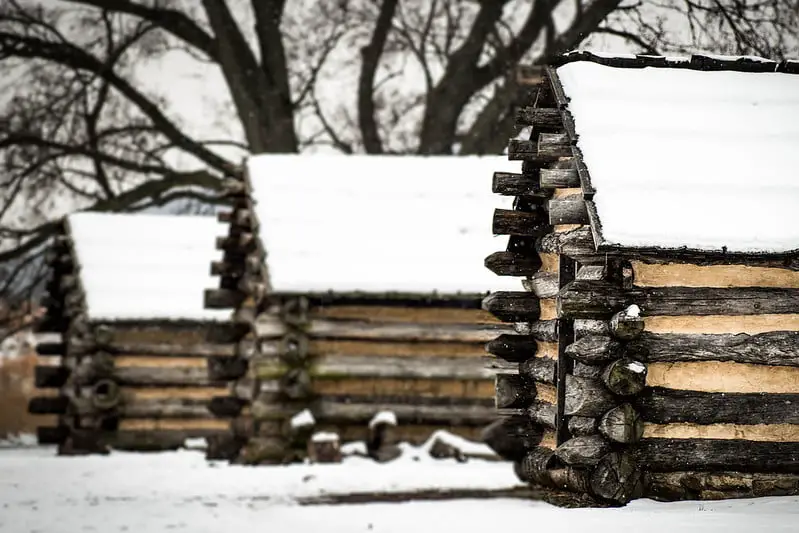 Credit: Thomas (Flickr)
Pocono Mountains
If you are a nature lover, then the Pocono Mountains are heaven for you as the area is covered with mountain peaks, lakes, and waterfalls. Big Pocono State Park is the highlight of the Pocono mountains, and this place can be visited through all seasons. 
Even if the courses are covered with snow, there is no need to worry about hiking as there are different track levels, and you can stroll through them even if you are a beginner and enjoy the fantastic views of nature covered in snow.
Enjoying some time in nature is not the only thing to do here in the Pocono Mountains, making it the best tourist destination. You can visit historical sites and watch a live show.
The must place to visit is visiting the Asa Packer Mansion, which is preserved in such an excellent way that it seems like you were in the 19th century.
The museum displays victorian furniture, and if you are a history lover, don't miss to visit this place.
Gettysburg
Gettysburg is a famous tourist destination in summer. If you want to avoid the crowds when visiting Gettysburg, we suggest visiting this amazing place during winter.
During winter, some places may be closed, but don't worry because some main attractions are still open, and it is a great time to see the sights in this area.
This place is known as the battlefield site during the American Civil War in 1863, known as The Battle of Gettysburg. Take a tour to view the enormous battlefield and visit the museum to learn the history of this place.
If you want to do winter activities such as skiing, snowboarding, and snow tubing, you can visit Liberty Mountain Resort, which is only a few minutes from Gettysburg town.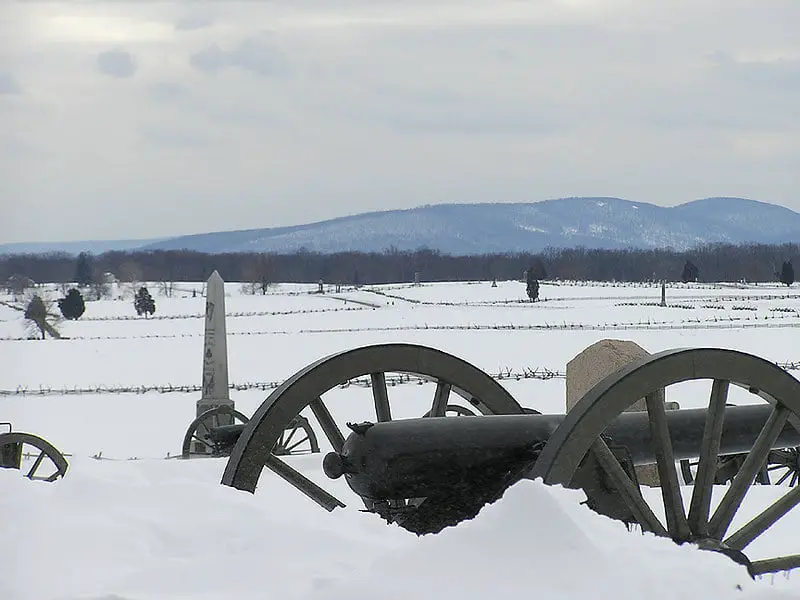 Credit: lcm1863 (Flickr)
Eagles Mere
Eagle Mere is the must-visit place in Pennsylvania no matter what time of year it is as there are many things to do in every season. You can visit this place with your family or solely if you like.
The site is crowded with people in spring and summer, and there are many activities to do here but the activities such as hiking, fishing, and swimming in the eagle mere lake but the activities are no less in winter as well.
If you are in the eagles mere in the winter, you can go hiking if you have experience in it. You can go ice skate at the outlet pond at any time of the day, and near the eagle, the mere lake is the conservancy trails where you can go skiing and have the most exciting time of your life. After these outdoor activities, you can enjoy a hot cup of coffee.
Apart from enjoying these nature activities, the Eagle Mere is home to several museums that you can visit and learn about the region's history.
The museums you must visit during your trip to the eagle mere are the eagle very air museum and the eagle mere auto museum.
McConnells Mill State Park
McConnell's Mill State Park is among the most beautiful gardens in Pennsylvania, and it has so much to offer, from the waterfalls to the historic museums. There are many things to do here in winter as well.
The weather is a bit harsh to explore the famous spots, and thus we suggest you pack your clothes carefully otherwise you won't be able to enjoy the beautiful corners of the park.
The must-see place in McConnell's is McConnell's Mill Covered Bridge. The bridge has an unusual Howe truss design, making it worth seeing even if you've seen a lot of other covered bridges in the state.
Hell's Hollow Falls are among the most famous fall in the park. It is not the tallest, but it is renowned because it is pretty easy to reach compared to the other waterfalls. To reach the hell's hollow falls, you just need to hike through half a mile trail.
The waterfalls are best to visit in the winter because of their easy access. If you are a professional hiker and want to explore other waterfalls, such as alpha falls, then give it a go!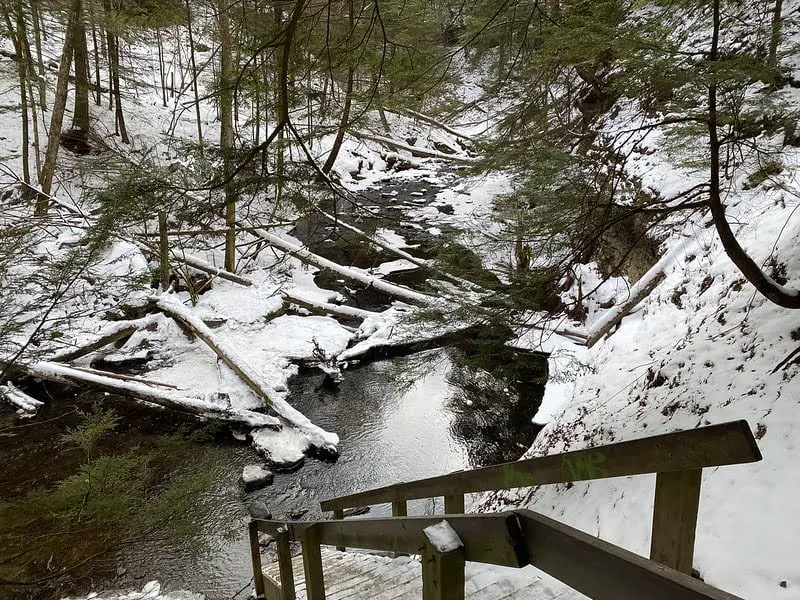 Credit: daveynin (Flickr)
Delaware State Forest
Delaware State Forest is an 80,000-acre forest covered with lush green trees and vegetation, and there is a sea of activities you can do here, both in summer and winter.
The forest is home to lakes, mountains and streams, and wildlife. There is a 30 miles trail, and it is excellent for hiking. During hiking, you can interact with the diverse wildlife thriving here.
Delaware is famous for hunting and trapping, and you can go hunting deer, turkey, rabbits, and grouse during the wintery morning and daytime to enjoy them at dinner.
You can go for trapping as well as the animals like beavers and minks are abundant in the forest.
Ohiopyle State Park
The Ohiopyle State Park is the best destination to visit in the winters as these falls are converted into ice during the coldest days here. The park is heaven for outdoor activities during the winter, and you can enjoy hiking and skiing. The other famous activities here at the park are sled riding and snowmobiling.
In the middle of the Ohiopyle is the charming town of Ohiopyle, where you can enjoy delicious food and snacks.
You can explore the exhibits at their visitor center, where you can learn about the history of the park and the hidden treasure. It would help if you visited it along with your kids so they can learn about the park, and from the visitor center, you can enjoy the fantastic scenery of the falls.
Credit: daveynin (Flickr)
Tussey Mountain
Tussey Mountain is an ideal place to visit in the winters in Pennsylvania, and there are many things to do here which make you feel the blood pumping through your arteries.
The favorite activity to do here is skiing on the 50-acre space with seven trails. You can also go hiking through the trails if you are experienced in it and have the proper gear and equipment.
If you don't know about hiking and skiing, you can enjoy the incredible views of nature, and you are craving to spend your time indoors by booking a hotel near the mountain.
There are a lot of hotels near Tussey Mountain, which are well furnished and have large panoramic windows from where you can enjoy the beautiful scenery of the mountain.
There is a fun center located in Tussey mountain where you can go with your family and children and enjoy fun activities such as karting and playing golf.
That is it about the places you should visit in Pennsylvania. You can make the most out of your trip by enjoying outdoor activities like hiking, skiing, biking, and visiting historical sites.
Suppose you are not an expert in these outdoor activities. In that case, you can enjoy the fantastic and picturesque views of nature from the panoramic windows of your resort or hotel, such as mountains covered with snow and all the water elements converted into ice.
We hope you have an excellent trip to Pennsylvania during winter.