*This post may contain affiliate links, which means we may receive a small commission, at no additional cost to you, if you make a purchase through a link. Thank You! We really appreciate it!*
Montana is on the bucket list of every nature lover. Located in Northern America and is the fourth largest state in the United States.
It is among the most significant states but is not densely populated like others, so you can spend more time in nature with fewer people. It is a state which has so much to offer, whether in summer or winter.
Montana has so many best places and hidden gems that you must visit. Even eternity is not enough to explore this state and its scenery. Besides, this state has so many amazing accommodation choices according to your budget and taste.
There are luxurious resorts where you can relax and have beautiful scenery to enjoy from your window, and there are resorts where you can stay at affordable prices if you are tight on budget and want to make the most out of your trip.
If you are coming to Montana for the first time, you are probably confused about where to stay. If you are planning to stay in a hotel or resort, you may be confused about whether this place is worth your money or not, so we have resolved your concern so you can have the maximum fun out of it.
Here are the cool places to stay in Montana, and you can choose from these according to your taste and budget.
Boulder Creek Lodge
Photo Source: Boulder Creek Lodge
Boulder Creek Lodge is located in the famous mountain town, Nederland, and is another fantastic place to stay in Montana with your family, partner, or friends.
The lodges are well furnished with beds and tables, and there is a separate television and refrigerator in each room. The bathrooms are also clear, and there are well equipped with bathtubs and showers.
There are plenty of restaurants and cafes near the boulder creek lodge where you can try local as well as international food and satisfy your taste buds.
Besides the famous restaurants and cafes, there are several shops where you can do some shopping. You get a complimentary coffee on arrival, and this is the best place to stay if you are traveling with your pet as their place is pet friendly.
The activities include hiking, sightseeing, and enjoying live music!
Visit site: thebouldercreeklodge.com
Oddfellow Inn & Farm
Photo Source: Oddfellow Inn & Farm
The Oddfellow Inn and Farm are among Montana's top places to stay. It is one of the oldest accommodations and was built in 1928 as a home for widows and orphans. This hotel is located in Helena, and you can enjoy the incredible scenery of the mountains from the Panoramic windows of your room.
The Oddfellow Inn is suitable for families and couples as they have separate cabin offers for families and couples. It offers simple but elegant rooms and some vintage vibes, and there is complimentary free internet access. Each room is well furnished, and they offer bathrobes and hair dryers.
It is also famous for its good food, and you can enjoy it in the morning in the lounge along with the fantastic views of the mountains in front of you.
You can enjoy several activities by traveling to Helena mountain, such as hiking, cycling, and hunting in the mountains. You can visit many places while you stay here, such as the historical society museum, which is among the most popular tourist destination in Montana.
Their farm is also a great site to visit, where you can see many animals here. 
Visit site: mt.farm
The Resort At Paws Up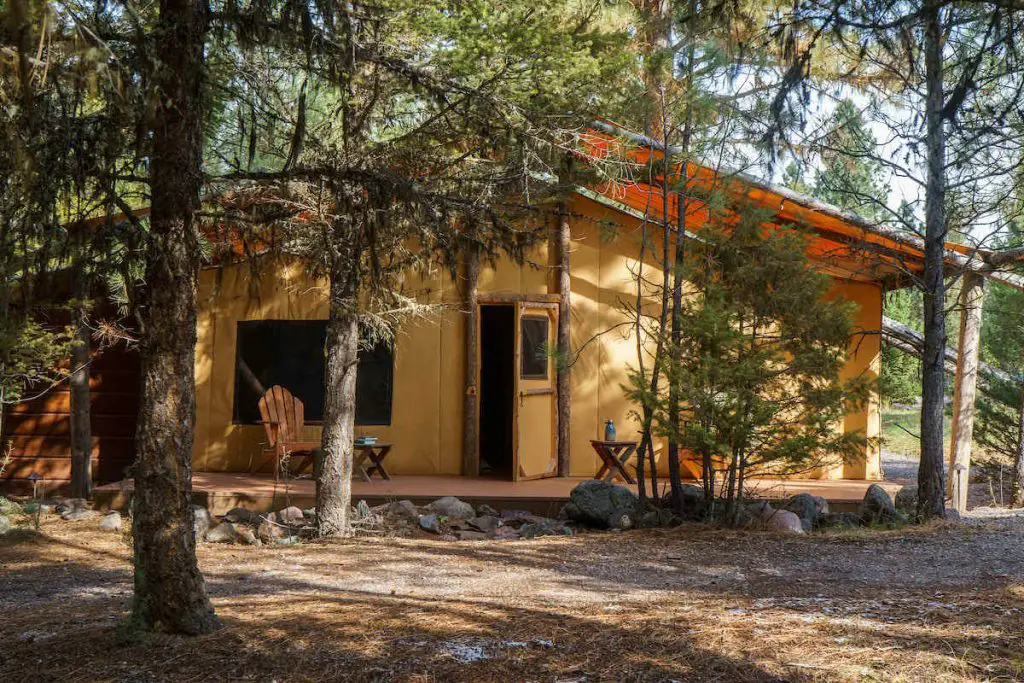 Photo Source: The Resort At Paws Up
If you are visiting Montana for the first time, there is no better place to visit than Missoula, the 2nd largest city in Montana. Apart from being the 2nd largest city, Missoula has exotic wilderness to offer.
If you are looking for the best resort in Missoula, there is no better choice than The Resort At Paws Up. This resort offers luxury and fantastic views of nature at the same time. This resort is just half an hour from the center of Missoula.
The resorts are stretched across the land of 37,000 acres, and you have the option to stay in the rooms or camp in the area. There are many options of type accommodation to choose from. The rooms are well furnished with many luxuries to offer.
You can enjoy many activities within the hotel premises, such as horse riding, spa treatment, go-karting, and kayaking. These activities can be maximum enjoyed along with your family or your partner. If you want to get some relaxation, you can get a spa treatment that will take away all your cramps and tiredness.
This resort is perfect for accommodation in Missoula. You can stay here to have the best experience, whether alone, with family, or with your partner, trying to get the maximum fun of your life after a hectic routine.
Visit site: pawsup.com
Toad Hall Manor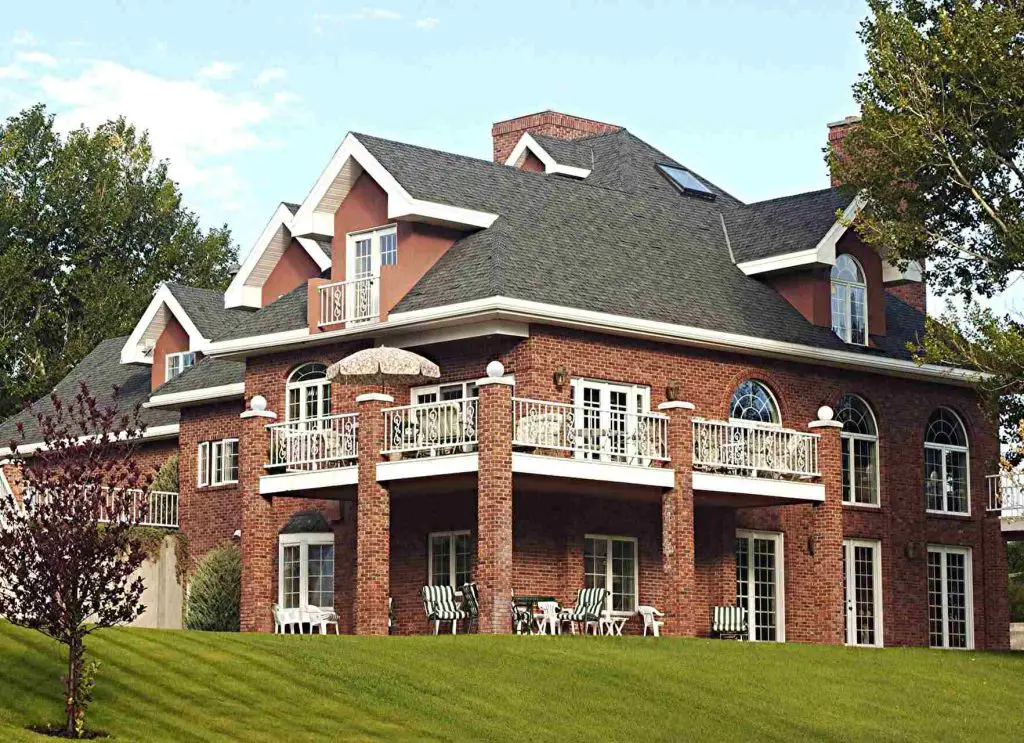 Photo Source: Toad Hall Manor
Toad Hall Manor is located in Butte, the famous town of Montana, also known as The Richest Hill on Earth in the past. This town is among the oldest mining towns, with great historical significance. Although the mining isn't here anymore, you can get a chance to see how the mining used to be carried out and see the mining equipment. 
There are many choices for accommodation in Butte as it is a famous tourist destination. Still, this accommodation is the most acceptable option for them for various reasons.
The Toad Hall Manor has to offer the most refined rooms, which are well furnished, along with panoramic windows which give a unique and fantastic view of the mountains. The breakfast is the highlight of the hotel with the hot coffee.
Apart from the nice room, there are many other facilities available as access to the gym to work out without worrying about missing your workout routine during your travel days. There are also a patio and lounge where you can dine in according to your taste and weather conditions.
When you are in Toad Hall, don't forget to visit the World Museum of Mining if you have time!
Visit site: toadhallmanor.com
Triple Creek Ranch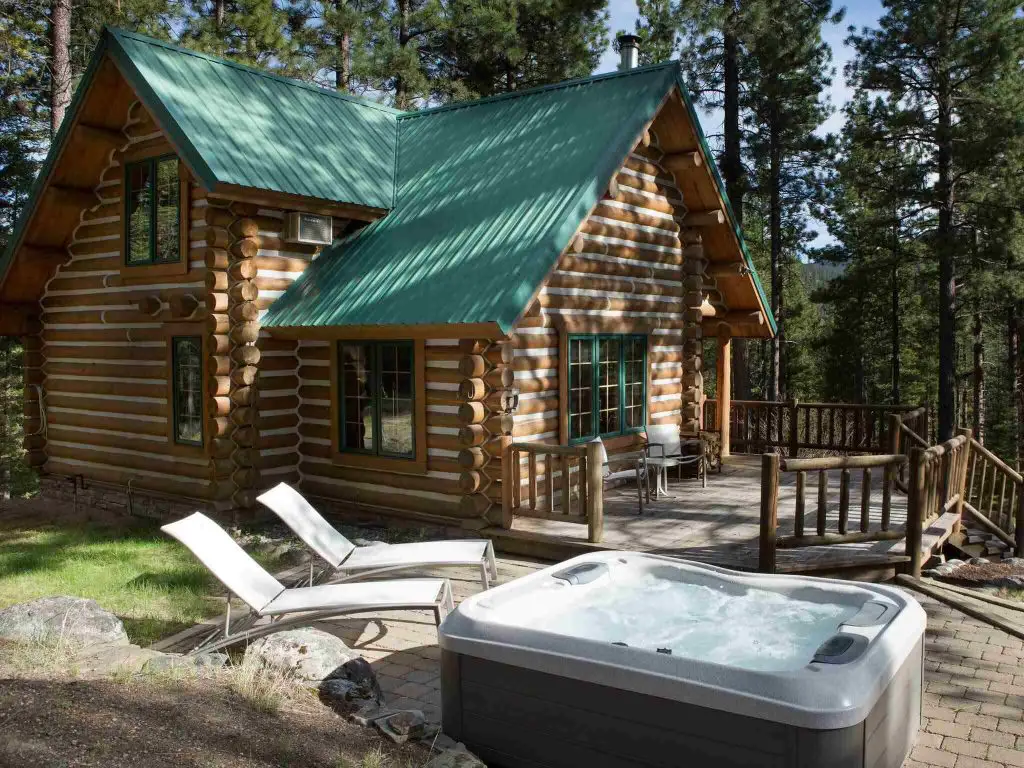 Photo Source: Triple Creek Ranch
The Triple Creek Ranch is located in the Bitterroot Mountains on the west side of Montana. We will be biased when suggesting this place because this is not the place for everyone, such as families and single travelers.
It is a place specially made for couples and adults where they can enjoy their privacy and fun without any restrictions by booking a cabin or a ranch house.
You can also use the cabins or homes as a base while exploring the whole western side of Montana. The beds are well furnished with king sides beds and a large lounge with the option of fireplaces. The bathrooms are also equipped with showers and bathtubs. The two-bed option is also available here.
This place seems like a second home as you can book a cabin or ranch home where you can have maximum fun with your partner without any privacy concerns.
Apart from offering luxurious cabins and ranch homes, this place has many activities to show that you can enjoy in your free time here, such as horse riding, kayaking, and having dinner in the bonfire. Their menu also has a variety of food which you can try. The international venue is also available, but we suggest trying the regional food.
Visit site: triplecreekranch.com
The Lodge at Whitefish Lake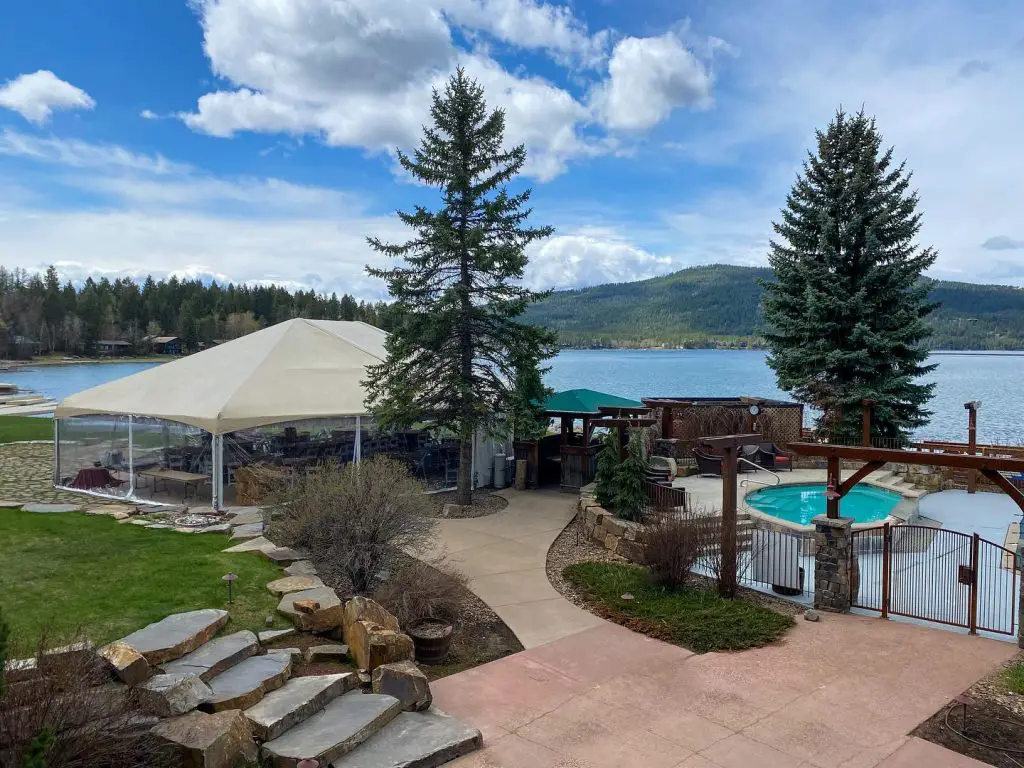 Photo Source: The Lodge at Whitefish Lake
Whitefish lake is also among the most popular places to visit while in Montana. If you are considering accommodation near Whitefish Lake, there are many options, but the best is in the lodge at whitefish lake.
This whitefish lake lodge is not like the modem hotels and resorts but is built in a traditional style, offering uniqueness and all the modem facilities simultaneously.
Many accommodation options are available. Depending on which accommodation you choose, you can enjoy other incentives such as a separate lounge patio.
As the lodge is near whitefish lake, there are many activities you can do, such as swimming, fishing, kayaking, and boating in the lake. If you are full of these water activities, you can enjoy other activities like driving to the nearby shopping center to shop for your friends and family.
This place is also a wedding destination, so this might be your wedding place if your wedding is ahead.
Visit site: lodgeatwhitefishlake.com
Meadow Lake Resort and Condos
Photo Source: Meadow Lake Resort and Condos
If you are a person who loves to spend time in the wild away from the people, then Meadow Lake Resort and Condos are the dream place for you to stay here.
This resort is near the popular destination of Montana called the Glacier National Park, where you can spend days without getting bored for even a single moment.
The best part of the resort is that you can enjoy the beautiful views of the lakes and mountains from your room, no matter if the room is a part of a cabin or a house. You can also see wild animals such as turkeys, elks, and other animals by just opening the panoramic window of your room. Even the imagination of this scene is enough to calm you!
This resort is perfect as it is a few minutes away from the water park where you can go along with your family.
The resort is perfect for you and your partner to spend your dream romantic vacation here, as you can get complete privacy by booking accommodation in the quiet and soothing wilderness.
Visit site: meadowlake.com
Rainbow Ranch Lodge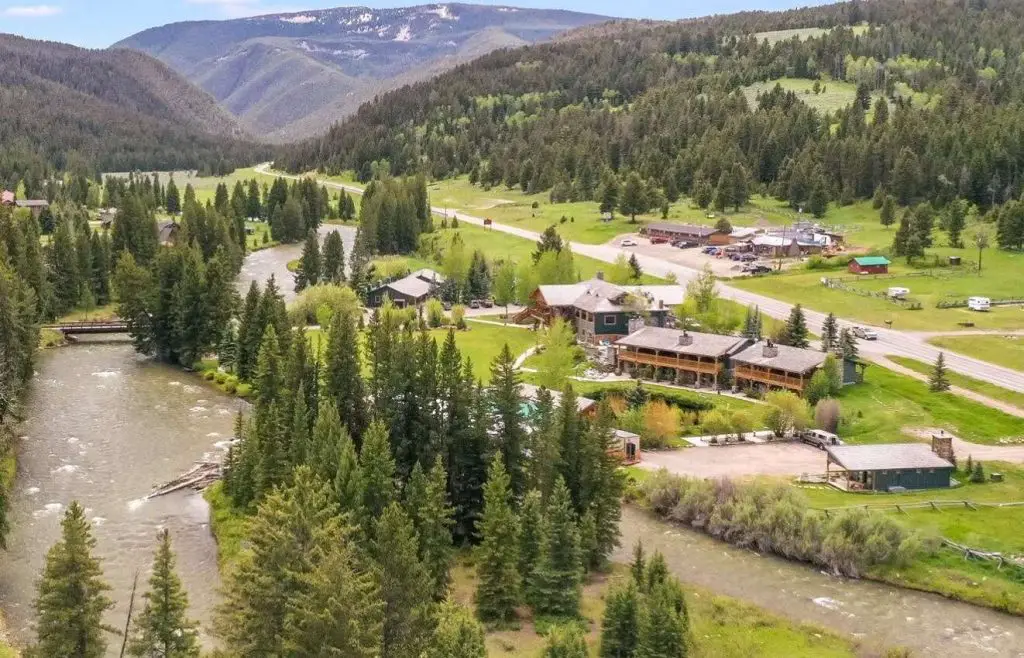 Photo Source: Rainbow Ranch Lodge
If Yellowstone national park is on your bucket list in Montana and you are looking for accommodation near it, then Rainbow ranch lodge is the one. The beauty of this lodge is that it is appealing to everyone, whether children, business people having some critical businesses in the area, or a couple looking for a perfect vacation.
The lodges are beautifully built, and the rooms are well furnished with separate bathrooms that are too luxurious as the rooms. There are huge windows in every room from where you can enjoy the beautiful views of the Gallatin River and capture photographs.
The best thing about the rainbow ranch lodge is that you can have a yoga session and all the gym facilities. There is a separate restaurant where there are plenty of food options for food.
The lodge offers the maximum luxury. You can have a lot of activities on the lodge premises, such as horse riding, and many water activities in the Gallatin river, such as fishing, kayaking, and rafting. If you want to enjoy time in nature, you can go hiking around the river and bless your eyes with the beautiful scenery.
Visit site: rainbowranchbigsky.com
Clark Fork River Lodge
Photo Source: Stay Montana
If you want to have some different and unique experiences, then you can try to stay at Clark fork river lodge. This lodge is somehow a  bit not famous, and you can have a great time here away from the world.
Very few people visit this place as it is among the hidden gem of Montana, which is why it is unique. It overlooks the Clark fork river and thus means various fishing opportunities.
The lodge gives off some vintage vibes as it comprises wooden floors and log beds, but it is as furnished with the same modern equipment and furniture as offered in the other popular resorts and hotels. You get one kitchen where you can cook according to your choice.
If you are a fan of fishing and seafood, this lodge is simply heaven for you. You can spend the day catching the trouts and then cooking them for dinner as they have well equipped and well furnished along with a BBQ and bonfire.
This place is exclusively for people who want to spend some remote time, but you can visit shops and restaurants 10 to 15 minutes away from the Clark fork river lodge.
Visit site: staymontana.com/vacation-rentals/clark-fork-river-lodge/
Treasure State Hostel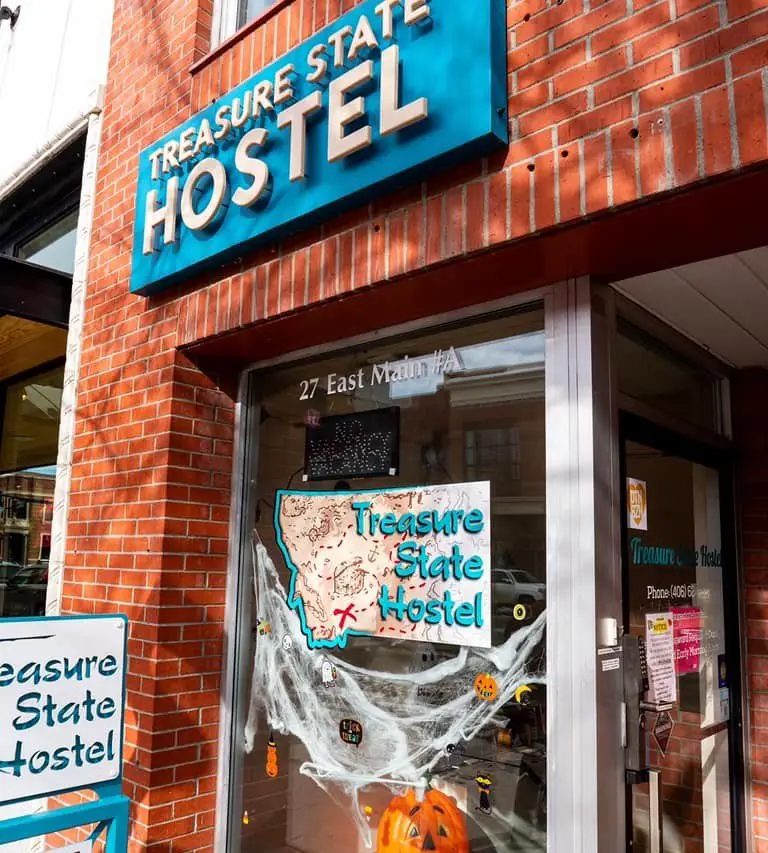 Photo Source: Treasure State Hostel
Treasure state hostel is the only hostel in Bozeman. This hostel has the best choice for backpack travelers who want a roof to rest at night and roam around the whole of Montana during the day.
If you have a low budget for accommodation, this hostel is an excellent place to stay by spending less and relaxing more. You can enjoy many activities by traveling a few miles as there is a nightlife district 10 minutes away from the hostel where you can have real entertainment with your buddies.
One limitation of this hostel is that it is only preferable for individual travelers and not for families and couples!
Visit site: treasurestatehostel.com/index.html