*This post may contain affiliate links, which means we may receive a small commission, at no additional cost to you, if you make a purchase through a link. Thank You! We really appreciate it!*
Montana is one of the most beautiful states in the U.S and worldwide known for its winter activities and massive unaltered natural spaces. Winter in Montana appeals to masses who flock to visit spellbinding attractions and experience exciting things within these snowbound landscapes.
Winter is the best time to visit Montana when the cliffs and forests get a snowy appeal, which makes ski and snowboard slopes in Montana ideal for visitors.
As a nature lover, you'll appreciate the unparalleled beauty of the great outdoors. With national parks, an abundance of wildlife, and thousands of acres of skiable terrain, Montana's winter experience is nerve-racking for anyone visiting for the first time. During the dropping temperatures, you'll be able to find cozy accommodations with all modern amenities.
With its endless miles of ski-able terrain, and that too without the pretensions and high prices, you should plan your next Montana adventure. So get ready to make priceless lifelong memories by visiting the glacier, National Parks and enjoying cross-country skiing, snowmobiling, or soaking in a commercial hot spring.
Yellowstone National Park
Blanketed by snow, the 2.2-million-acre park displays sheer beauty. Visitors from all over the world come to visit and get a warm treatment with world-famous geysers, bubbling mud pots, hissing fumaroles, and hot springs.
During the winter season in Yellowstone, there is usually an average of 150 inches per year. However, the peak cliffs tend to get twice as much!
Thrill-seekers can find a lot of spectacular attractions in Yellowstone National Park to meet their expectations. Yellowstone National park is quite famous for world-class ski and snowboard slopes in a quiet landscape.
Yellowstone delivers a mile of tracks that lead past frozen woods, boiling springs, and snowy meadows. You can explore trails like the Lone Star Geyser, which gives a total of nine miles roundtrip.
Tourists can enjoy the sight of up to 7,000 elk that spend their winter in the National Elk Refuge. Moreover, spot bison, wolves, and other animals.
Glacier National Park
Glacier National Park, in Northwest Montana, is known as "The Crown of the Continent." Millenia-old glaciers have carved this mountain region into dreamlike alpine landscapes of ice-cold lakes and scenic mountain peaks. When the temperature goes below the freezing point, it transforms into a jaw-dropping wonderland.
Glacier National Park has to offer dramatic landscapes and breathtaking scenery while having several opportunities to see flora and fauna. Winter in the Glacier National Park is absolutely stunning, with more than 700 miles of hiking trails available, and visitors can explore several trails such as Apgar, Avalanche Creek, and Polebridge.
During winter, a fraction of tourists head to Glacier National Park and challenge themselves with snowshoes and cross-country skis. So, it's the best time to trek in this snowy wonderland.
Extending more than spectacular landscapes, you can enjoy hiking, backpacking, and camping. However, no overnight lodging is available within the park, but you can camp for free or get a permit to stay in the backcountry.
Libby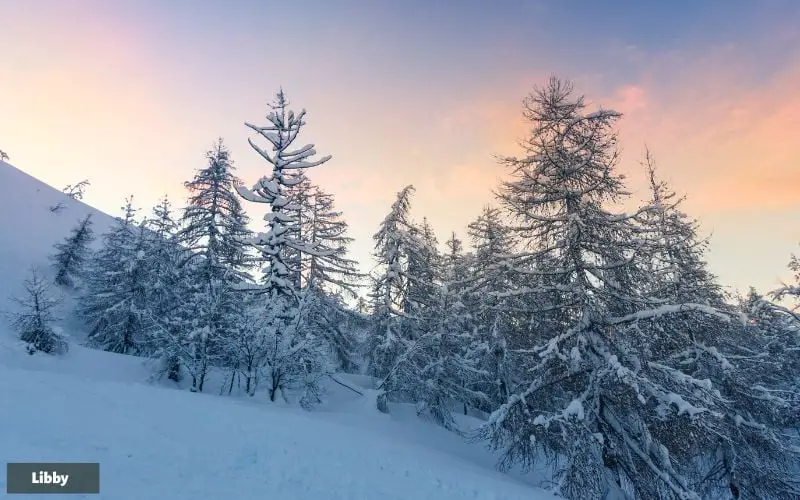 Libby, located at the foot of the Cabinet Mountains, is a beautiful small town in northern Montana. Encircled by over 2 million acres of mountainous terrain, Libby indulges you in spectacular winter activities, from hiking to skiing, boarding, and admiring the scenery of Lake Koocanusa.
Visit the Kootenai National Park, which has to offer hundreds of miles of hiking trails, high mountain lakes, and miles of stream. Hiking in Kootenai National Forest is a wonderful activity, which gets more exciting with scenic places to camp and wildflowers and huckleberries nearby.
Lake Koocanusa is a gorgeous natural wonder and gets even more spectacular in the winter when it transforms into a cascading flow of ice. While admiring the breathtaking vistas of snow-covered landscapes, visit the downhill ski area, which boasts plenty of things to do, including skiing and snowmobiling.
Great Falls
Credit: Ryan Villines (Wikimedia Commons)
Great Falls invites a wide range of sightseers throughout any season. But, winters are significant, as you'll experience a postcard-worthy atmosphere when you enter a winter wonderland with snow-capped peaks, dazzling streams, and roaring fireplaces in local venues. 
A long drive will take you through snowy mountain ranges, white fields, and dribbling mini cascades streaming down off the rims of giant boulders. Spend your time driving past stunning scenery, and ensure to get to Kings Hill Pass, which gives you a spectacular view of the snow-covered land.
Above all, you will enjoy skiing or snowboarding along with the views on the ski slopes before whizzing downhill.
Fort Benton
Fort Benton is known as National Historic Landmark due to its rich history. From natural beauty to museums, it amazes thousands of visitors every year to come and explore. Plus, Fort Benton has plenty of things to do for everyone in winter.
Consider taking an iconic river walk as many wonderful displays along the walkway explain the fabulous history. Tourists should also visit the steamboat levee and the part of the town once known as the bloodiest block in the West.
Moreover, be sure to check out The State of Montana's Lewis & Clark Memorial. This statue is famous among art critics. It was crafted so accurately that the artist included all the details with Sacagawea's dress and accessories.
You should definitely come across Old Fort Benton Bridge. This place is beautiful and one of the most Instagrammable locations in Fort Benton.
Big Sky
Snowy cliffs, steamy rivers, spectacular terrain, and an array of memorable wintertime for you in the charming mountain town of Big Sky, Montana. It's no mystery that Big Sky is a world-class ski destination. During the winter, waterfall hikes in Big Sky transform into a dazzling frozen wall of ice.
Skiing is one reason Big Sky is a sought-after vacation spot. Enjoy The Biggest Skiing In America, with 5800 acres of skiable landscape and 4350 feet of a steep drop. While exploring the expansive terrain at this world-class resort, go snowmobiling because a snowmobile can take you to incredible places.
If you are eager to ride on a dog sled, then go for it, as sledding lets you ride through the forests of Big Sky Country. Be sure to explore the backcountry, and if you need a relaxing day, take a short in one of the many Montana hot springs.
Philipsburg
Credit: Jon Roanhaus (Wikimedia Commons)
The historic town of Philipsburg really comes to life during the winter season, as you can snowshoe or cross-country ski on the 300-plus inches of snowfall. In addition, when all of the area's hiking trails are covered in snow, the Discovery Ski area opens up for all snowboarders and alpine skiers.
Nestled between two national forests and wrapped by snow-covered mountains, Philispburh gives you lush valleys, crystal clear lakes, wetlands that draw ample wildlife, and high-spirited streams and fishing holes just waiting for you.
It's a walkable town dotted with lovely restored buildings that are home to shops, eateries, and candy emporiums. Make your way to the main street, which offers three sapphire galleries. These amazing gemstone merchants speak to the region's prosperity.
---
Recommended Reading:
Best Places to Visit in Vermont in Winter – Vermont Winter Vacation!
---
Missoula
Credit: Montanasuffragette (Wikimedia Commons)
Missoula overflows with cultural attractions, but winter brings the next level of excitement to the city. Visitors to Missoula enjoy the vibes of a winter wonderland. While Indulging in numerous outdoor activities, they cherish the warmth of their happiness.
As soon as the lands get blanket of snow, ski rides start-up, and seasonal foods fill the restaurants and cafes throughout the town. Thrill-seekers give their adrenaline rush by participating in skiing, dog sledding, and sleigh riding throughout the town.
Extending more than snow-covered landscapes, spend time around downtown to avail yourself of many choices as a shopping enthusiast. However, you can catch a local theatrical performance because Missoula has an abundance of talented stage performers.
Whitefish Mountain Resort
Credit: Whitefish Mountain Resort
In northwest Montana, Whitefish is one of the best places to visit in winter in Montana. When it comes to winter sports, it has to brag a lot!
Whitefish Mountain Resort offers affordable skiing on quiet slopes with breathtaking mountain scenes. You'll be mesmerized by the lake, hiking trails, and fabulous ski resort here.
This famous ski resort town has over 3,000 acres of accessible terrain and chair lifts that make it easy to get around.
An absolutely gorgeous view! This hidden gem was break-taking, relaxing, peaceful, and a fantastic mountain to ski! Whitefish Mountain Resort ranks at the top tier of American ski resorts. 
Hot Springs

Hot springs in Montana offer much more than a dip in the open-air pools; These are one of the perfect ways to soak in the magnificent beauty of the landscapes. Here, you can find great hot springs to beat winter's chill. From small-town charms to opulent resorts, Montana has so many options to spoil visitors.
Head to western Montana to soak the day away in one of the best hot spring resorts in the state, Quinn's Hot Spring Resort. Other hot spring resorts in the state include Bozeman Hot Springs, Fairmont Hot Springs, and Chico Hot Springs.
Almost all Hot springs in Montana offer a charming pool area, with the highest soaking temperature reaching around 106 degrees.
Chico is a prominent winter destination and provides several overnight options, such as antique-filled rooms in the historic Main Lodge.