*This post may contain affiliate links, which means we may receive a small commission, at no additional cost to you, if you make a purchase through a link. Thank You! We really appreciate it!*
Vermont is a state in the northeastern United States known for its natural beauty. The state is covered with mountains, forested natural beauty, and rivers and is popular for outdoor activities like hiking.
Vermont is also home to several small towns and villages, each with its unique character. Whether looking for a quiet place to relax or an exciting area to explore, Vermont has something to offer everyone. In fact, winter is also a great time to visit Vermont!
The cold weather brings out the best in the state's natural scenery, and there are plenty of activities to enjoy, from skiing and snowboarding to ice skating and sledding. Plus, Vermont is home to some of the country's best holiday markets, so you can find unique gifts for everyone on your list.
If you have planned to visit Vermont in winter, you will surely be looking for the best places to visit. Here is a list.
Best Places to Visit in Vermont in Winter:
Woodstock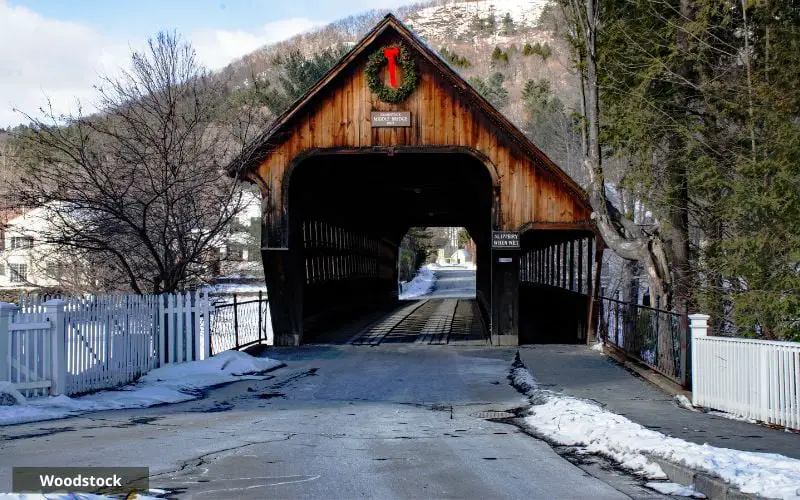 Woodstock, Vermont, is a beautiful town to visit year-round, but it especially comes alive in winter. The snow-covered streets and historic buildings create a picturesque scene, and the pace of life is slower and more relaxed. There are plenty of activities to enjoy, from sledding and skiing to ice skating.
Apart from enjoying many activities, there are some places you must visit while in Woodstock, such as Marsh-Billings-Rockefeller National Historical Park.
There are many shops and restaurants downtown where you can go and enjoy delicious food.
Besides, winter is the perfect time to cozy up by the fireplace with a good book or take a long walk in the woods. Whether looking for a romantic getaway or a family vacation, Woodstock is the perfect place to enjoy all winter offers.
Stowe
Stowe is a picturesque town in the heart of Vermont's Manfield Mountains. The town is best known as a popular ski destination, but it also has much to offer visitors during winter. The mountain slopes are covered in snow, making them ideal for skiing and snowboarding.
Numerous hiking trails wind through the forests, offering breathtaking views of the surrounding countryside. In addition, Stowe is home to several museums and historical sites, which provide a glimpse into the town's rich history.
You can visit the Vermont Ski and Snowboard Museum, which hosts a variety of skiing and snowboard artifacts. If you are a skiing professional, this place is heaven for you. Even if you aren't, this place is fun for everyone. Stowe is sure to have something for everyone, whether you're looking for excitement or relaxation.
Eden Mills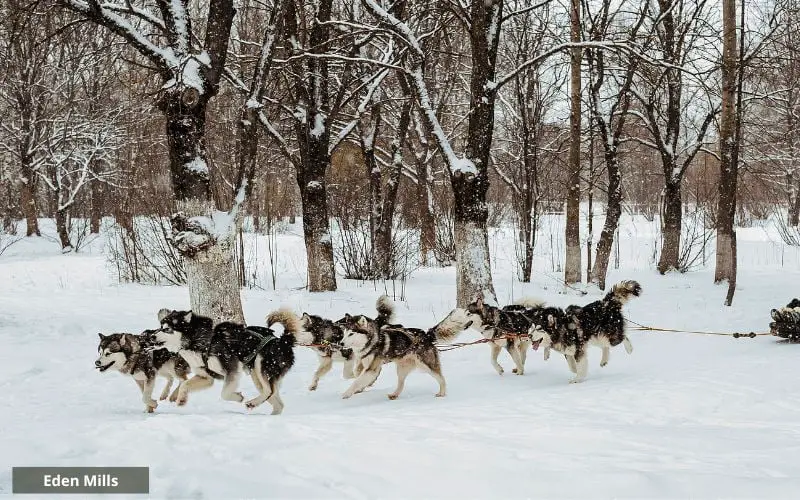 Another best activity during the winter is going on a dogsledding adventure. But where should you go? You should consider Eden Mills, Vermont.
Here's why: First of all, the setting is stunning. The picturesque village is nestled in the Mountains, and there are endless opportunities for exploration. Whether you want to take a scenic hike or just enjoy the views from your cozy cabin, you'll be in awe of your surroundings.
Second, dog sledding is top-notch. You'll have the opportunity to mush with a team of huskies dogs through beautiful forests and meadows, and you'll quickly fall in love with this exhilarating activity.
It is an amazing winter experience while traveling to Vermont during winter.
Burlington
Burlington is a picturesque New England city with a lively downtown and a strong sense of community. Winter is a particularly magical time in Burlington when the snow-covered streets and twinkling lights create a scene straight out of a postcard.
And although the temperatures can be chilly, there are plenty of ways to stay warm, from sipping hot cocoa at one of the local cafes to exploring the many art galleries and boutiques. 
Burlington is sure to satisfy you if you're looking for a winter wonderland or simply seeking respite from the hustle and bustle of daily life. Plus, Burlington has much to offer visitors year-round.
Manchester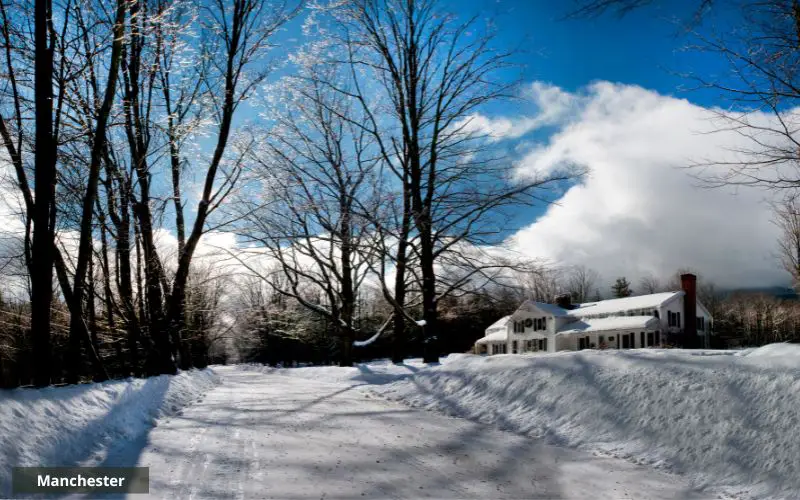 Don't confuse this Manchester with the one in England. It is one of the most beautiful towns in Vermont. Manchester, Vermont, is a small town located in southern Vermont.
The town is near some of the best ski resorts, which attract visitors from all over the US. The town also has a lot to offer during the summer. Visitors can enjoy hiking, biking, and golfing in the beautiful Vermont scenery.
There are also several excellent restaurants and shops in Manchester, Vermont, where you can enjoy the delicious local food.
Manchester is the perfect destination if you are looking for a small town with a lot to offer.
Bromley Mountain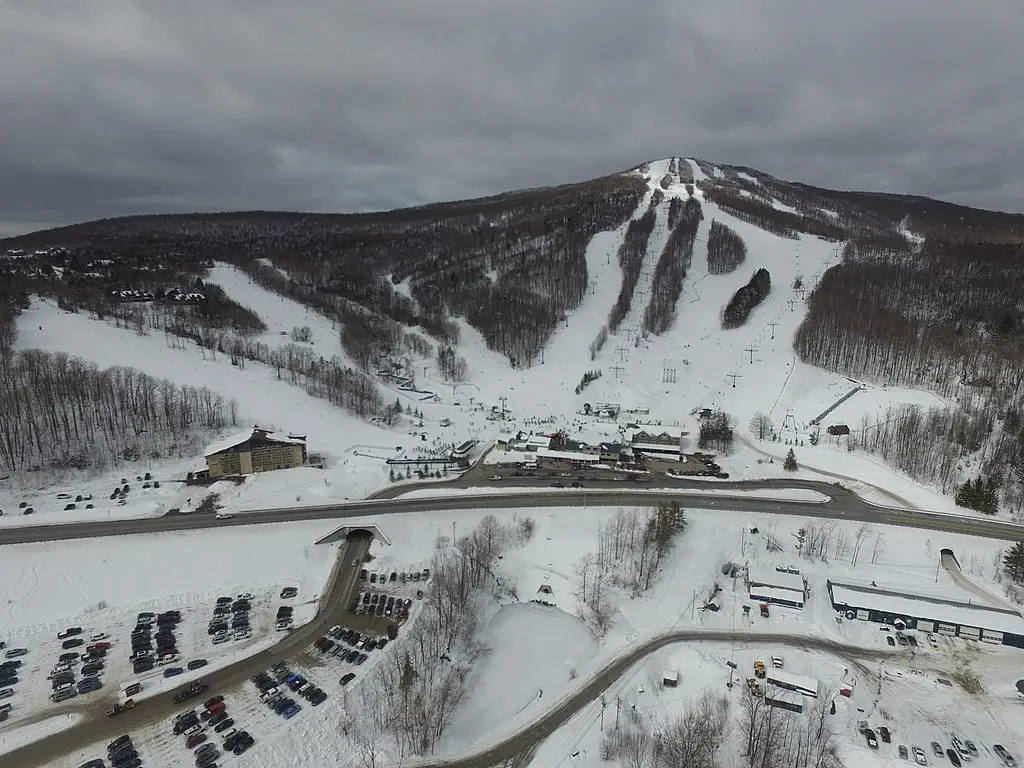 Credit: Jared C. Benedict
Bromley Mountain is a popular destination for skiers and snowboarders, but it also offers a lot for those who enjoy other winter activities.
The mountain offers stunning views of the surrounding countryside. It is also home to a variety of wildlife, including deer, rabbits, and squirrels.
In addition, Bromley Mountain provides an excellent opportunity to enjoy the quiet beauty of nature.
Cross-country skiing and snowshoeing are both popular activities on the mountain, and there are several miles of trails to explore. Visitors can also enjoy sledding and tubing on the slopes, making it the best place to visit.
Lake Champlain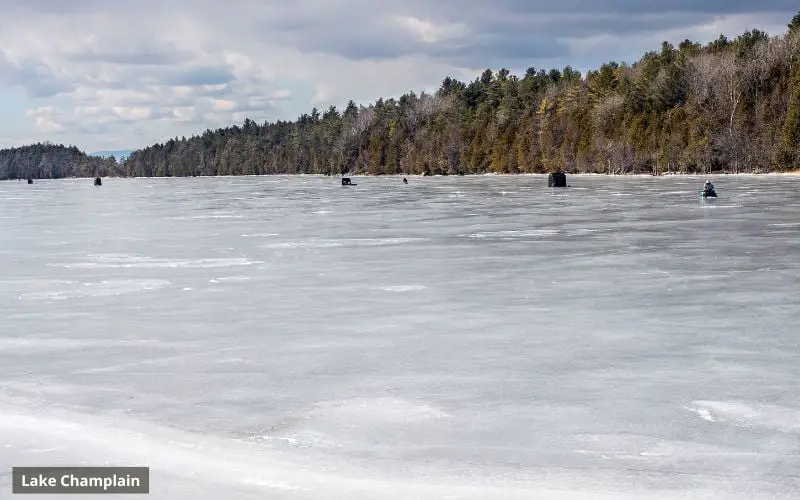 This picturesque lake is a popular summer destination for fishing, boating, and swimming. But, Believe it or not, winter also is one of the best times to visit Lake Champlain.
But when the temperatures start to drop and the leaves begin to fall, the lake takes on a whole new character.
The crowds thin out, leaving the shores quiet and peaceful. And as the water begins to freeze over, it transforms into a veritable winter wonderland. Ice fishers set up their shacks on the frozen surface while snowmobilers zip across the snow-covered waves.
The Mad River Valley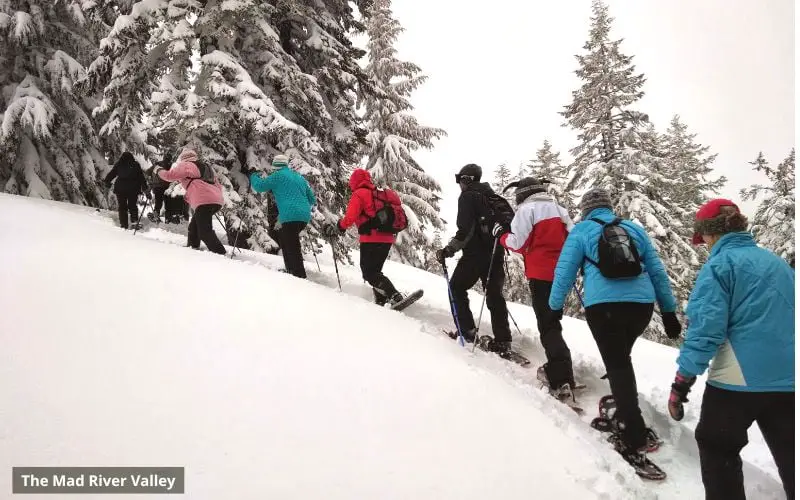 The Mad River Valley in Vermont is a beautiful place to visit any time of year. However, wintertime offers its own unique charms.
The snow-covered landscape is both picturesque and perfect for activities like cross-country skiing and snowshoeing. And after a day spent outdoors, there's nothing better than cozying up by the fire with a cup of hot cocoa.
The other important highlight of the Mad River Valley is Ben and Jerry's Factory, where you can try their delicious ice cream.
It's the perfect place to spend a winter vacation. There's something for everyone, from those who want to stay active to those who just want to relax and take in the scenery.
---
Recommended Reading:
Best Places to Visit in Pennsylvania in Winter
---
Bolton Valley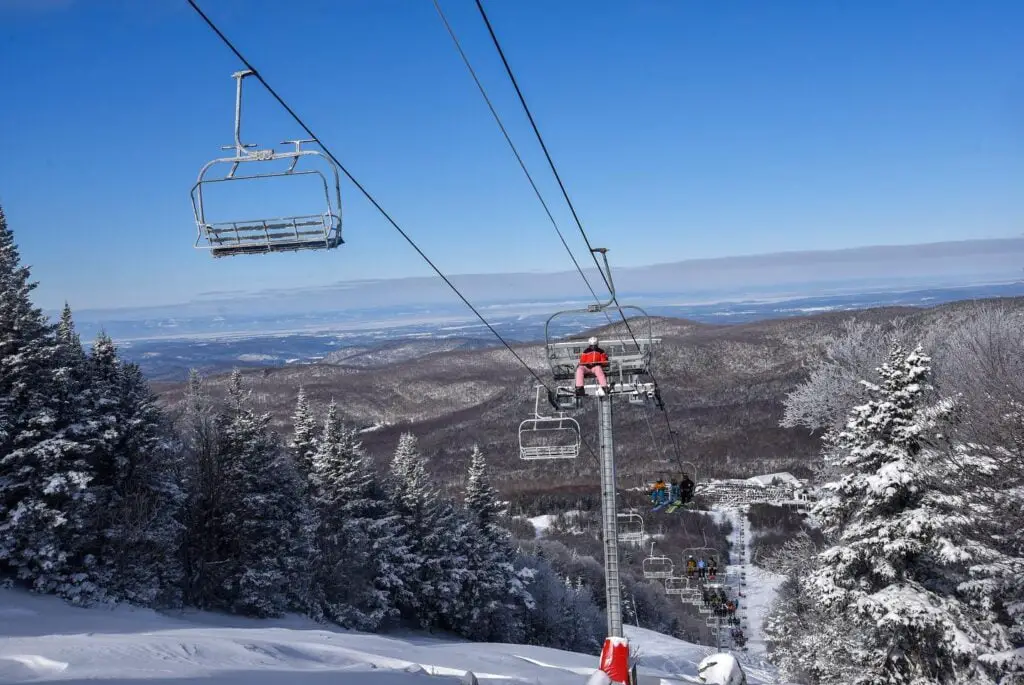 Credit: Bolton Valley
Bolton Valley is a great place to visit for its outstanding natural beauty and awesome family skiing spot!
There are also numerous hiking trails that provide stunning views of the surrounding mountains. Bolton Valley is also a popular destination for skiing. But in summer, this place is popular for mountain biking, hiking, and other interesting events.
The resort offers a variety of trails for all levels of skiers, from beginners to experts. In addition, the resort has a state-of-the-art snowmaking system, which ensures that there is always plenty of fresh powder on the slopes. 
The Lake Morey Area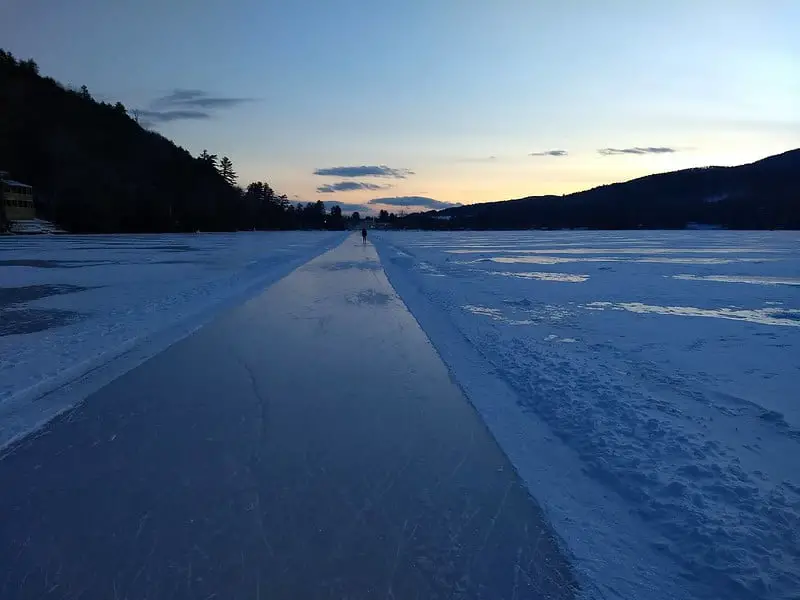 Credit: mararie
Nestled in the picturesque Green Mountains of Vermont, the Lake Morey Area is a hidden gem. This scenic region offers a wealth of activities for visitors to enjoy, from hiking and biking to swimming and boating.
The area is also home to a variety of unique attractions. The best place to stay in the area is Lake Morey Resort, which is the oldest continuously-operating resort in the United States.
Morey Area is a great place to visit all year round, whether you're looking to enjoy the outdoors or just take in the sights.
In the winter, the area is perfect for skiing, snowboarding, and other activities that give the whole family fun!
Quechee Gorge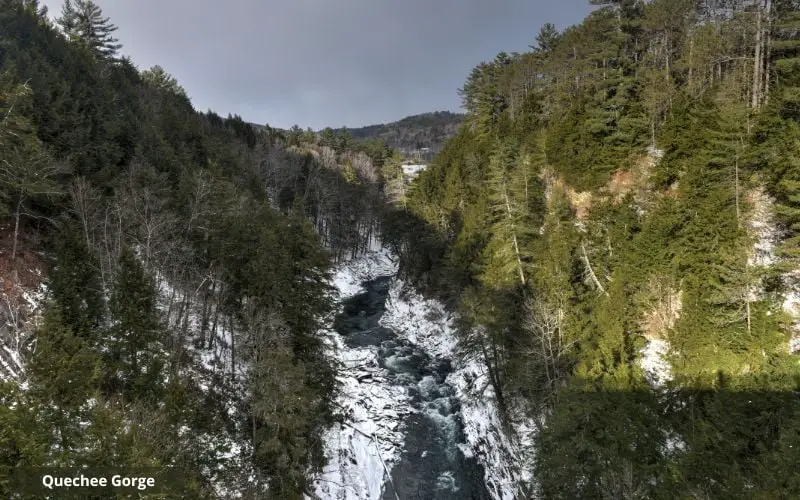 The Quechee Gorge is one of Vermont's most popular tourist destinations, and with good reason. The gorge is a sight to behold, with its towering cliffs and rushing waters.
The gorge takes on a new beauty in winter, as the snow and ice transform it into a veritable wonderland.
Visitors can explore the gorge on foot, taking in the breathtaking views of the frozen river below. Several hiking trails wind their way through the gorge's woods for those feeling more adventurous.
Regardless of how you choose to explore it, the Quechee Gorge will leave you with a lasting impression.
Which is the Best Time to Enjoy Winters in Vermont?
There is no bad time to enjoy the winter season in Vermont. Each month has its own unique charms, from the sparkling snowfalls of December to the crisp, sunny days of February.
However, if you had to choose just one time of year to experience Vermont's winter wonderland, the best time would probably be January.
January is typically the coldest month of the year in Vermont. However, it is also one of the driest months. This means that you are more likely to experience crisp days during your visit.
January is also when Vermont's famous ski resorts are at their best. So if you're looking for the perfect combination of snow, sun, and fun, January is the best time to enjoy winters in Vermont.
No matter when you visit, make sure to enjoy all that Vermont has to offer – from its beautiful landscape to its delicious food!
If you are looking for a winter getaway that has plenty of activities to keep you busy, Vermont is the place for you. From skiing and snowboarding in the mountains to check out the charming small towns, there is something for everyone in this picturesque state.