*This post may contain affiliate links, which means we may receive a small commission, at no additional cost to you, if you make a purchase through a link. Thank You! We really appreciate it!*
Montana is a beautiful country located on the northwest side of America, famous for its wildlife, fantastic scenery of mountains, and blue skies. There are many places in Montana where you can have a perfect relaxing vacation. If you get a lifetime to spend in Montana, it is still not enough to fully explore this wonder of nature. 
There are many places to visit and activities to do while in this fantastic city. The activities that you can do here are:
A long drive along the highways.

Feeling the cool breeze of the mountains.

Discovering the city's cultural sites.
Due to its vast size, it has many hidden gems that should be explored in Montana, and they're often missed out because they're not as popular as the other places in this country. We have listed 13 hidden gems in Montana that you should put on your bucket list.
Yaak Valley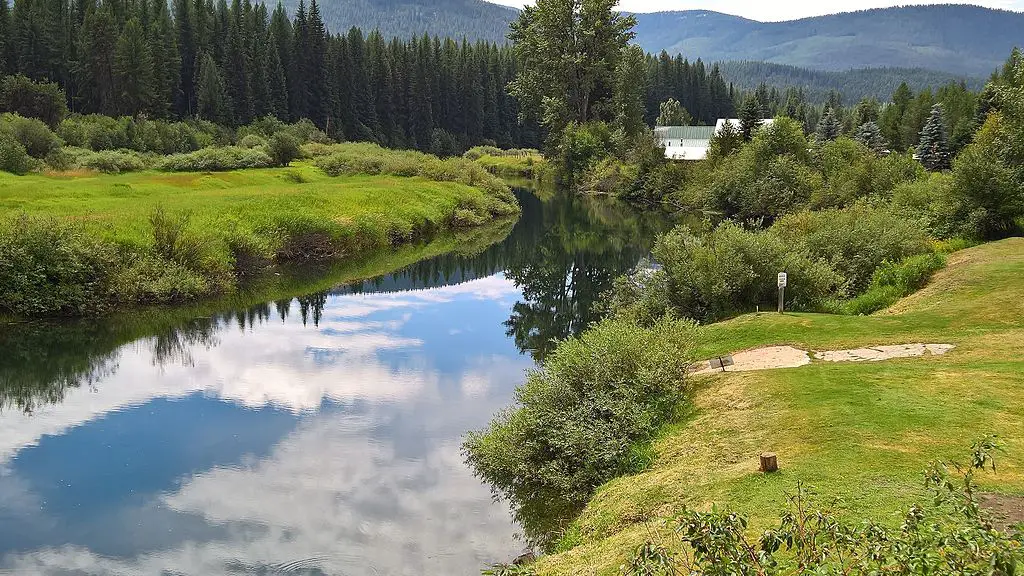 Credit: Davidmcarson (Wikimedia Commons)
Can you imagine a place where you are surrounded by a lush green forest and a river cutting through the forest? We know that it is hard to imagine a place like this in this artificial world, but to your surprise, this place exists.
In the countryside of Montanna is Yaak Valley, where you can have this imagination come true. Along the forest of Yaak Valley, the Yaak rivers flow with their crystal clear waters. 
The Yaak Valley is a habitat for many species, and you can get a chance to interact with them or take pictures. The animals found in this valley are grizzly bears and mountain goats, along with others. It is not a famous place but a hidden gem where you can secretly go and have some great fun.
Garden of One Thousand Buddhas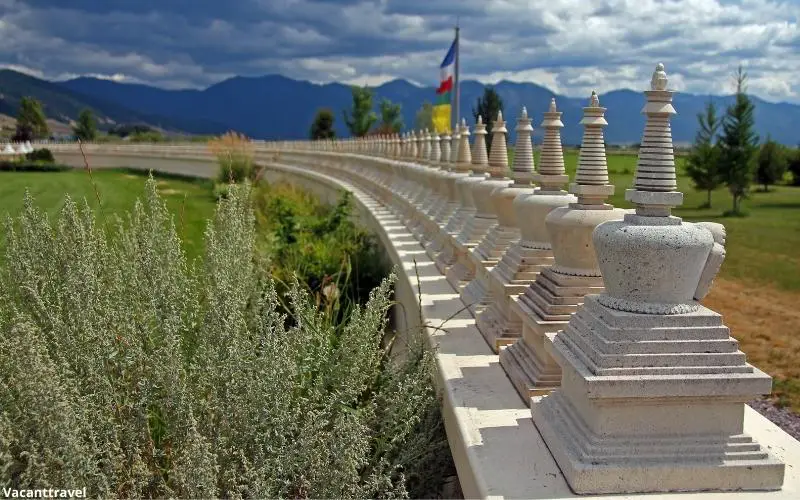 Among the other hidden wonders and gems of Montanna are the Gardens of Buddhas. Located in Arlee, it is a spiritual site that has been here since the year 2000.
While one might not expect to see a Buddhist temple in Montana, the garden of Buddhas is a place where there are 1000 sculptures of buddhas that you can see. The Garden of One Thousand Buddhas is elegantly landscaped with native trees and flowers, giving lasting impressions of peace and compassion.
Not only offer you the view of 1000 Buddhas, but the garden scenery is fantastic. It is a must-visit hidden gem if you are a fan of exploring different cultures and history.
Jim's Horn House
One of the appealing hidden gems of Montana is the collection of antlers by a 70 years old man Mr. Phillip. He has a collection of 16,000 antlers in his shed. If you want to look at them, you've to ask Mr.Philip for permission, and he will probably allow you to see them.
The most beautiful thing about these antlers is that they're not extracted from the animals by hunting them.
Mr. Phillip was fond of collecting these antlers, and he started collecting them when he was a young boy of 10 years. He keeps an eagle eye on the forests, collects any lost antlers he finds, and adds them to his collection.
Remember that these antlers are not for sale, and Mr. Phillip is proud of his collection, which took him 60 years to complete this collection.
Allen's Manix Store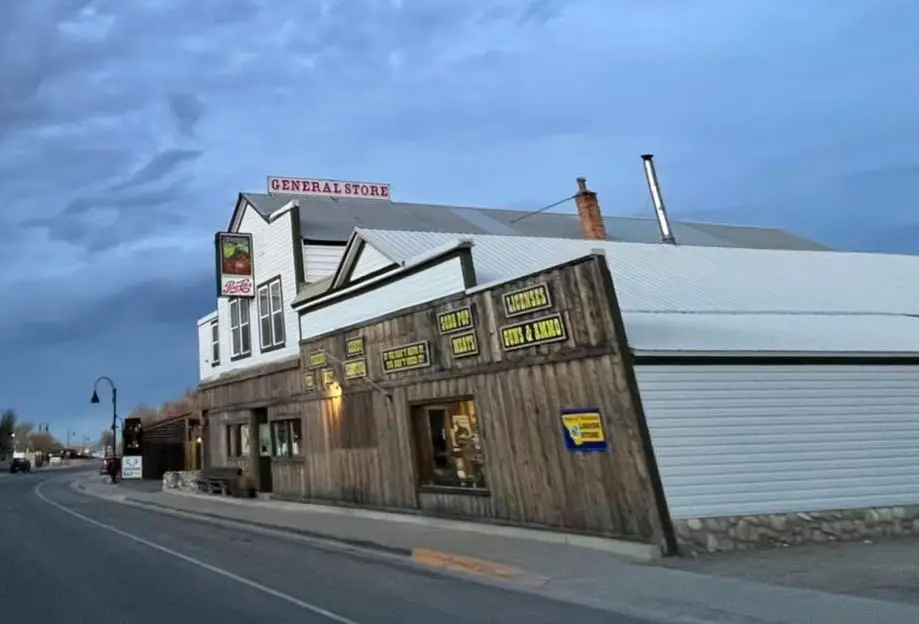 Credit: Allen's Manix Store
The Allen's Manix store is also a rare thing in Montana, and this store is family-owned. The store claims to have everything you need and desire, and they advertise themselves as if they don't have a sure thing; you really don't want it.
This store has various things to offer. Apart from satisfying your need, the cute little thing about this store is that it is built in an old-fashioned way that gives aesthetic and vintage vibes.
It has served the local folks and many travelers coming to or through Augusta. Do explore this unique store while in Montana.
The American Computer & Robotics Museum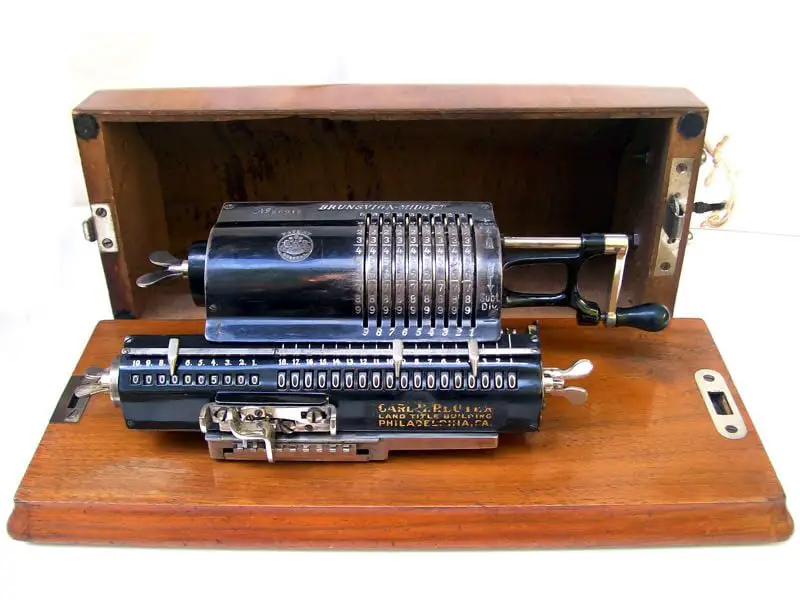 Credit: American Computer & Robotics Museum
The American Computer and Robotics Museum have a variety of collections of antique and unique computers, which are often neglected from people's list because it appears pretty dull. Still, if you are a computer enthusiast, this museum is undoubtedly made for you.
Their collection is so well organized that it visualizes how computers and other devices have changed over only a few decades. Many people aren't engaging in visiting such places, but it never hurts to gain some knowledge in your tour of the city of exciting things.
The City Underneath Havre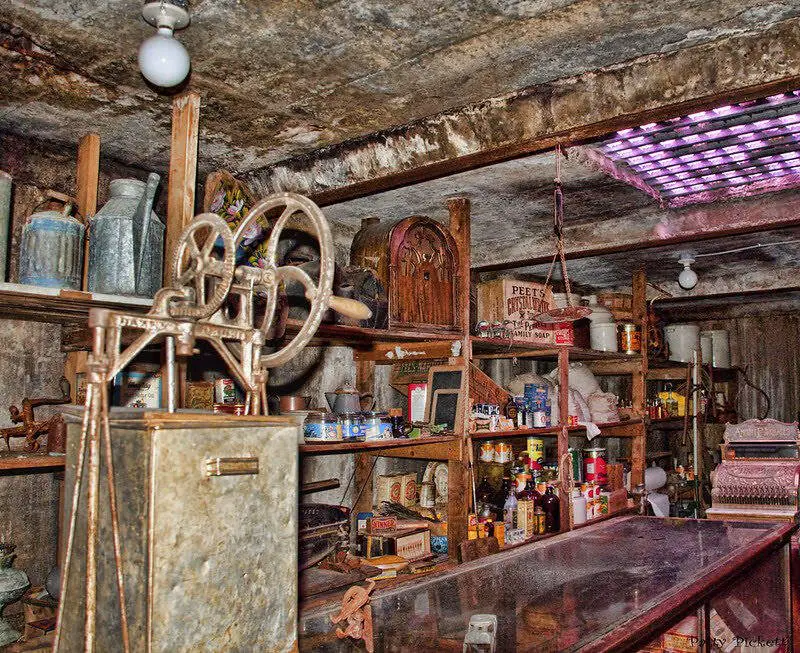 Credit: Pattys-photos (Flickr)
Havre Beneath the Streets, Montana, was established when the fire damaged the whole area in 1904, and due to the enormous losses, the businesses decided to shift their stores to the steam tunnels running under the city until the city could be rebuilt.
You can visit the underground world of the Havre on your street tour. This was well worth the stop.
Glacier National Park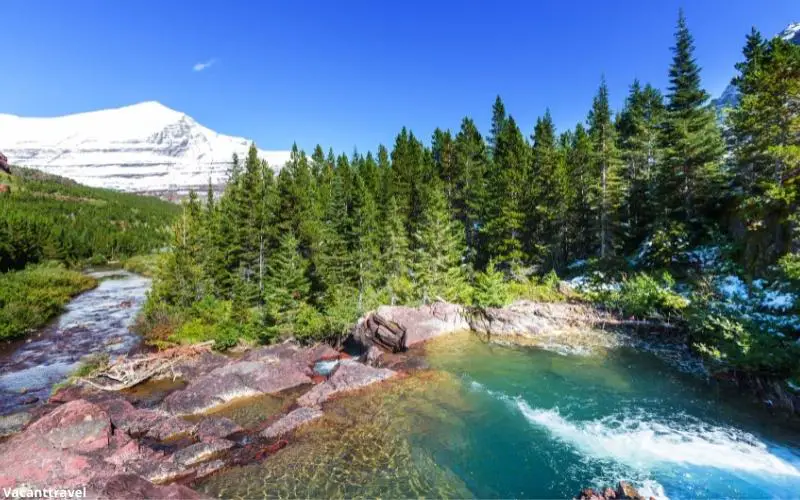 The city of Montana is a place to visit because of its unspoiled parts of nature, such as huge mountains, beautiful waterfalls, and pristine lakes. If you want to see all these aspects of nature in one place, then definitely give glacier national park a go because it is full of unspoiled and beautiful terrains.
It is the first National Peace park, and it is a must place for people who are peace and nature lovers because they can enjoy both in one go! While in the Glacier National Park, gaze at the vast glacier called Grinnell.
To enjoy the beautiful scenes of nature like those you see in magazines and cover pictures, take a long drive along sun highway, which passes along Lake Mcdonald. Only the imagination of these simply soothes your mood; imagine being actually there. There is so much to offer if you like nature.
Boiling River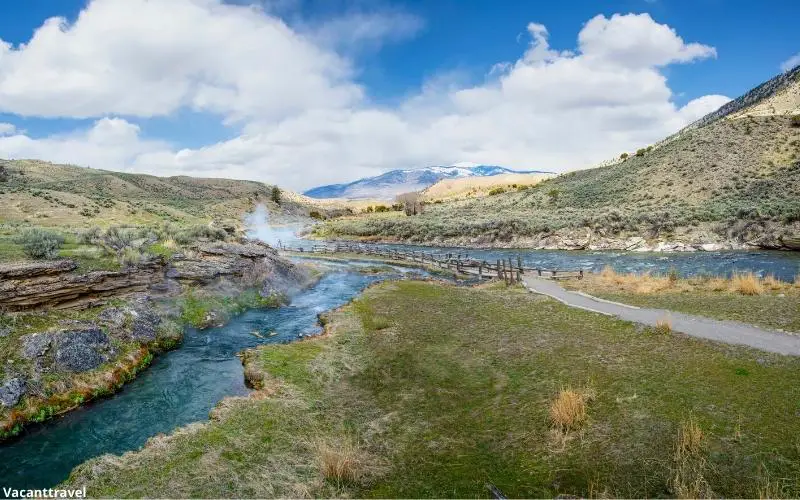 The boiling river is located in the most famous tourist place called Yellowstone National Park. There are many famous places to visit in this national park which leads most people to miss the most impressive and mesmerizing part called the boiling river.
The boiling rivers combine hot water from the Mammoth Hot Spring and cold water from the Gardner River. Stepping and bathing in this river seem like a relaxing warm tub bath, and you can feel yourself connecting with nature.
The river has a different bathing spot half a mile away from the main river, but it is a lifetime experience to bathe in the boiling river, and we suggest you go with it. If you don't feel the craving for a bath, you can soak your feet in it.
American Prairie Reserve
American Prairie Reserve is located in the heart of Montana's huge plains, and it is no doubt one of the hidden gems to explore while in Montanna. It is located on the north and south side of the Missouri River.
It is home to many species such as bison, deer, elk, and bighorn sheep. You can get a chance to see the wildlife closer that roams around the area.
For a reminder, American Prairie is located in a remote wilderness area. Please do not approach any animal. Please maintain your safety distance from the animal in this area.
It is an animal-friendly destination, but the pets must be kept under control, and they may not be left outside unattended. There is an area for a campground if you want to stay at night in American Prairie.
A lot of activities offer you an amazing experience, and you don't want to miss enjoying the scenic views here.
Alberton Gorge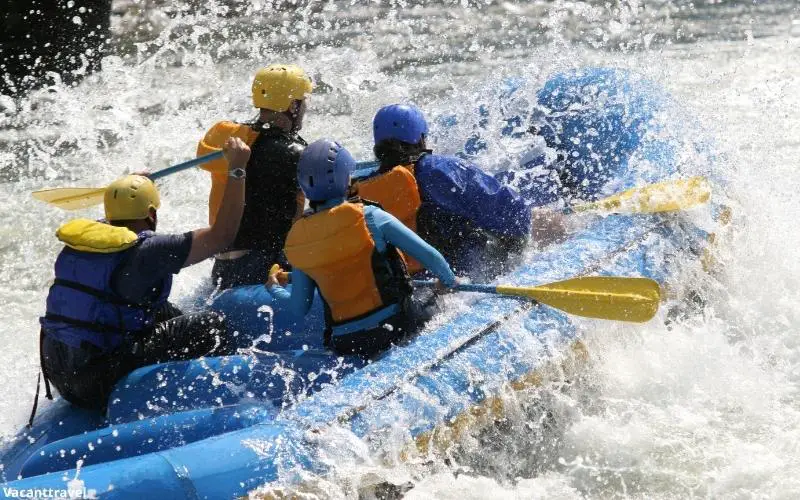 Alberton Gorge is Montana's most excellent whitewater destination. It is the place to go for some spectacular whitewater action.
The Gorge is a stunning steep-walled canyon stretch of the Clark Fork River, ideal for a hot summer day excursion. This place offers you amazing outdoor recreation adventures such as fishing, rafting, and kayaking.
Bring the whole family on a Montana whitewater adventure with a local river guiding service like Adventure Missoula.
Beartooth Mountains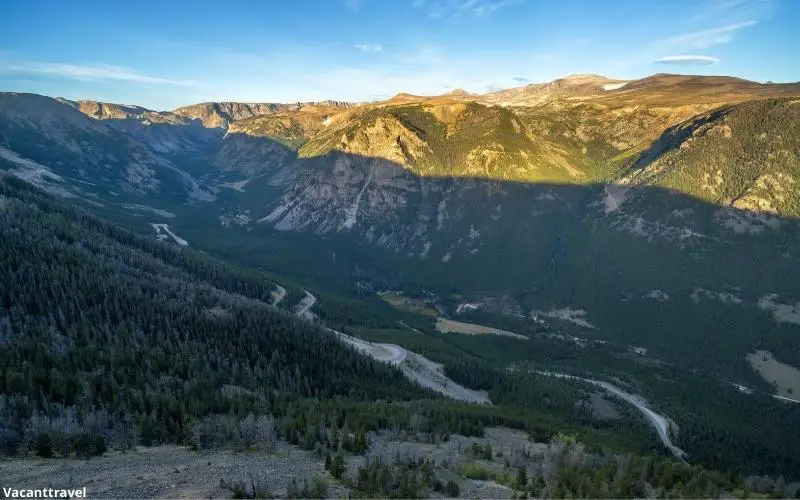 These jaw-dropping mountains are located in the south of Montana and are one of the less visiting places. They were hiding from us until 1870. These valleys are one the hidden gems as it is home to mesmerizing scenery of big mountains, pristine lakes, and peaks.
Granite Peak is the highest peak in the Beartooth Mountains, with an elevation of 12,799ft. This place is accessible year-round, but the best time to visit the area is May to October.
It is a habitat for a considerable number of plants and animals. It isn't often visited and used by Americans for various activities such as hunting.
You can do several activities such as climbing the high peaks of the mountains, but for this, you should be a professional climber.
Paradise Valley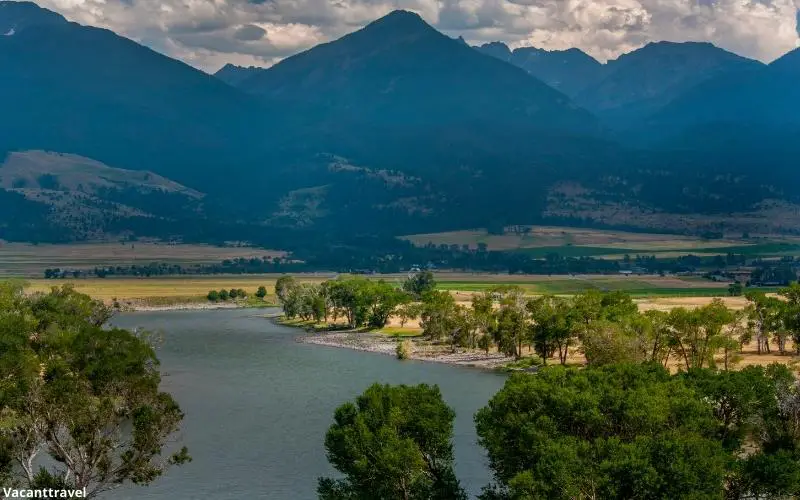 Another place slightly away from the popular destination of Montana (Yellowstone National Park) is Paradise Valley which travelers often ignore.
The Absaroka Range on the east and the Gallatin Range on the west overshadow the Paradise Valley. Still, it is one of the most perfect and luxurious vacation spots away from the dense population.
The paradise valley is indeed a great wonder of nature, and it is a fantastic place to enjoy the breathtaking scenery.
Paradise Valley is surrounded by breathtaking views of the mountains and blue sky at night. You can enjoy a warm bath in the springs that flow in the valley or can do several outdoor activities such as hiking the jaw-dropping mountains.
City Beach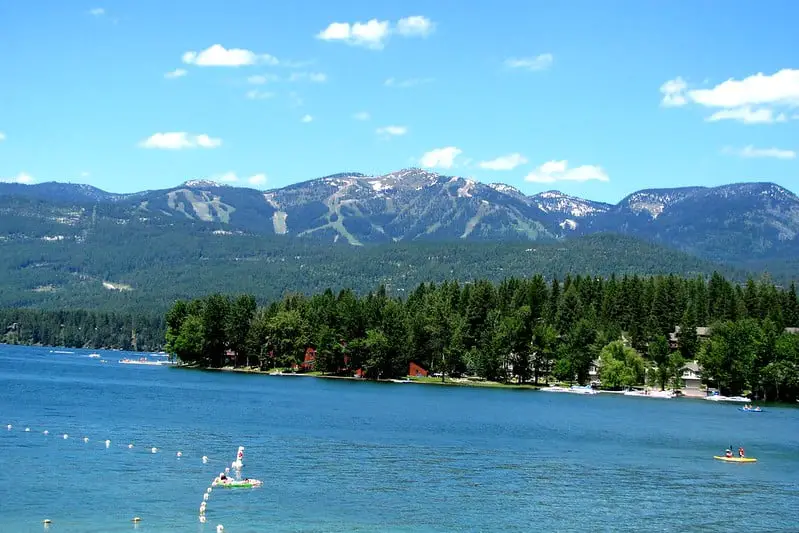 Credit: ted (Flickr)
Whitefish Lake is a glacial lake near Whitefish, Montana, 7 miles long. Near the lake's outflow, City Beach is one of the most popular public access points.
This magnificent location in Whitefish boasts seven miles of sandy shorelines that surround the south end of Whitefish Lake. It's a popular hangout spot with several activities, like a swimming area, a kayak, paddleboard rentals, picnic tables, and gazebos. These all spots are available during the summertime.
You can relax by swimming in the crystal clear water or relaxing on the beach, all with the stunning backdrop of the mountains. One of the best places to spend time with your friends and family in Montana.
That was about our list of the top 15 hidden gems in Montana, which people usually miss. These hidden gems have one significant advantage they're not crammed with people, and you can have a different experience here.
We know that there are many popular places to visit and stay in Montana, but if you still have time, don't forget to check them out and enjoy the hidden wonders of Montana. 
This great state has so much to offer that even the whole life isn't enough to explore its never-ending beauty fully. Plus, Do not forget to check out some cool accommodations in Montana for your next getaway.