*This post may contain affiliate links, which means we may receive a small commission, at no additional cost to you, if you make a purchase through a link. Thank You! We really appreciate it!*
When someone talks about Arizona, dessert areas come into our mind. However, Arizona is indeed famous for its desert climate. The winter is normal while the weather in summer is hot. Still, there are places that are worth visiting. 
Arizona can be divided into two different geographical regions, i.e., the Northern Part and the Southern Part. The northern part is rich in Pine forests, Spruce trees, and large deep canyons. While the southern part is famous for its harsh climate, so if you visit it during winter, the temperature will be moderate.
If you are looking for day trips in Arizona for couples, there are a lot of places that are worth visiting and considered the best source of enjoyment for couples.
Grand Canyon National Park
Grand Canyon National Park is located in the northwestern part of Arizona. It is among the most popular parks in the United States of America. According to 2022 statistics, around 4-6 million people visit this place every year.
The main reason behind its popularity is the 278 miles of Colorado riverbank and the Grand Canyon. You can enjoy the fantastic landscape in this park with your partner.
It is worth mentioning that while visiting the park, you will need to buy a digital pass. The entry rates may vary from vehicle to vehicle. You can enter the park via either North or South Rim. Besides this, a camping and lodging facility is also available at the south and North Rim. You can visit restaurants and buy groceries from the attached shops.
Sedona
If you have watched the movie "310 to Yuma" and "Midnight Run," then your next place to visit is in Sedona. Sedona is a city in the middle of Arizona, famous for the canyons, red rocks, and sandstone butts. It is one of the best places for married couples to visit. The maximum traveling time may range up to two hours from different cities in Arizona.
You can use your own car or Jeep. Besides this, the place is best for self-exploration, hiking, meditation, and spiritual healing. You can also visit different art galleries in Sedona. In short, Sedona is a true oasis and a beautiful place for day trips.
White Mountains
The White Mountains are located in the eastern part of Arizona near the Mexico border. Visiting Arizona's the White Mountains gives you and your partner fresh air. The best time to visit this place is in summer.
You can enjoy the shades of large pine trees and small lakes. Besides this, it is one of the best places for hiking, horse riding, fishing, and camping. The range consists Apache-Sitgreaves National Forest and hiking tracks at height.
Phoenix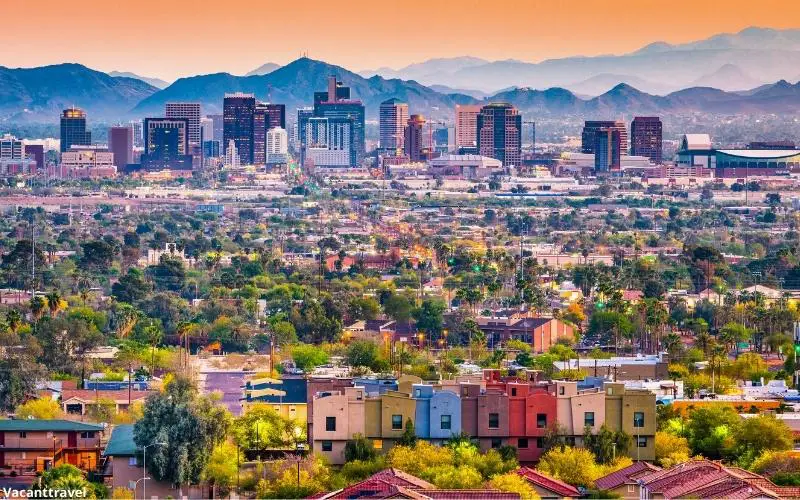 Phoenix might be your next destination if you are a sun seeker or golfer. It is one of the most amazing places to visit. It is the capital of Arizona, with an area of 1338 sq. kilometers. In Phoenix, you will have access to golf courses, a wide range of shopping areas, desert parks, dining halls, campgrounds, and hiking tracks.
Besides this, if you are interested in history, you can visit the Heard Museum, Phoenix Zoo, Tallies in the west, and Phoenix Art Museum. Besides this, the beautiful mountains and canyons make Phoenix one of the best and a beautiful places for day trips in Arizona for couples.
Visitors can also enjoy 4WD rides, Hot Air balloon rides, and hiking or walking trails. You can also watch different games like football, hockey, and baseball. If you are interested in parks, we would suggest visiting Desert Botanical Garden, located at 1201 North Galvin Parkway. You can take them to the Children's Museum of Phoenix if you have kids.
There are a lot of must-see attractions in Phoenix that keep you busy during your vacation. 
---
You May Also Like:
Fun Things To Do in Tennessee For Couples
---
Glen Canyon National Recreation Area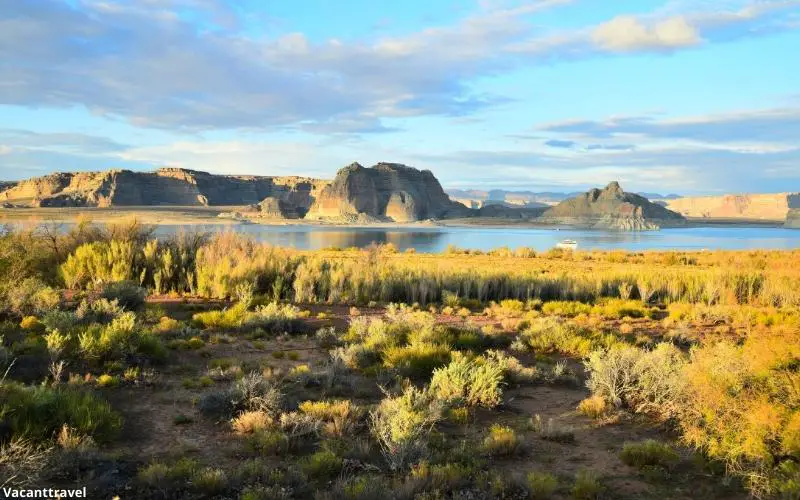 Glen Canyon National Recreation Area is the second human-made lake in the USA and is spread over 1.25 million acres of area. The place is saturated with dramatic stone walls, blue water, and a beautiful desert landscape. The areas are a hot tourist attraction site and a boating destination.
The unique view gives you an opportunity to sit, enjoy and relax with your family. While visiting this area along with your family, give multiple recreation activities such as fishing, boating, hiking, and swimming. If you are looking for the best place to enjoy the maximum view, we would suggest reaching the town of Page. This will give you the best recreation site view.
Another best place to visit in Glen Canyon National Recreation Area is Antelope Canyon. It will boost your trip with your family.
Roosevelt Lake
Roosevelt Lake is another best location you need to visit. It is located at two hours travel distance from Phoenix, and it is one of the ancient geologic landscapes.
Arizona's Largest Lake offers visitors multiple recreational activities, such as swimming, fishing, boating, hiking, bird watching, etc. Besides, you can also hike Tonto National Forest from here. 
Roosevelt provides a variety of opportunities for adventurers to get out and explore the wild. 
Horseshoe Bend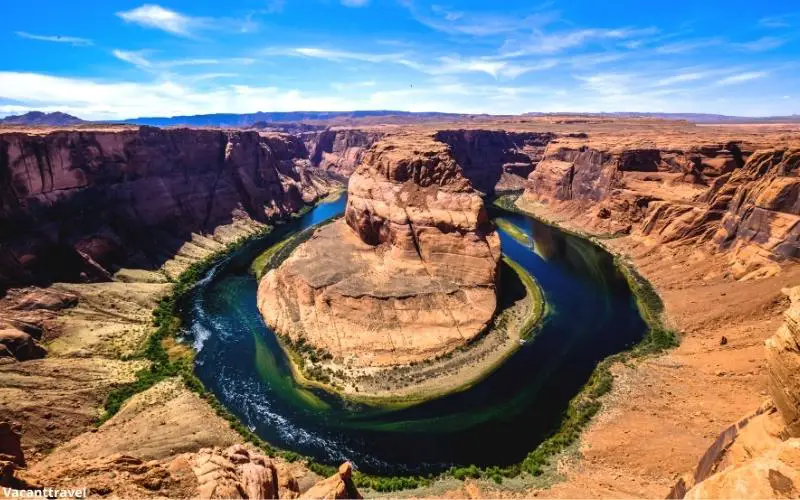 It is the most popular and beautiful natural destination in Arizona, and it is the incised meander of the Colorado River. It is located in Glen Canyon National Recreation Area near the town of Page, Arizona. Besides, the location is also accessible from Kanab UT, Navajo Nation, and St George UT.
While visiting Horseshoe Bend, please keep the parking fee in your mind. Due to the exposed rim, always take care of your foot and children. Another good news is that you can enjoy the view by air. The helicopter tour gives you the opportunity to enjoy the lake and the Horseshoe Bend.
Due to social media, it is one of the hottest tourist destinations, with over two million visitors yearly. If you are planning to visit Horseshoe Bend, the best time is early morning to avoid heavy crowds, and visiting around sunset is best for photography.
Havasu Falls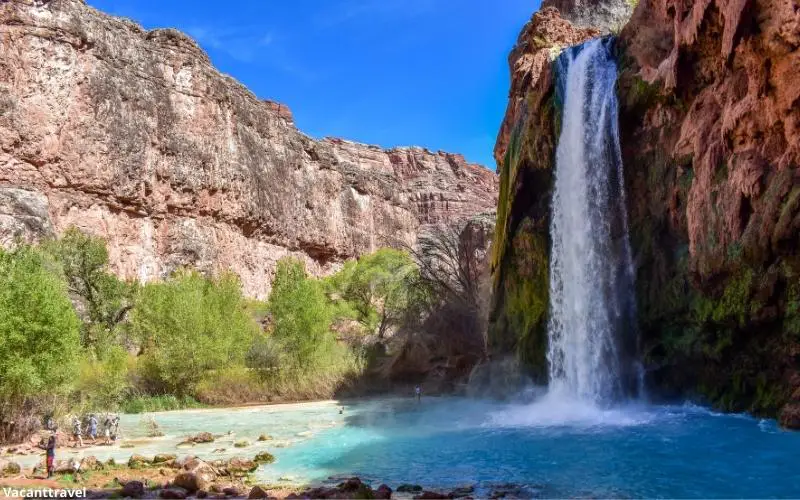 Havasu Waterfalls are located in Grand Canyon, Arizona. The water falling from the cliff height creates a beautiful and scenic view.
If you are visiting this beautiful place, you must confirm your reservation in advance by paying the entrance fee. If you are visiting in the form of a couple, make sure that both persons have made a reservation. If you plan for camping, advanced reservations and permits are required. You can go here to book your spot.
It is also worth mentioning that you can only access Havasu Falls via trails. There is no road. You can either hike or use a helicopter to reach this beautiful place.