*This post may contain affiliate links, which means we may receive a small commission, at no additional cost to you, if you make a purchase through a link. Thank You! We really appreciate it!*
North Carolina is among the most populous states and is home to almost 11 million people. The progress of North Carolina is relatively smooth, and it is known as the nature and technology hub of the US.
The state is heaven for people who are both beach and mountain lovers but have to decide between these two. North Carolina is home to beaches in the heart of mountains, so you don't need to worry about choosing between mountains and beaches. 
If you want to spend your holidays in the middle of beaches, then don't worry; we got you as we have listed the top ten small beach towns in North Carolina.
Wrightsville beach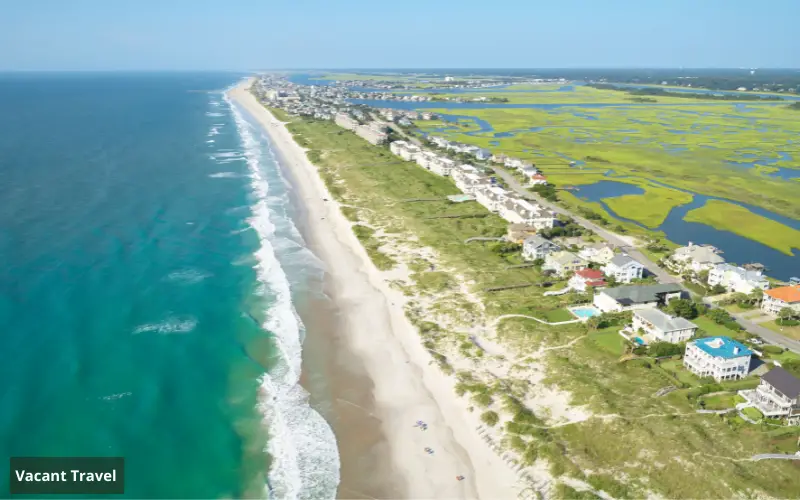 Wrightsville Beach is located on the east side of the barrier island, and this beach town is the perfect vacation destination for families.
The beach is surrounded by clear blue water and a spacious beach where they can enjoy various water activities such as surfing, paddling, swimming, or simply sunbathing on the beach's white sand.
There are many beach restaurants where you can enjoy delicious seafood to satisfy your taste buds.
The must-visit place on Wrightsville Beach is the visitor center, where you can relax after a tiring day of playing different watersports. If you still have the energy, you can enjoy different sports as the visitor center has basketball and tennis courts.
If you are a history lover, head to the Wrightsville Beach Museum of History, where there are different artifacts and photographs of the island from the 1900s.
Bald Head Island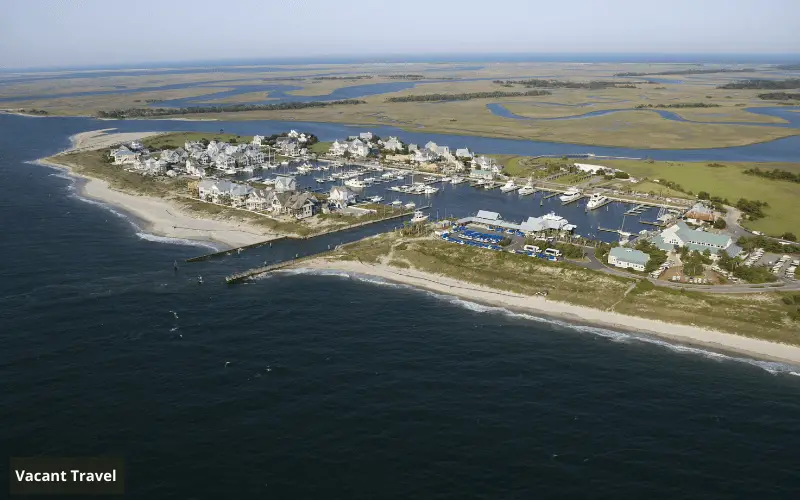 If you are looking for a remote beach town with no big crowd, give Bald Head Island a go. The place is like a small beach town with a golf club and several beaches where you can enjoy your alone time away from the people.
Bald Head Island is located in a remote village in the southeastern region of North Carolina. Access to the island is by ferry, and you need to book the ferry before your trip so you don't have to face any problems.
The main transportation on Bald Head Island is golf carts and bicycles. So it makes the perfect place for a relaxing stroll with your friends or families. 
Many people, especially locals, visit Bald head island for only two activities, such as playing golf and biking around the region, but if you are here for the first time, visit the beaches.
South beach is the best one to stay for a while on the island as it is the most remote beach, and there is a strong chance that there are not many people on the beach even in the summer.
Imagine the fun you will have with all the stretches of the beach contained to yourself. There are many things to do on the beach, such as you can relax on the white sand or swimming as you want on the beach.
Morehead City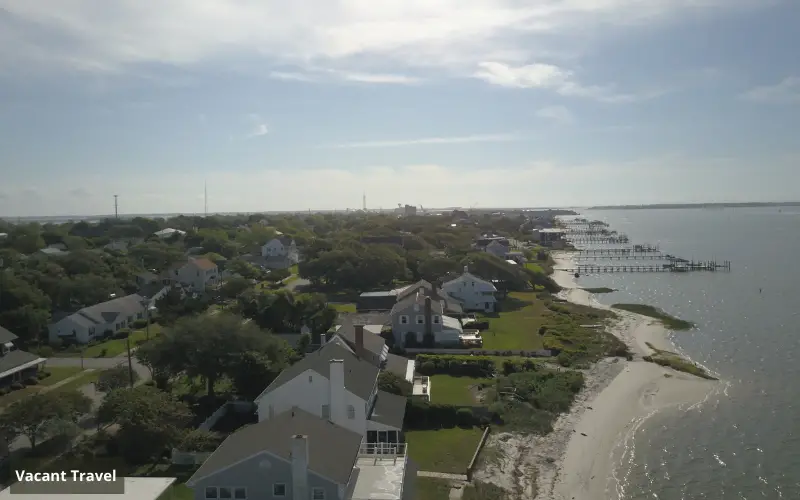 Morehead is the largest city on the crystal coast, with so much the city has to offer. Morehead city is famous for the breathtaking scenery of the beaches and mountains, rich history, and delicious seafood.
Morehead city is full of entertainment. Several fun festivals are held throughout the year, such as North Carolina Seafood Festival; be sure to join one of them when you are in Morehead City.
Morehead city's must-visit place is the wavefront, and the trip to Morehead is incomplete without visiting this place. The wavefront has to offer some fantastic scenery, and the place is excellent for fishing activities as it is a hub for commercial fishing.
Another place you shouldn't miss is Jaycee Park. There are many things to do in Jaycee park, such as many historical landmarks in the town where you can visit and enjoy the water.
Jaycee Park is where most of the concerts, art exhibitions, and festivals are held, and be sure to join them if you are in Morehead city at that time.
Atlantic Beach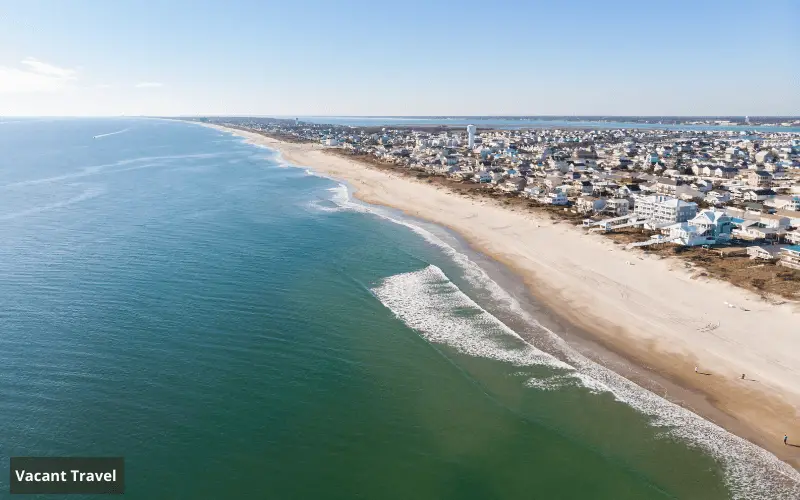 The place you shouldn't miss while in North Carolina is Atlantic beach. It is among the oldest beach town on the Bogue Banks, which is why it is full of history and culture. One of the must-visit places in the Atlantic beach town is Fort Macon State Park, which is the civil war fort and is visited by thousands of travelers annually.
Atlantic beach is perfect for enjoying your vacation in the beach town, and you get a chance to enjoy several activities such as swimming, scuba diving, and all other relevant water activities.
The place is among the finest if you are looking for some fishing activities. You can go to the Stancy Fishing Center and catch some big fish.
Atlantic beach is the perfect place to visit with family, and there is something for a person of every age.
Carolina Beach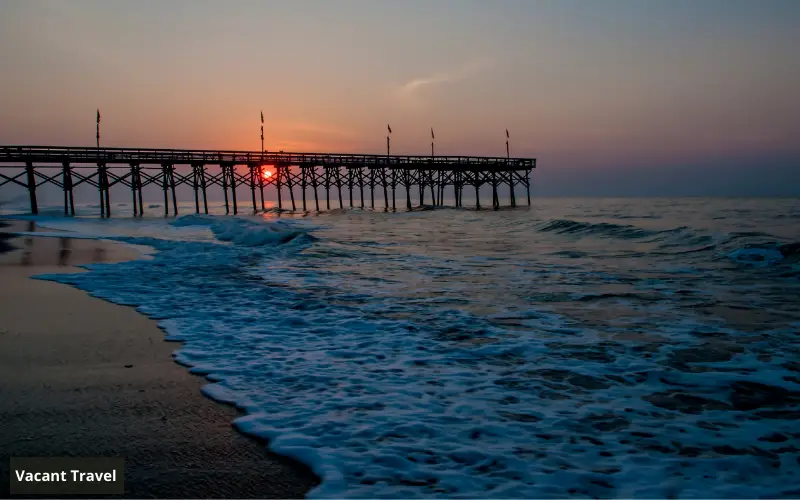 Carolina Beach, like others, is among the finest beach town in North Carolina, which offers a unique and most entertaining experience during its visit. Carolina Beach is home to the best offshore and inshore fishing opportunities.
You can do endless activities at Carolina Beach, such as hiking through the Carolina Beach State Park. The state park is home to rare plant species known as venus fly trap. These species bloom in May, and while hiking, you can get the chance to see these rare species of the plant.
If you are visiting the beach town, then, of course, you are looking for some water activities, and the best sport to do on Carolina Beach is paddling. 
Biking through the beach town is another everyday activity you can enjoy if you have time.
Holden Beach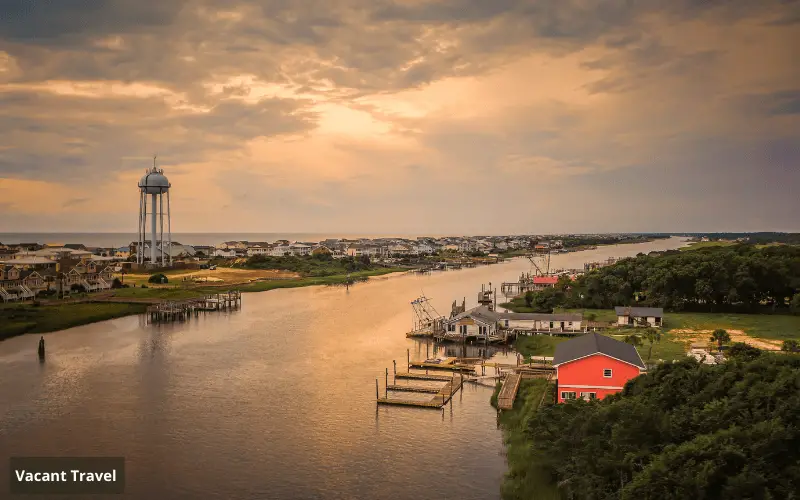 Holden Beach is the best small beach town for families, according to the national geographic traveler, and the reason is it has to offer something to people of all ages. Holden Beach is a small scenic town, but it has to offer many things, and people come here repeatedly as it has magic in the air.
While on Holden Beach, you can enjoy the water activities such as paddling and kayaking in the Intracoastal Waterways or bless your eyes with the dolphin play near the shore.
There are many restaurants along the Intracoastal Canals, and there is delicious food you can try, such as seafood. Many festivals are happening here throughout the year, and be sure to attend the festivals if happening during your stay in North Carolina.
If you are looking for fishing opportunities, you can head to the Holden Beach Fishing Pier and catch some fish.
Nags Head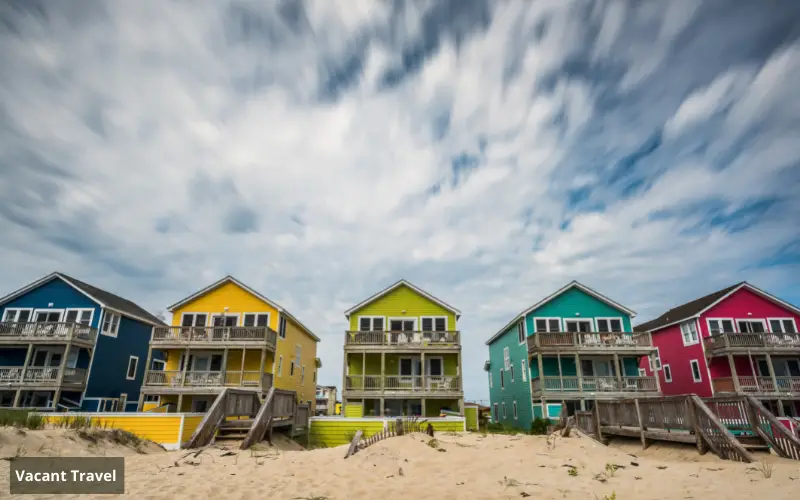 Nags Head is not only the best beach town for the water activities and beaches but also for its rich history and culture. That's the reason it is visited by thousands of visitors each year.
Nag's island is home to the most significant number of beaches, golf clubs, and go-cart tracks, and there are several activities you can enjoy at these places.
When visiting the best place on Nags Head, give Jockey's Ridge State Park a go. It is the largest sand dune, and you can enjoy your day relaxing on these white sands and enjoying the panoramic views of nature.
You can visit their beaches where you can enjoy the water activities such as swimming, surfing or fishing. Last but not the slightest thing about Nags Head is their restaurants, which offer delicious mouth seafood.
Topsail Beach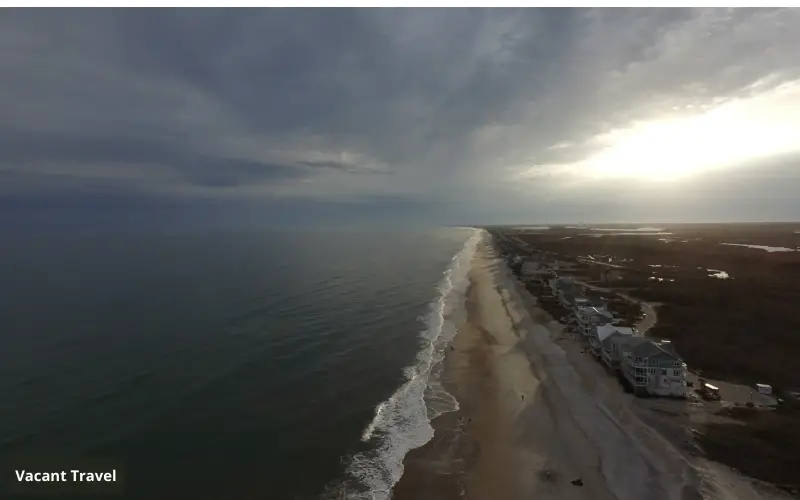 If you are looking for a less crowded beach town that offers the same pleasure, head to Topsail beach. Topsail Beach not only has beautiful beaches but also has a rich history, restaurants where you can enjoy delicious food, and fishing piers where you can go for fishing to catch fish.
You can head to the Missiles and More Museums, where you can learn about the region's history.
The place is great to visit with the family, especially if you have young kids. The Topsail Beach has a Topsail Escape Room where you can let your kids enjoy the fun activities.
If you want some fishing, you can head to the Seaview Fishing Pier, which offers a great fishing experience.
Whether you visit for a long or short vacation, you'll enjoy your time here.
Oak Island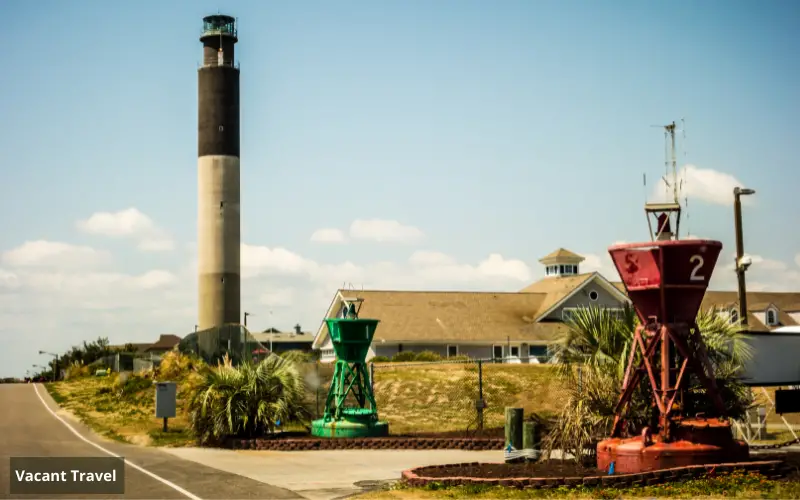 If you are craving to spend some quiet time on the beaches, you can go to Oak Island. Oak Island is located in the South Region of North Carolina. Oak Island is somewhat a hidden gem and isn't visited by many travelers, so you can spend a peaceful time without being annoyed by the crowds.
The main reason you are visiting this beach town is the beaches, and they are plenty of options for you to choose from. You can relax at the beach on their golden and white sands.
The beaches are also great for sunrise and sunset, and the best places to enjoy the sun set and rise scenery are Ocean Crest and Oak Island Pier. You can also go fishing in these places apart from enjoying the picturesque views of nature.
Harker Island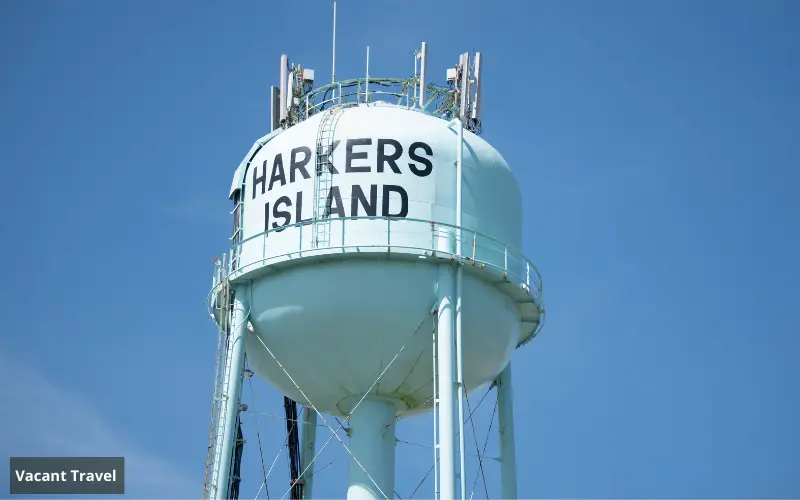 This small coastal community has kept its small-town charm for generations, and it's a popular destination for anyone who enjoys a slower pace of life, making it a must-see on any Crystal Coast vacation.
Plus, you can climb the lighthouses to a scenic and fantastic view of the crystal coast.
If you are with family, then be sure to visit the Harker Island Visitor Center, which has a particular kids corner, and you can let your kids enjoy it there for some while if they are bored of all the other activities.
Another attraction worth visiting on Harker Island is the Core Sound Waterfall Museum, where there is an excellent display of the art on the sea materials.
You should visit the Shackleford Banks, which is only accessible by boat. This beautiful place is where you can get the tremendous scenery of the wild horses wandering through the island for centuries.