*This post may contain affiliate links, which means we may receive a small commission, at no additional cost to you, if you make a purchase through a link. Thank You! We really appreciate it!*
A market is something that Londoners like. It's that one-of-a-kind mix of eating, conversing, and browsing. It's really nice.
Locals and visitors alike flock to London's best markets, where you can find everything from farmers' markets to fashion markets to street food and vintage and antique markets. Any of these places are worth visiting.
There are so many different types of markets to choose from that it's possible to discover. There are a variety of specialized and general street markets to choose from, so with a bit of forethought, you'll be able to choose the ideal one to visit.
The well-known and up-and-coming London street markets featured below sell food, flowers, arts and crafts, clothing, textiles, antiques, collectibles, and much more. If you are searching for the best markets you must visit in London, then you are at the right place.
Camden Market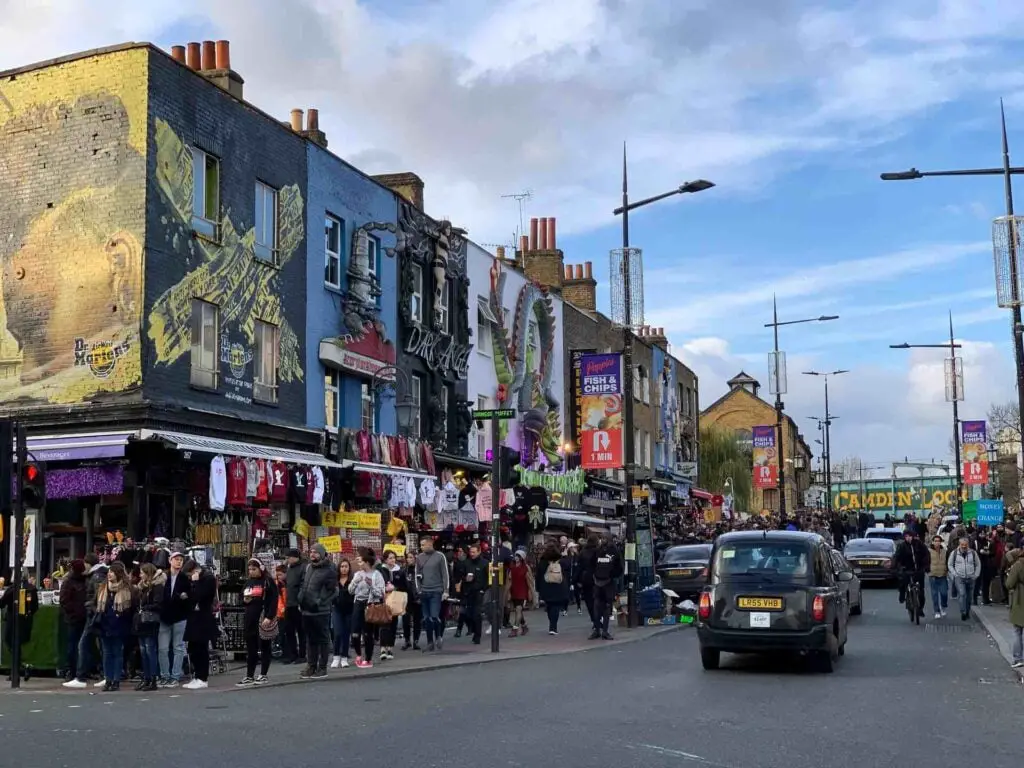 Camden Lock, which began as a craft market, has grown into a much larger and busier London market with a diverse choice of things to purchase.
The market, located along the Regent's Canal, is a popular tourist site in London. Its streets have a vibe with music and odd artwork on buildings. You'll also get the opportunity to sample a diverse range of cultures, food, drink, and entertainment.
Camden Lock has a long history and is currently undergoing a transformation that drastically changes its look. Camden Market, which was a hip and stylish hangout for many Londoners, has undergone various transformations throughout the years.
It's still full of bespoke designers and craftspeople, but there's been a gradual rise in what could be described as high street style boutiques as well. Camden's future remains to be determined, but its history and diversity ensure that it will continue to be a famous market to visit.
As you stroll at the market, you can see Camden Lock words inscribed above a railway bridge that straddles the major road. Camden Town tube station is the nearest station, and the number 24 bus, one of the numerous bus lines, stops right outside.
Visit site: camdenmarket.com
Old Spitalfields Market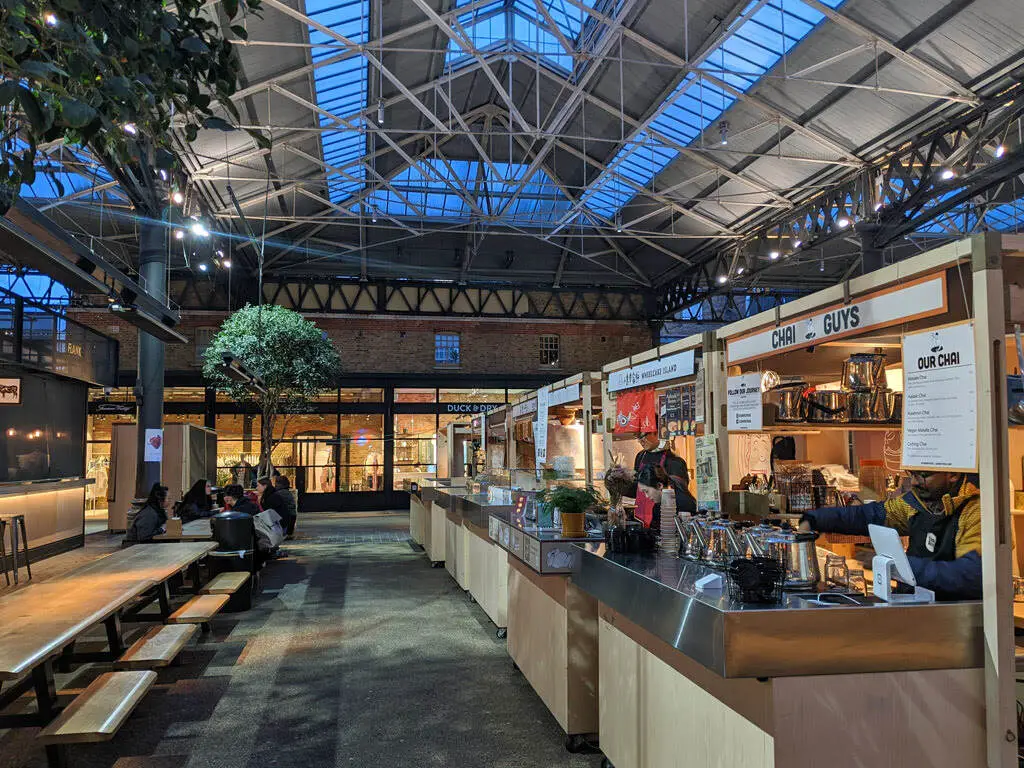 Photo © Robin Webster (cc-by-sa/2.0)
On Sundays, this London market, located off Commercial Street in the heart of East London, is one of the city's busiest venues. Hundreds of stalls sell a wide range of things, including crafts, design, art, and fashion.
Additionally, several local painters and sculptors have studios there, ensuring that you will encounter a wide range of items while browsing the market.
Weekends are the busiest, but if you're seeking a piece of history to take home, the Antique Market, which takes place every Thursday, attracts a community of antique sellers and professionals who display their old goods. Plus, there are modern cafes and restaurants that offer good food while you stroll in this market.
The market at Old Spitalfields is open seven days a week, with most shops open from 10 a.m. to 7 p.m.
Visit site: oldspitalfieldsmarket.com
Greenwich Market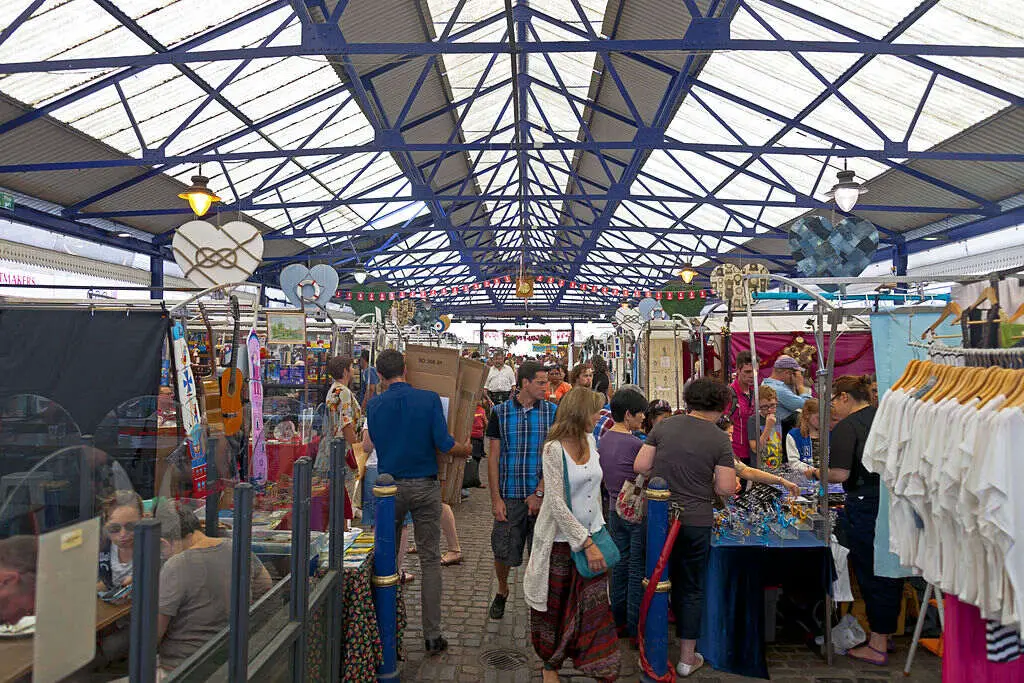 Credit: Daniel Case (Wikimedia Commons)
Greenwich Market is a short distance east of London, on the other side of the Thames. The shortest method to get here is to take a Southeastern train from Charing Cross station (approximately 17 minutes) or London Bridge station (about 8 minutes).
If you're wondering whether or not this off-the-beaten-path market is worth visiting, the answer is without a doubt "yes!" To begin with, it gives you a reason to visit Greenwich, a historic World Heritage Site.
Second, you'll get the opportunity to shop at a covered 18th-century market loaded with so many unusual items, trinkets, clothes, jewelry, and furniture that you might need to buy an extra suitcase to transport your loot home.
Visit site: greenwichmarket.london
Borough Market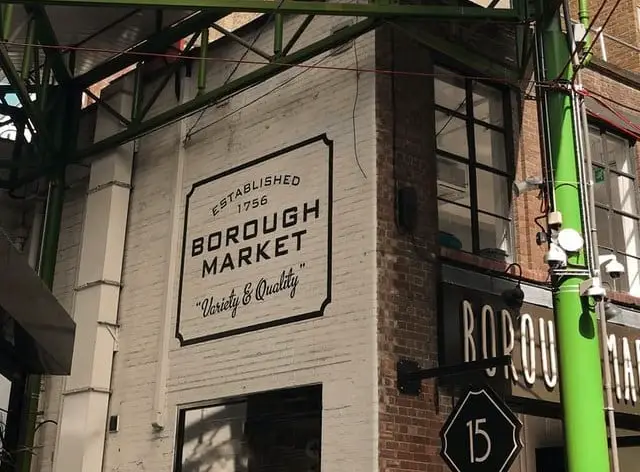 Borough Market is one of the largest and oldest food markets in London. When the Romans erected the original London Bridge, it was established on the south bank of the Thames.
It has been at its current location for 250 years, and the surrounding region has undergone significant rehabilitation and reinvigoration in recent years.
It is popular with locals and tourists looking for authentic quality food and fresh vegetables because it is both a wholesale and retail food market.
Borough Market is particularly well-known for its numerous cinematic links, including the Harry Potter franchise. Bridget Jones' renowned one-bedroom flat overlooking the market is located here, as is the indie British film Lock, Stock, and Two Smoking Barrels.
Visit site: boroughmarket.org.uk
Brixton Village Market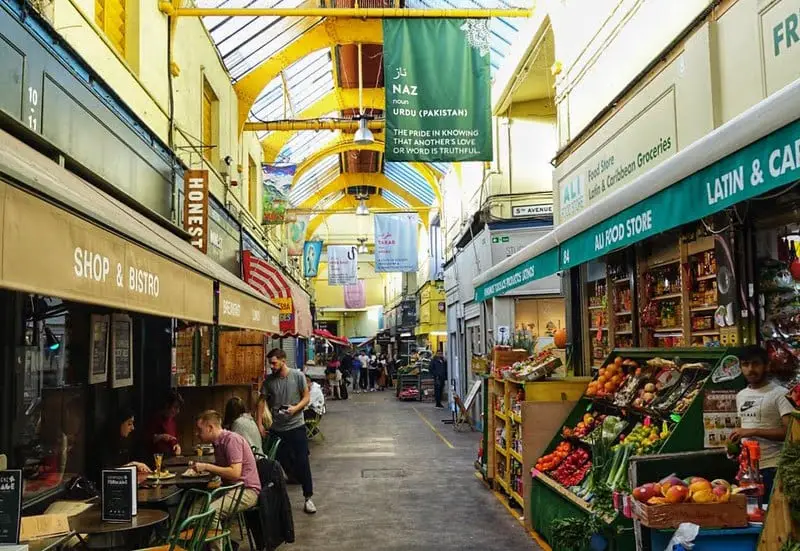 Credit: Ungry Young ManFollow (Flickr)
Located in the south of London, Brixton Village Market is one of the best indoor markets in London. The place is full of great restaurants and cafes with various food selections that make you could never go hungry.
However, a trip to Brixton Village and Market Row is more than just about cuisine. A journey around the arcades reveals a plethora of stores selling clothing, jewelry, homeware, art, music, and more.
Visit site: brixtonvillage.com
Southbank Centre Food Market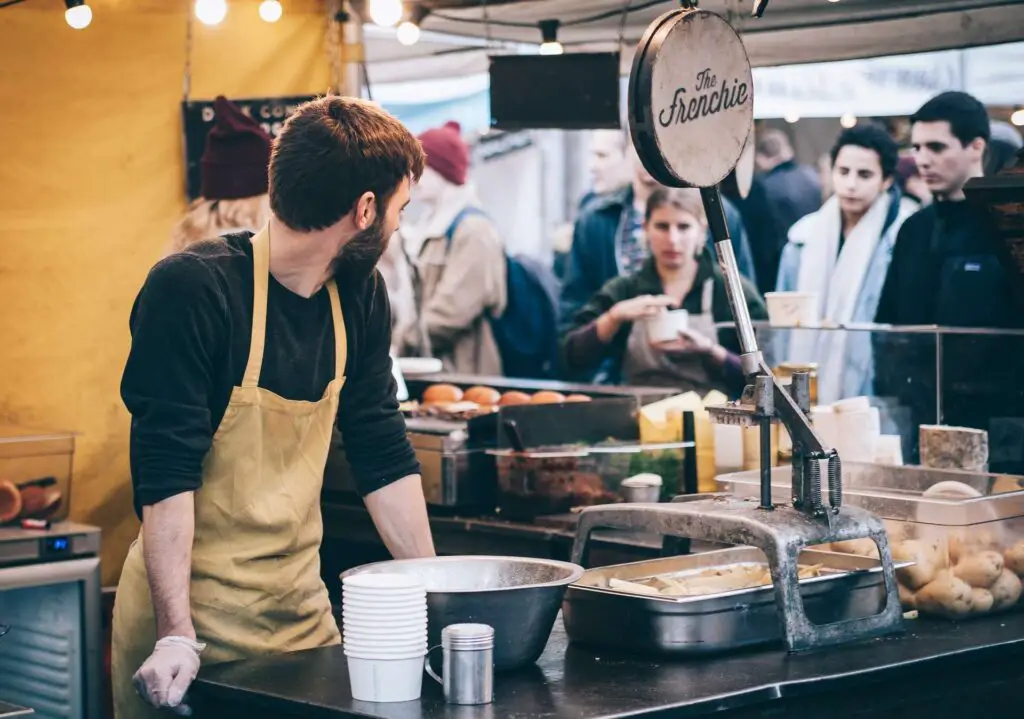 Southbank Centre Food Market is a great market that offers various choices of delicious street food and drinks. The location is excellent, just near to London Eye and Waterloo station. 
There's something for everyone, from Asian street food to Mediterranean delights, meat, pastries, and crêpes. A perfect place if you want to try food from around the world.
The Southbank Centre Market is open every weekend (Friday to Sunday). If you are a food lover, it is a must-visit market. 
Visit site: southbankcentre.co.uk/visit/cafes-restaurants-bars/scfood-market
Seven Dials Market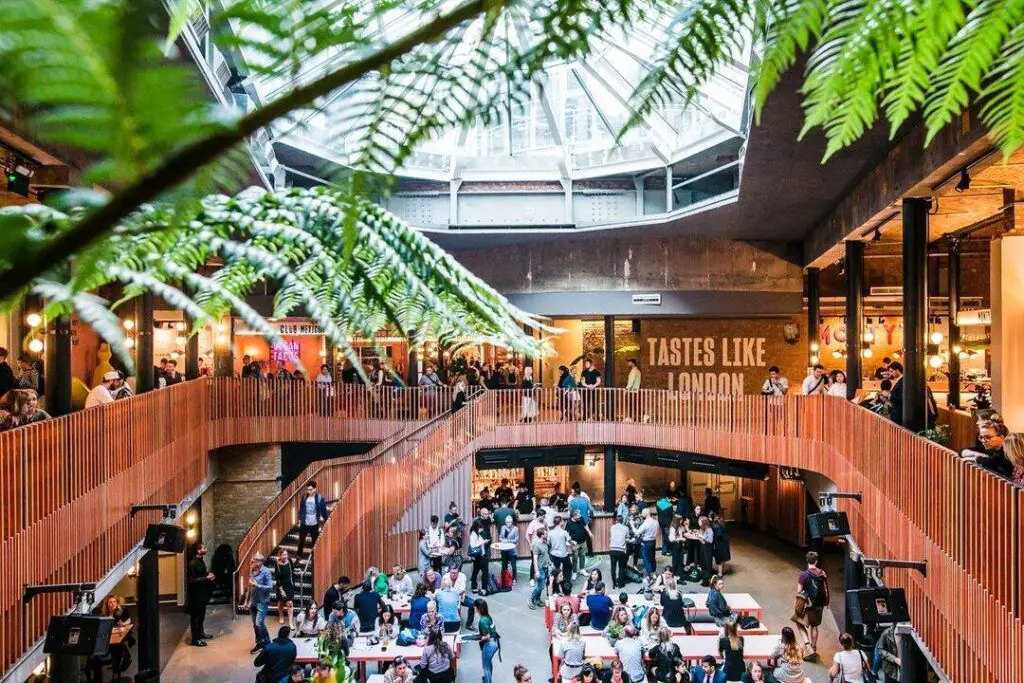 Credit: Seven Dials Market (Instagram)
The Seven Dials Market team has carefully altered its operations to prioritize the health and safety of visitors, operators, and staff, but don't worry; they're still delivering the joyful vibes and delectable food that have made Seven Dials Market famous.
Food vendors will be serving all of our favorite meals, like Truffle London's mouthwatering burgers, Sweets Club's sweet treats, Club Mexicana's slamming vegan tacos, and Cheese Bar London's conveyor belt of cheese.
You can reserve space outside for up to 30 people. A limited number of walk-ins is accepted every day, but making a reservation in advance is advisable.
Seven Dials is one of London's best food markets for you to hang out and chill with your friends or families.
Visit site: sevendialsmarket.com
Columbia Road Flower Market
Credit: Bryan Ledgard (Wikimedia Commons)
If you enjoy plants and flowers, Columbia Road Flower Market is the place to go. There are trees, shrubs, plants, and bulbs for sale, making this one of London's most brilliant and colorful marketplaces.
There are also many associated stores in the area, so if you want to see the best selection of plants and greenery, this is the market for you.
After picking up your flowers, make your way behind the stalls and alongside alleyways to discover excellent cafés, independent restaurants, delis, stores, antique dealers, vintage stalls, and small galleries, many of which are open throughout the market hours.
Visit Jones Dairy Cafe for organic and local produce, Treacle for a no-frills British bake, or the Nelson's Head for a locally brewed pint.
Visit site: columbiaroadmarket.co.uk