*This post may contain affiliate links, which means we may receive a small commission, at no additional cost to you, if you make a purchase through a link. Thank You! We really appreciate it!*
Japan is known for its cherry trees that bloom. These trees are sought after all over the world. Cherry blossom festivals are held in places like Washington, Vancouver, Paris, Stockholm, and Spain's Jerte Valley, all very different. Japan is still the best place to see the cherry blossoms or go to a cherry blossom festival.
The Japanese word for watching cherry blossoms is "hanami," and it's only for people who enjoy looking at them. During cherry blossom season in Japan, blogs, news reports, menus, talk shows, and festivals follow the trees as they start to bloom.
There are many places to see cherry blossoms or Sakura, but these places are the top Japan Cherry Blossom destinations.
Top Japan Cherry Blossom Destinations:
Tokyo
The cherry blossoms in Tokyo are a must-see. There are many spots, but Ueno Park is one of Japan's busiest, most active, and most popular sites to observe the cherry blossoms and other activities. 
They line the path to the park's museums. In the evening, the park puts on a display of lights. It's wise to pack warm clothing if you wish to remain outdoors after dark and gaze at the cherry blossoms in the twilight light.
The springtime is generally reasonably warm. It makes the cherry blossom garden a great area to gaze at the blooms. This time of year, there are numerous cherry blossom-themed delicacies and presents at the stores surrounding the vast park.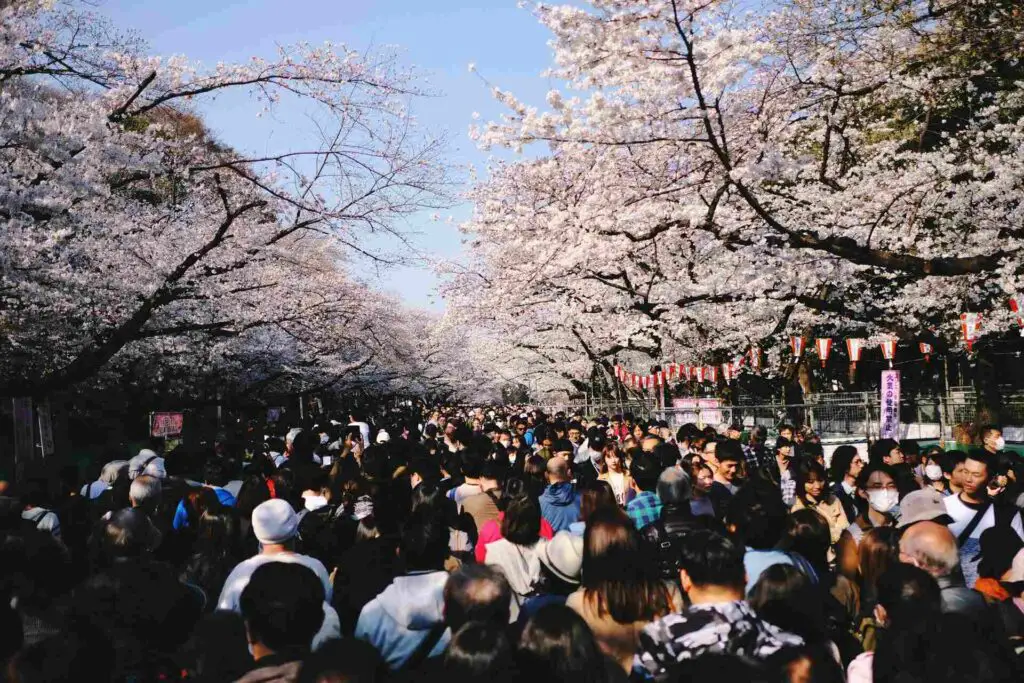 Kyoto
In Kyoto, there are a lot of cherry blossom trees, but Omuro Sakura is one of the last ones to bloom after the Yoshino cherry blossom trees have died down. This tree has been a favorite of ordinary people since the Edo period.
The variety is called Omuro Ariake, and it's about 2 to 3 meters tall, but it's not very tall. It's also called Otafuku Sakura, but that's not the only name.
Omuro Sakura trees grow in Ninnaji Temple, the main temple of the Omuro School of the Shingon sect. There are about 200 of them. In 1994, the temple was made a World Heritage Site because it was so important. Omuro Sakura, in full bloom against the five-story pagoda, offers you beautiful scenery.
Nara
Over 1300 years ago, the first cherry trees were grown on the slopes of Mount Yoshino. It isn't just Japan's best place to see the cherry blossoms. It's a lot more than that. It has a unique, magical feel and looks like something out of a fairy tale.
Visitors can also see a lot of beautiful shrines, temples, and parks as they go. It's best to visit in late March to early May when there are a lot of buses running.
Yoshino Mountain is a UNESCO World Heritage Site because it is so beautiful. Yoshino has been one of the best places to see cherry blossoms for many centuries. It is also thought to be one of the best places in the country to see them.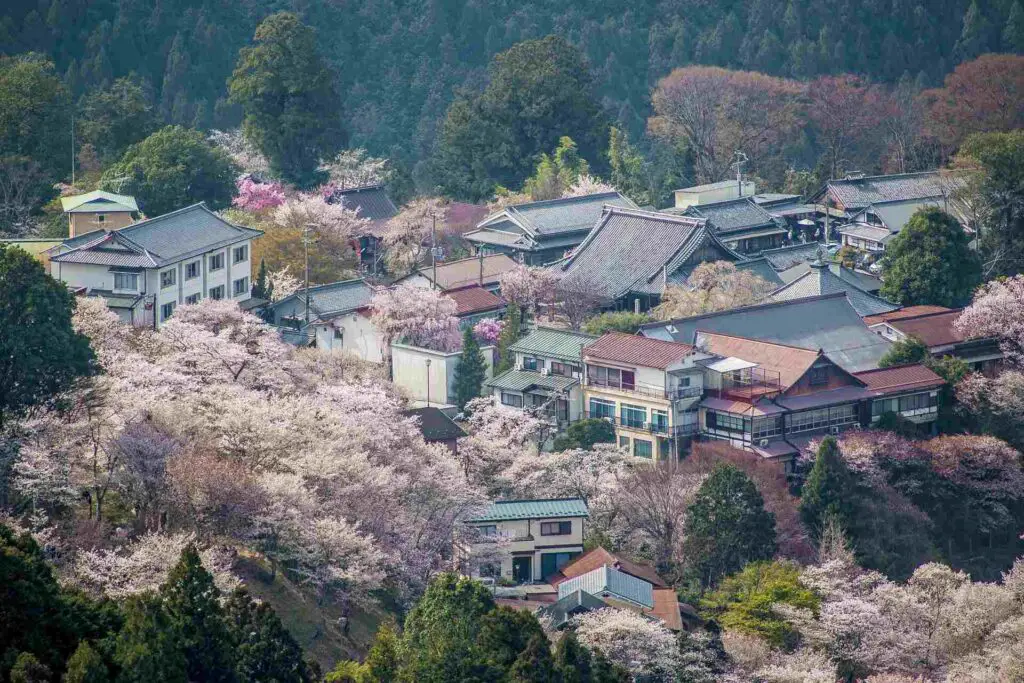 Osaka
If you go to the Mint Museum in Osaka, Japan, in the spring, you can walk through the cherry blossoms. It has been an Osaka tradition for over 100 years. A road that isn't usually open to the public. It is open to the public for a week during the cherry blossom season.
Across this 560-meter-long road, there are more than 130 different types of cherry trees. They were brought together from all over Japan.
There are some scarce varieties at the top of the branch, like Gyoiko, which has yellow-green petals with red lines down the middle.
Around Mount Fuji
The most popular and well-known to enjoy cherry blossom around Mount Fuji is in the Fuji five lakes area (Fujigoko). For the best picture, go to the Northern Shores of Kawaguchiko, where cherry trees line the lake for 1.2 km. Across the street from Ryuganbuchi Bridge is a cherry-tree-lined path.
You can enjoy the view of cherry blossoms in a traditional Japanese village with Mt. Fuji in the background. One of the most popular places to take pictures in Japan is the red pagoda and Mt. Fuji. You can get a great picture of both in one frame. There is no better time than cherry blossom season to visit.
 Each night during the season, spectacular lights draw crowds of people inside and outside the city.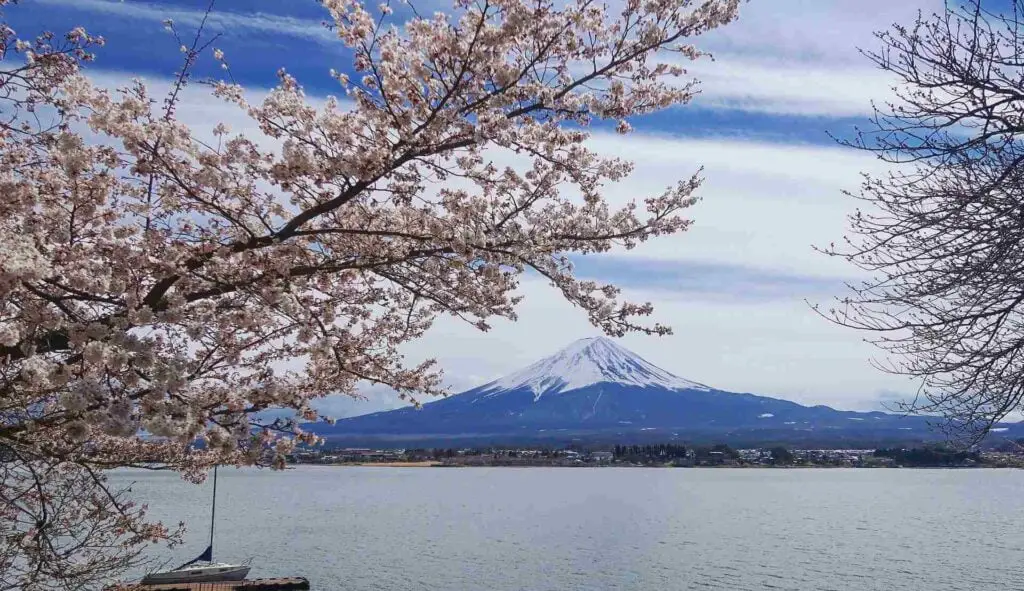 When to visit Japan to see cherry blossoms?
When to visit Japan to see cherry blossoms is from the end of winter to mid-spring for the most part. It is because many things can affect when the flowers bloom each year. These things include the temperature, rain, and wind.