*This post may contain affiliate links, which means we may receive a small commission, at no additional cost to you, if you make a purchase through a link. Thank You! We really appreciate it!*
Dubai is a desert city known for its spectacular skyscrapers, world-class luxury resorts, fantastic shopping malls, and adventurous activities. There is no shortage of unique and amazing places to visit.
Is Dubai a fun place to visit? Yes, absolutely. It is one of the world's most popular tourist destinations. This fantastic city is a holiday hot spot in the United Arab Emirates (UAE), and the city never disappoints. There are a lot of must-see attractions in Dubai that keep you busy during your vacation. 
Read more about the 17 best places to visit in Dubai as a reference for your next great vacation.
Burj Khalifa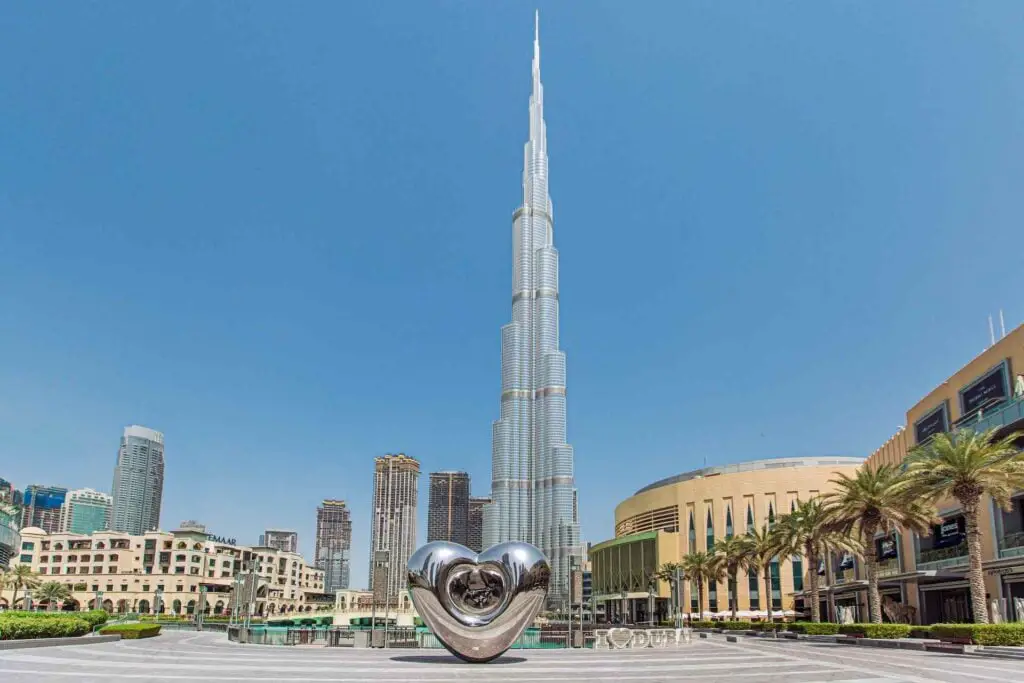 If you have never visited Dubai, at least you know about the Burj Khalifa. It is currently known as the tallest building in the world, with a height of 828 meters. In fact, it has held several other records.
Since it opened in 2010, Burj Khalifa has been the most popular attraction in Dubai and one of the most popular places to visit in the world. It has drawn millions of visitors from all over the world. 
One thing you do want to miss is to see the breathtaking views of Dubai from the top of the world's tallest building. Head up to the tower's 124th and 125th floors and visit the main public observation decks. From this observation deck, you can enjoy the expansive views of the city. 
Even if you don't go up to the observation deck, there is a lot you can do around the Burj Khalifa that still gives you an exciting experience. The Burj Khalifa is a must-visit place if you are on holiday in Dubai.
Visit site: burjkhalifa.ae
Dubai Aquarium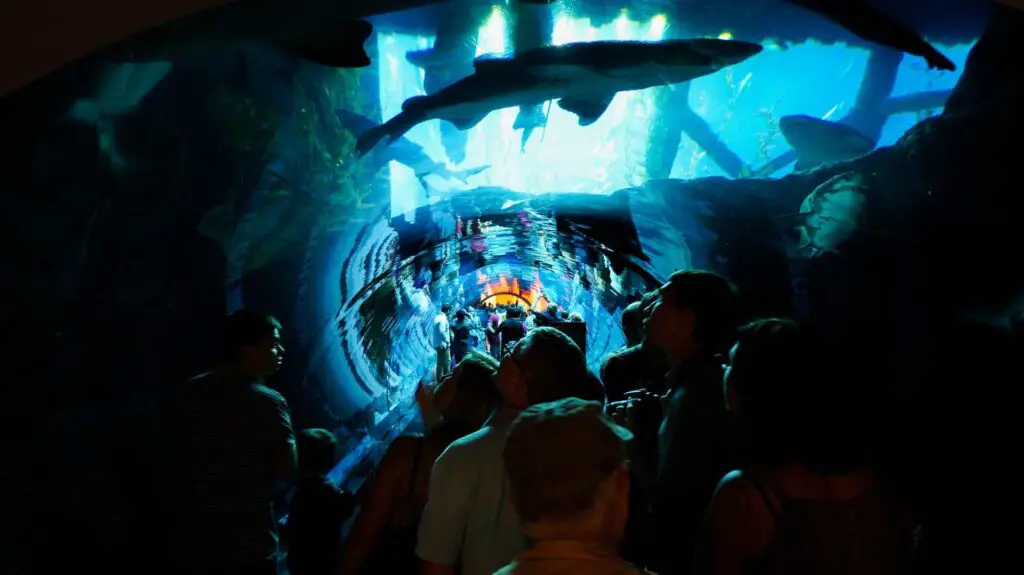 Do you want to explore one of the most stunning aquariums in the world? So you don't want to miss the giant ten million-liter tank, the Dubai Aquarium. It is home to thousands of aquatic animals and has over 140 species with over 33,000 marine life.
Three main sections offer visitors an unlimited and unique aquatic experience: Aquarium Tank, Underwater Zoo, and Aquarium Tunnel.
At Aquarium Tunnel, you Stroll through a 48-meter tunnel that will provide you with a spectacular view of the ocean environment with sand tiger sharks swimming overhead. Plus, plenty of fun aquatic experiences and things to do is offered to visitors at Dubai Aquarium, such as Snorkeling (Cage), Shark dives, Shark walker (cage), and many more.
It will give unforgettable aquatic experiences for both adults and kids.
Visit site: thedubaiaquarium.com
The Dubai Mall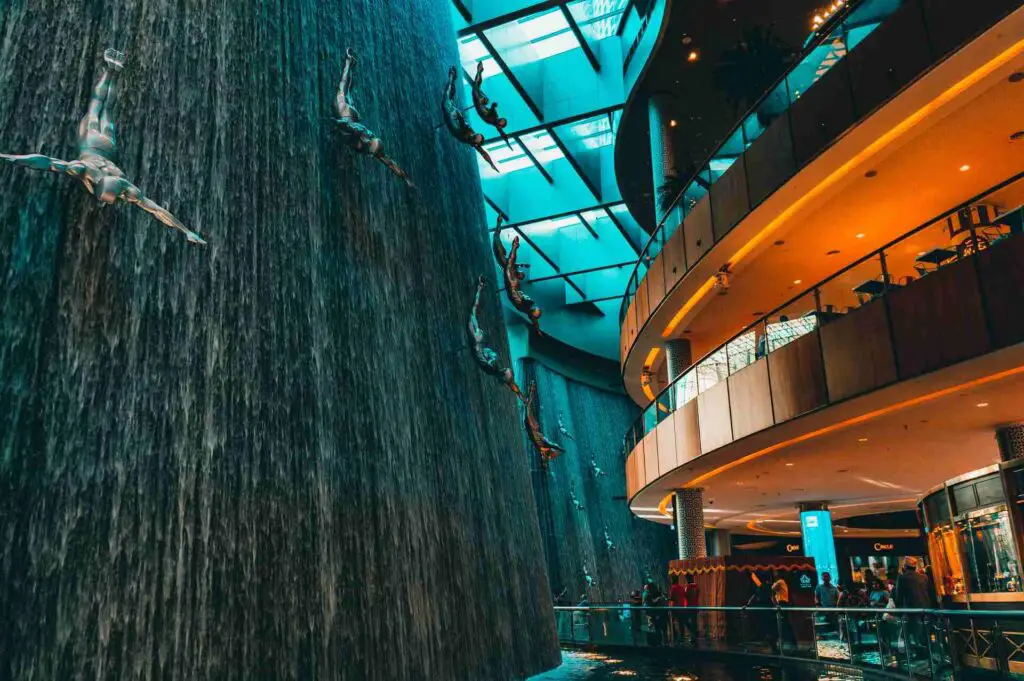 Apart from being a home to one of the world's largest aquariums, it is also the most famous and largest mall in Dubai and is located next to the world's tallest building, the Burj Khalifa.
It's a huge mall and easy to get lost here! The shopping and numerous entertainment activities were endless, and for most people, it is a place for window shopping. But, if shopping is your thing, the mall features over 1200 retail stores with a display of all luxurious brands. Then, there are various options of restaurants and cafes you can choose from to eat a delicious meal.
If you want to visit Dubai Mall, make a day trip to explore this truly magnificent place. This place is perfect for everyone.
Visit site: thedubaimall.com
Mall Of The Emirates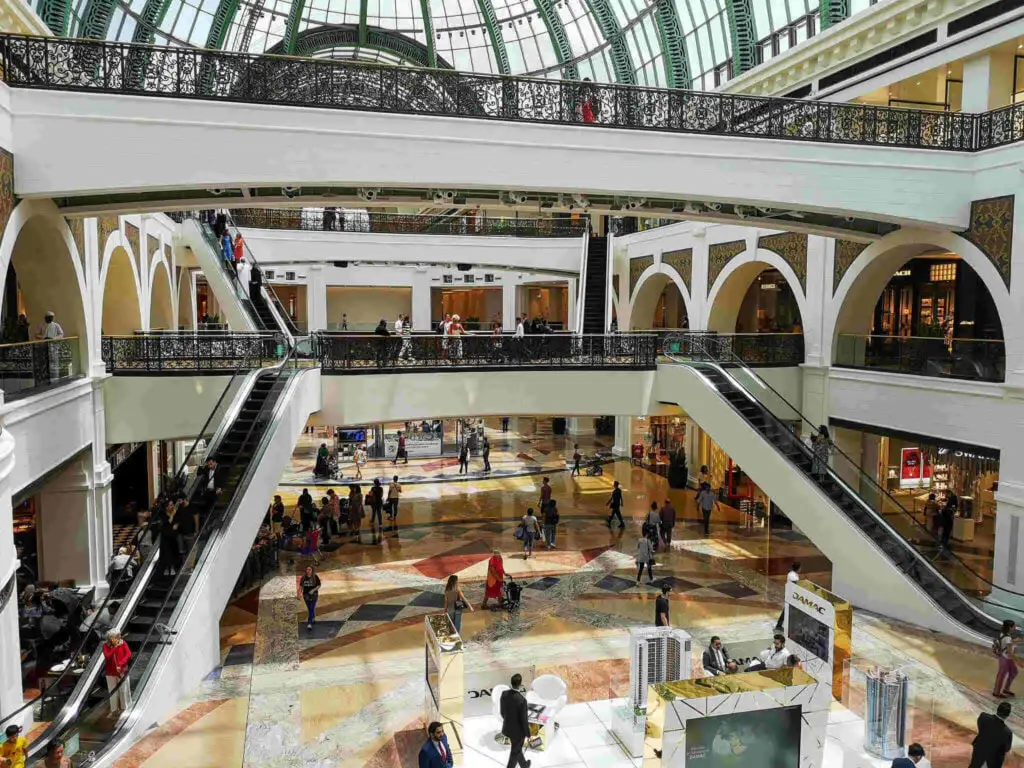 Credit: Håkan Dahlström (Flickr)
Many people are even confused, are The Dubai Mall and Mall of the Emirates the same? No, they are not. But both are amazing and popular malls in Dubai. In fact, the Mall Of The Emirates is way smaller than The Dubai Mall, but it's still a must-visit place in Dubai. It houses many big brand shops and offers a fantastic shopping experience.
Besides a fantastic shopping experience, Mall Of The Emirates also offers excellent entertainment and leisure activities. There are many fun things to do for everyone, and one of the popular activities is skiing at ski Dubai. Ski Dubai is The Middle East's first indoor ski resort, with 22,500 square meters of area.
It's an ideal place to spend time with your family in Dubai.
Visit site: malloftheemirates.com
Global Village
Credit: Global village
Dubai Village is the ever-popular family attraction that features 80 different cultures across 26 pavilions around the world in one place. It's a unique multicultural family entertainment destination in Dubai.
Some countries have pavilions in the village that show the local architecture, products, and food representing their culture, heritage, and history. There is plenty of activities, live shows, and events offered to the visitor. Plus, there are plenty of options for shopping and dining. Food lovers will go crazy over the variety of cuisines offered here.
You can enjoy all the unique experiences with a reasonable entry ticket price, a lot of parking space if you visit by car and the village has excellent transport links.
It feels like you tour the world in a span of a day when you visit Global Village.
Visit site: globalvillage.ae
Al Seef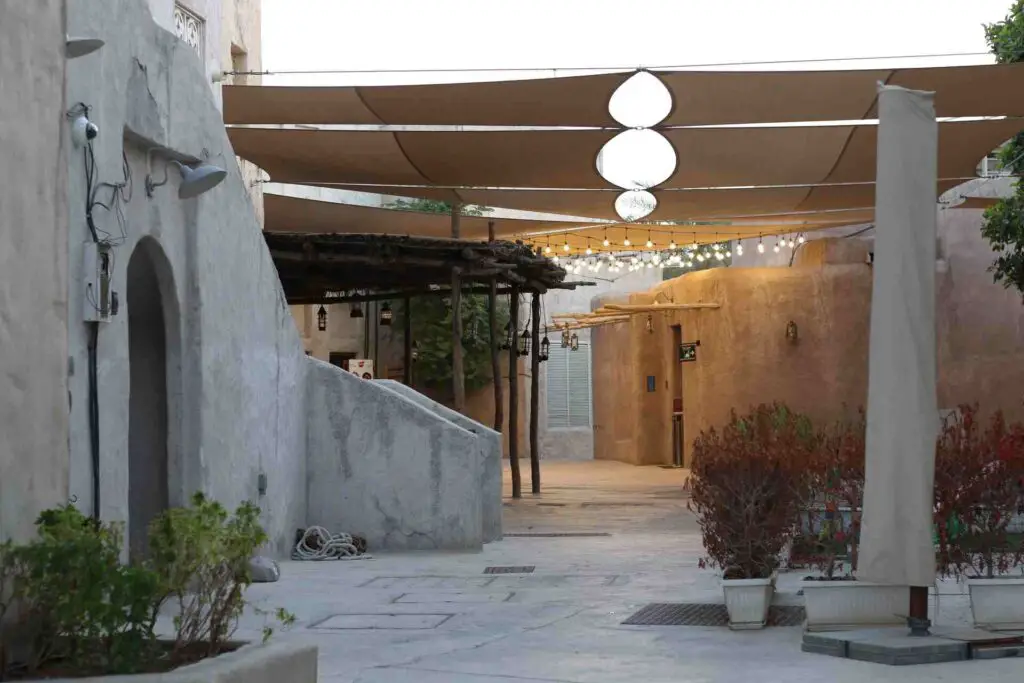 Al Seef is a bustling attraction with a pleasant atmosphere, where beautiful traditions combine with modern designs. It is split into two areas, a heritage section with old buildings and a second section with modern structures.
It's fun to do a relaxing stroll at night. It's fantastic and a must-visit for kids and adults where there are many things to view, enjoy and explore. A lovely spot if you are looking for dining, shopping, and leisure.
One of the popular attractions you do not want to miss at Al Seef is the Museum of Illusions.  
Love Lake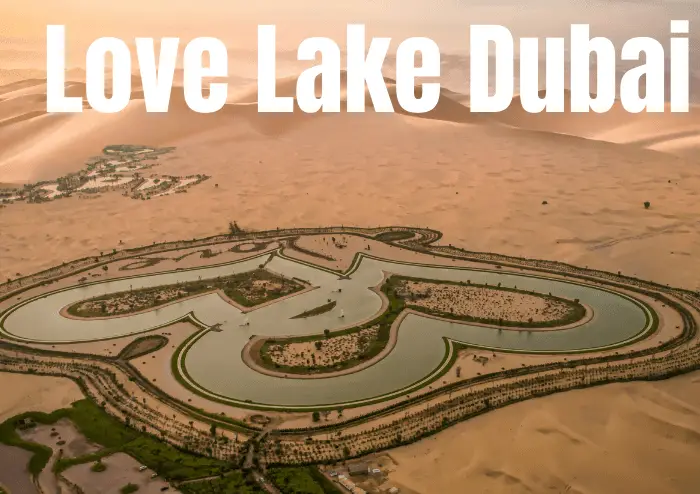 Love Lake, also known as Al Qudra Lake, is another top attraction to visit in Dubai. It's a beautiful man-made lake located in the middle of the desert.
The exciting and unique thing about the lake is that the two giant lakes are shaped as two intersecting hearts, and there are plants used to create the word 'love.' But the heart shape and word 'love' only can see from above.
Opened in 2018, it is undoubtedly one of Dubai's romantic places to visit. It is an excellent place to have a fun day with your partner, family, or friends. You can take beautiful pictures at various spots around the lakes.
The lake is surrounded by 16,000 trees and plants and is home to various birds. Are you looking for a sweet spot to see a sunset in Dubai? You should put this gorgeous lake on your list.
(Read more about Love Lake Dubai)
Miracle Garden
Miracle Garden is one of the most colorful and picturesque destinations you can find in the country. This 72,000-square-foot garden is home to over 150 million natural and blooming flowers and plants from more than 120 different species. It is the most famous garden in Dubai, and you can enjoy various exhibits of flower sculptures in various spectacular shapes.
Miracle garden opens in the winter season only, usually around November until April or May. The reason is the natural flower can't survive due to hot weather. Better to check the website or social media for the opening and closing dates if you plan to visit this beautiful garden. 
Whether you come by day or night, it will give a wonderful experience. You should put Miracle Garden on your bucket list when you travel to Dubai during winter.
Visit site: dubaimiraclegarden.com
Dubai Butterfly Garden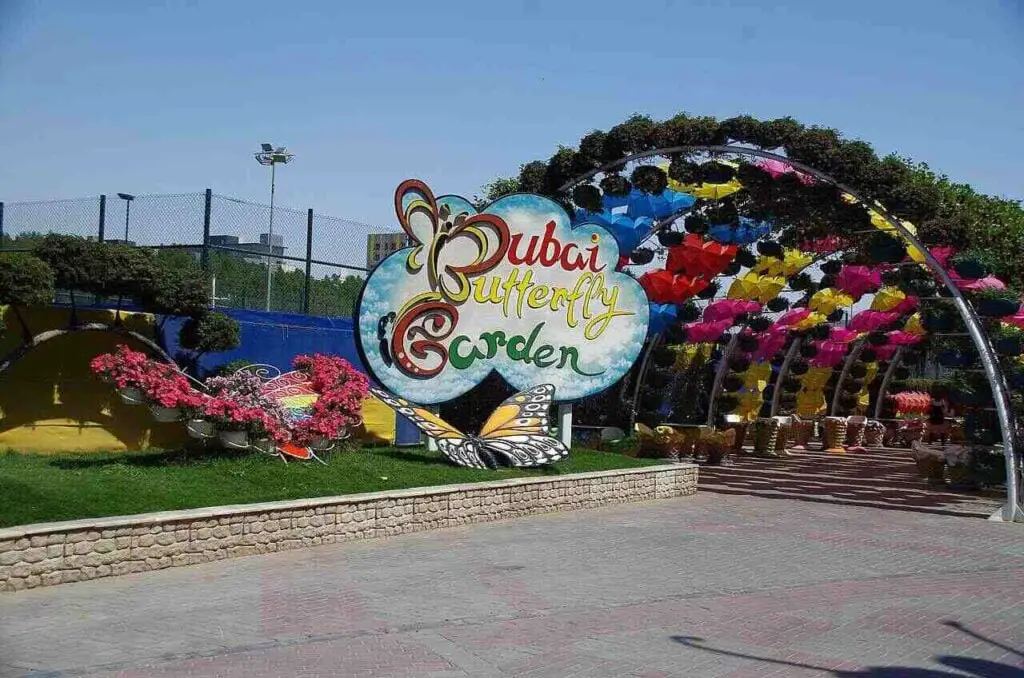 Credit: Balou46 (Wikimedia Commons)
Situated within the Miracle Garden, Dubai Butterfly Garden is claimed as the largest covered butterfly garden in the world. The park features ten custom-made, climate-controlled domes housing around 15,000 butterflies from 50 species. 
The ten domes are divided into four zones. Each dome is filled with rare and beautiful butterfly species in various sizes and colors, flying around visitors and standing on flowers and plants. Visitors can learn more about the butterflies at the Butterfly Museum and Educational Area. Additionally, visitors are offered several other interesting attractions, such as a kid's cinema, photo booths, souvenir shops, etc.
If you like this beautiful little creature, Dubai Butterfly Garden is the right place for you. Both adults and kids are definitely going to enjoy it.
Visit site: dubaibutterflygarden.com
Dubai Garden Glow
It has a reputation as the largest glow garden in the world, and it is a must-see attraction in Dubai. Head out for a fun adventure post-sunset at Garden Glow which features more than 10 million LED lights.
There are glowing lights of flowers, animals, and different other shapes. It consists of five sections: Dinasour Park, Magic Park, Ice park, Art Park, and Glow park. It's a magical place you want to be at night. Take a stroll to see this fantastic world of thrill and excitement. Remember to bring your camera with you to take amazing videos and pictures at Dubai Garden Glow.
What a wonderful place to spend your night in Dubai.
Visit site: dubaigardenglow.com
Gold Souk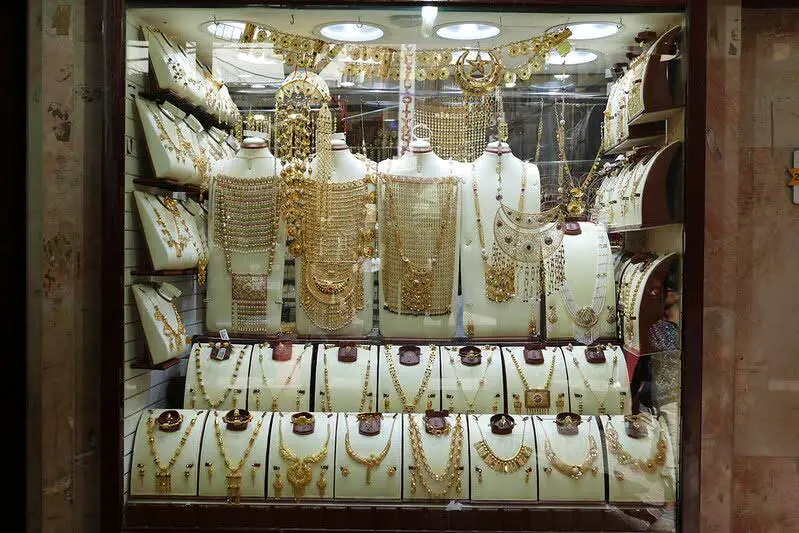 Credit: Ankur Panchbudhe (Flickr)
Gold Souk is an iconic traditional market in Dubai's commercial business district in Deira that offers hundreds of stores selling gold jewelry. In fact, there is a vast selection of stunning jewelry made of silver, diamond, and other precious stones.
There are so many options and endless designs and patterns from all across the world, and various types of accessories you can choose, whether a ring, necklace, bracelet, earring, etc. All products sold at the stores guarantee authenticity and purity of gold. Dubai's government assures that the gold sold is regularly verified. You can buy the gold with no worries.
It's a fascinating place and worth visiting even if you don't intend on buying gold. It should be on every tourist's itinerary.
Dubai Frame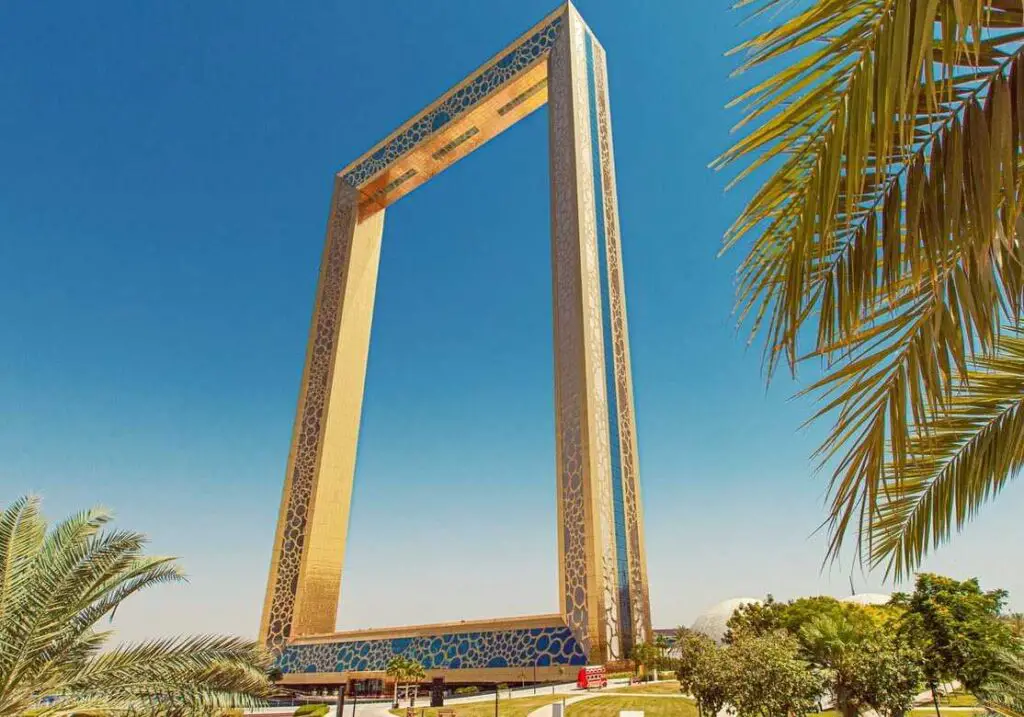 Since Dubai Frame opened to the public in 2018, it currently holds a record as the largest frame in the world. Rising 150 meters from Dubai's Zabeel Park, this spectacular rectangular structure offers a 360-degree panoramic view of the city's growing skyline.
It takes five years to build this significant Dubai landmark and become a major attraction point for tourists and visitors.
The frame sends you to three different periods in Dubai: the past, present, and future. One of the highlights is the 93-meter-long glass skywalk deck that connects the two towers at the top of the frame.
Visitors can experience the history of Dubai and what the city has to offer in the future at the Old Dubai Gallery and Future Dubai Gallery.
Visiting the Dubai Frame is definitely worthwhile.
Visit site: dubaiframe.ae
Ain Dubai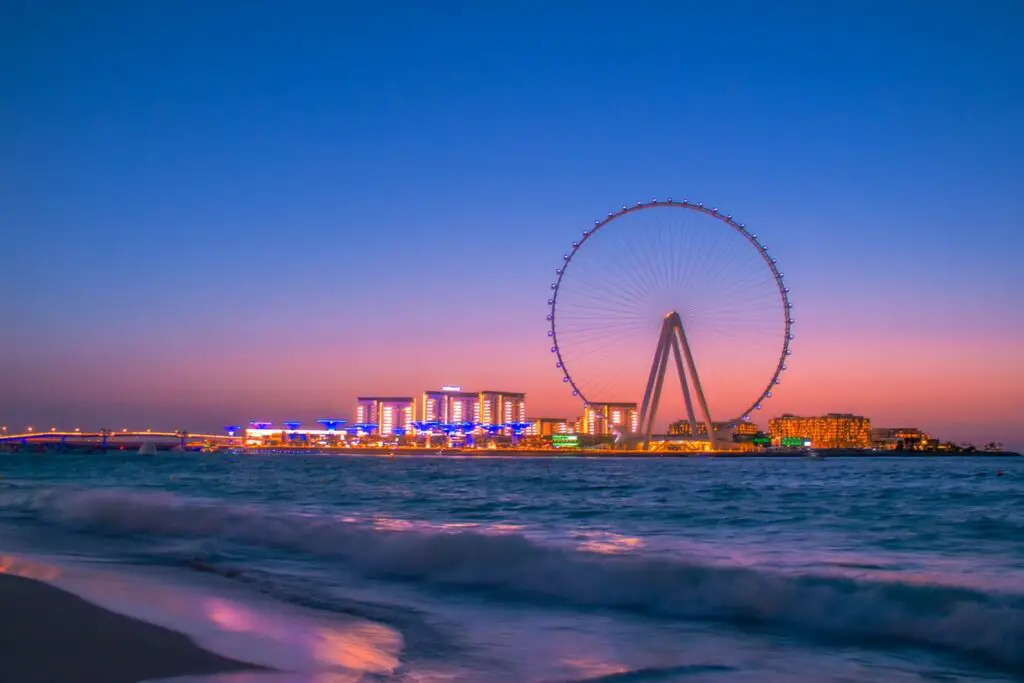 Ain Dubai, also known as Dubai Eye, is another fascinating attraction in Dubai that holds a world record. It's claimed as the world's tallest and largest observation wheel. This wheel stands at around 820 feet tall, nearly double the London Eye's height (443 feet tall).
If you want to see the city of Dubai, we recommend going during the day. Ain Dubai offers 48 air-conditioned cabins and one complete rotation taking around 38 minutes. It is surely enough for you to enjoy the 360-degree panoramic views and take as many photos of world-famous landmarks, The Palm, Dubai Marina & Burj Al Arab Jumeirah.
This is an extraordinary experience that you really must try in Dubai.
(Ain Dubai will remain closed until the first quarter of 2023)
Visit site: aindubai.com
Palm Jumeirah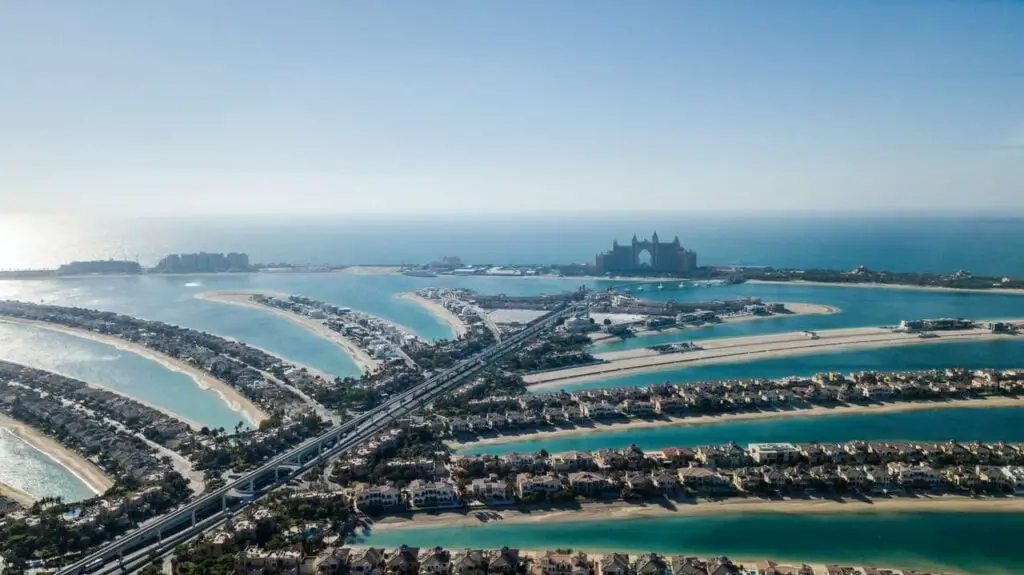 Palm Jumeirah, or simply The Palm, is an artificial offshore island in Dubai, and the island looks like a palm tree when viewed from above. The Palm Jumeirah cost a total of 12 billion dollars to build.
It's famous for its luxurious hotels and lavish apartments. Beaches, marinas, restaurants, cafes, and various retail stores are also available on the island. Plus, there are many fun things to do at the Palm Jumeirah that will give you memorable experiences.
It's a great place to relax and chill with your family and friends.
Aquaventure Waterpark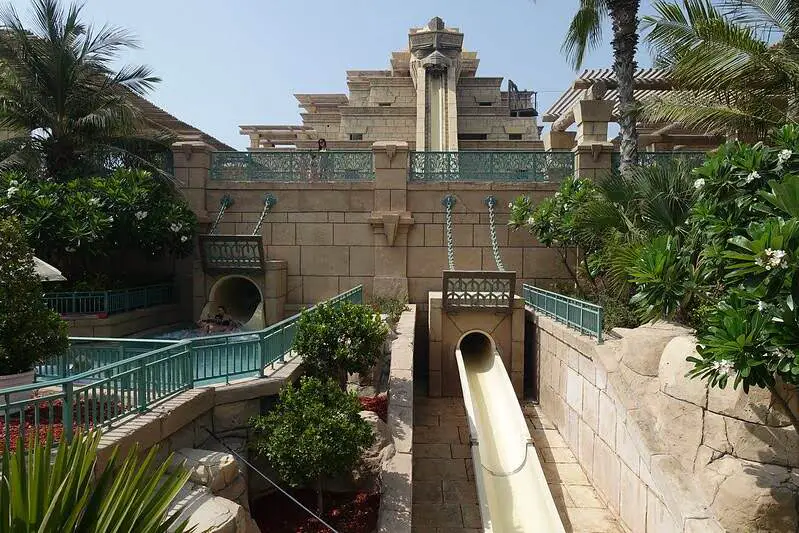 Credit: Jeremy Thompson (Flickr)
It is located beside Atlantis The Palm; Aquaventure is one of the most popular and thrilling waterparks in the Middle East. It is an excellent waterpark, home to 105 record-breaking slides and attractions. 
There is so much to see and do at Aquaventure Waterpark, which will make you'll really never get bored and gives you an exciting experience. Aquaventure Waterpark has private beaches who want to relax, kids' play areas, marine activities, and a great restaurant serving great food.
This is a fantastic place to visit, especially with family and friends. The place is so wonderful, and you will really have fun. 
Visit site: atlantis.com/dubai/atlantis-aquaventure/aquaventure-waterpark
Museum of Future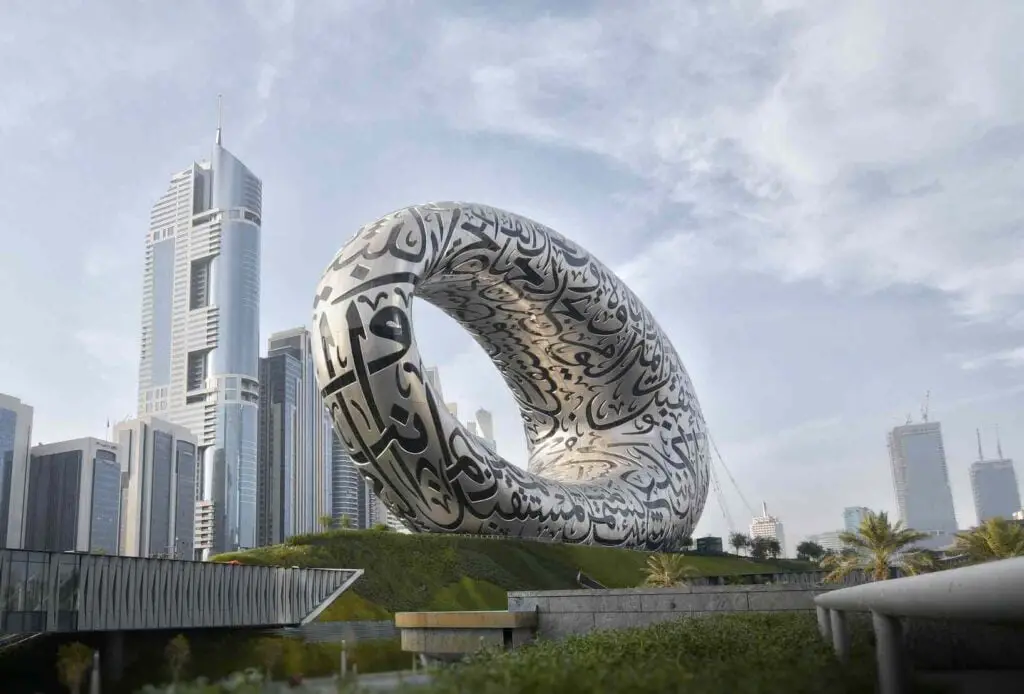 Museum of Future is one of the most beautiful and unique buildings in the world. The Museum is a 77-meter-high with multiple stories inside but no internal pillars! It is the first building to feature Arabic calligraphy on its exterior, making it one of Dubai's most famous landmarks.
Unlike typical museums, exploring the Museum of Future is to experience what the future might look like, and you can explore near-future technologies from the world's leading innovators. You will watch futuristic technology and sustainable solutions meet under one roof.
The Museum of the Future is a gateway to the world 50 years from now and allows visitors to imagine what the world might be like in 2071. 
Visit site: museumofthefuture.ae
Deep Dive Dubai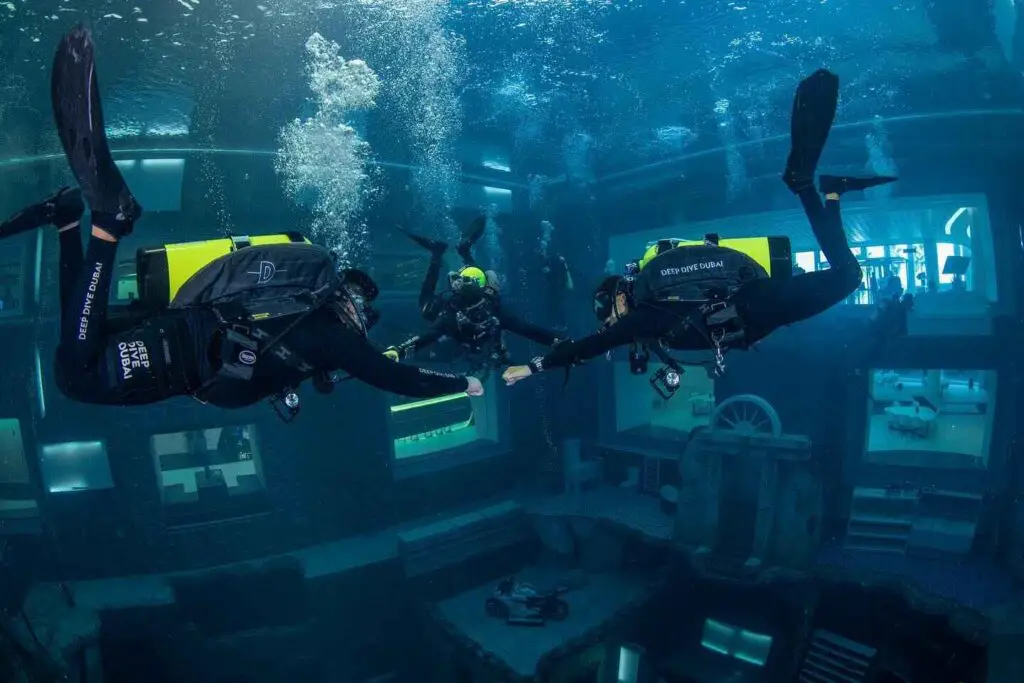 Credit: Deep Dive Dubai
Dubai has so many unique attractions for visitors, and Deep Dive Dubai is one of them. It's the latest record-breaking attraction which is the deepest diving pool in the world, verified by Guinness World Records at 60.02 m deep. The facilities are recognized by PADI (Professional Association of Diving Instructors).
The Deep Dive pool features an array of underwater attractions, such as a stunning sunken city. Professional and experienced scuba and freedivers will share and teach you diving tips and tricks. Besides, Deep Dive Dubai offers people who want to take a scuba and freediving course.
You need a diving certificate to dive in Deep Dive Dubai. This is a one-of-a-kind diving excursion full of adventure and excitement for beginners and experts. Snorkelers are welcome for those who prefer to stay on the surface.
Visit site: deepdivedubai.com