*This post may contain affiliate links, which means we may receive a small commission, at no additional cost to you, if you make a purchase through a link. Thank You! We really appreciate it!*
Dubai is a hotspot for tourists across the world and one of the most exciting shopping cities in the world! Tall buildings, long skyscrapers, attractive visiting sites, and shopping malls are the token of attraction for any eye that wishes to explore multiple places in Dubai.
Keeping places in context, we intend to talk about the 10 Best shopping malls In Dubai. Let us talk about them one by one.
The Dubai mall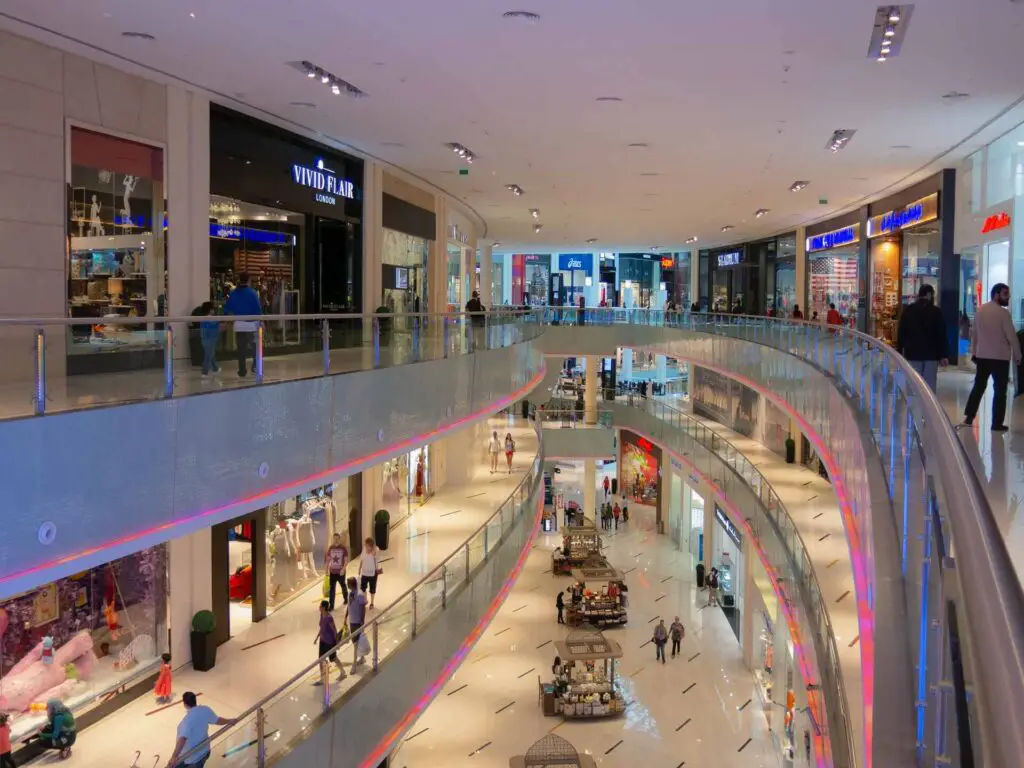 Dubai Mall is so popular when it comes to top shopping malls in Dubai because of its dimensions, and that is why it is called the biggest mall in Dubai. This mall enriches with world top-rated brands such as Nike, Adidas, Prada, Gucci, and Louis Vuitton.
The availability of every niche in this mall marks it as the most fantastic mall. Everything is available at this shopping mall, from household items to fashion designing, from excitement to professional corners. It also offers whatever a visitor or buyer can imagine.
This does not remain limited to stores only, but it expands from entertainment to professionalism. 3D reel cinemas for entertainment, dining for the outing, and KidZania for kids' excitement are plus points of the world's biggest mall named Dubai Mall.
Facts and figures:
Location: Downtown Dubai
Parking capacity: 14,000 cars adjustment
Stores: 1200+
Brands: Top-notch brands
Additional: Dubai Aquarium & Underwater Zoo
Mall of The Emirates
Credit: Fabio Achilli (flickr)
This mall has become a remarkable shopping mall since its inception in 2005. It gained a reputation with the passage of time, bringing what the public looked for.
In the services section, over 500 stores offer everything a person needs in life. For outing and recreational purposes, there are one hundred wonderfully established cafes and restaurants not only for netizens but Homo sapiens across the universe avail the chance to visit the Mall of Emirates (MOE).
Besides that, MOE has the world-famous Ski Dubai, the best addition for visitors. The building of the Mall of Emirates is so catchy that both residents and visitors enjoy the atmosphere.
Also, the play zone of this mall for kids has the tendency to please the kids, and the theatre for recreational purposes is up to the mark.
Facts and figures:
Location: Al Barsha, Sheikh Zayed Road Interchange Four
Stores: 500+
Cafes and restaurants: 100+ (Dean & Deluca, Texas De Brazil, and Tribes)
Additional: Ski Dubai and Magic planet
Ibn Battuta Mall
Credit: Nemravik (Wikimedia Commons)
This shopping wall was named in the name of a well-renowned Islamic explorer, Ibn Battuta, who was fond of traveling. It is widely considered the largest mall in the world.
Having over 250 stores, 50 restaurants, and a 21-screen cinema, Ibn Battuta has become one of the best shopping malls in Dubai. The cultural richness and historical touch make this shopping mall a place where a person finds multi-themed facilities.
Play zone for kids, gym for body lovers, and Chinese garden for wonderers are remarkable choices for Ibn Battuta Shopping Mall visitors.
Additionally, the division of the shopping mall into six courts is based on the travels of the ancient explorer: Andalusia, China, Persia, Egypt, Tunisia, and India.
Facts and figures:
Location: Sheikh Zayed Road
Stores: 250+
Cafes and restaurants: 50 (Pizza Express, India Palace, Yo! Sushi)
Additional: different countries-based stores
Dubai Festival City Mall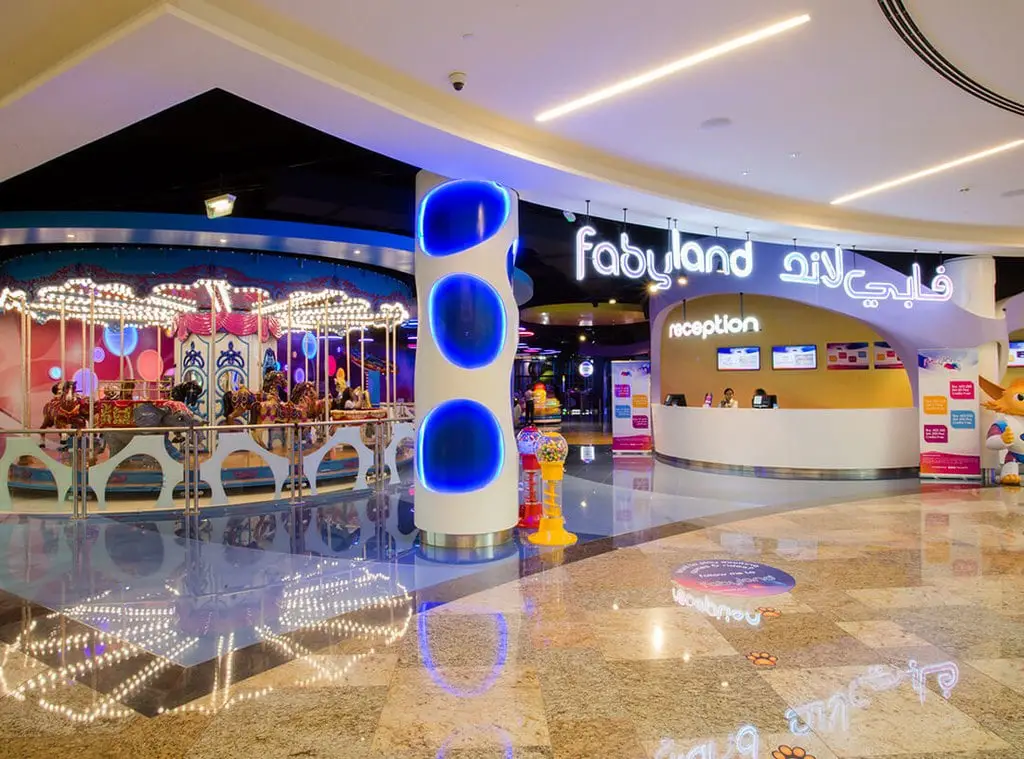 Credit: Teeraza88 (Wikimedia Commons)
To visit the world's most attractive shopping mall, Dubai Festival City Mall is the best choice because of its extra-modern design, quality construction, lined restaurants, and cafes with diverse categories.
This shopping mall in Dubai is famous due to its offering of luxury brands. You find different items of almost everything, including home accessories, clothes, jewelry, classic items, modern items, toys, and perfectly made gifts.
Further, the massive furniture IKEA store is home to the world's best furniture items. The Festival Bay acts as a magnet for visitors along with the combination of fountain shows in the evening.
Facts and figures:
Location: Dubai Festival City
Stores: 400+
Cafes and restaurants: Sugar Factory and Cheesecake
Additional: Beverly Hills Polo Club, DKNY, GAP, Mango, Zara
BurJuman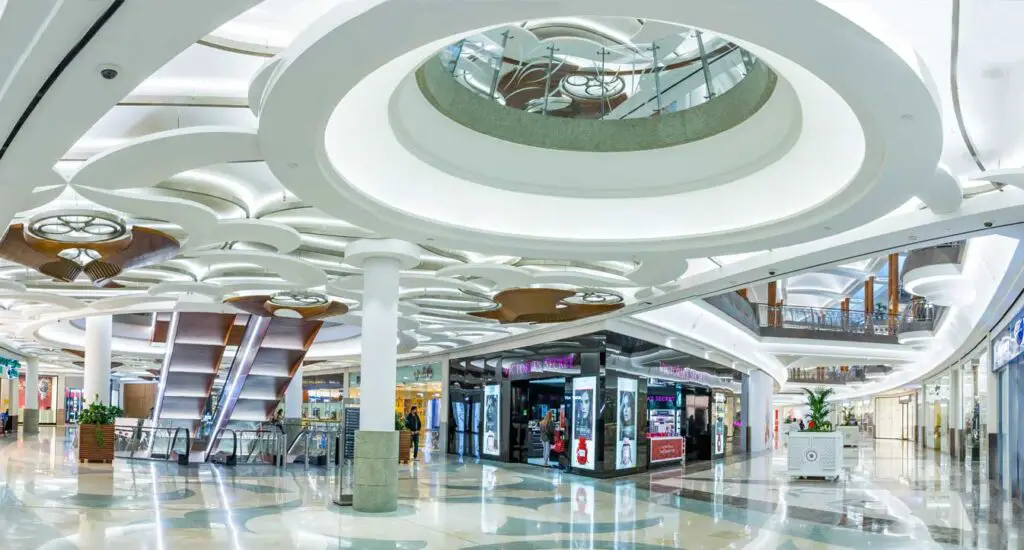 Credit: BurJuman
This is one of the oldest shopping malls in Dubai based on aesthetic pleasure. This colorful, splendid, and excellent building features more than 200 stores, restaurants for delicious food, and comfortable hotels for residents to serve visitors and tourists greatly.
This four-story building has a captivating environment that admires the eyes of residents and visitors.
When it comes to top-notch brands, you will find Saks Fifth Avenue, DKNY, Paul Smith, Chanel, Dior, Louis Vuitton, Valentino, Polo Ralph Lauren, Prada, Gucci, and Versace. Further, Vox Cinema pleases with greatness and uniqueness according to modernization standards.
Facts and figures:
Location: Khalid Bin Al Waleed Road – Al Mankhool, Dubai
Stores: 200+
Cafes and restaurants: Choice-based cafes and restaurants
Additional: Vox cinema
City Centre Deira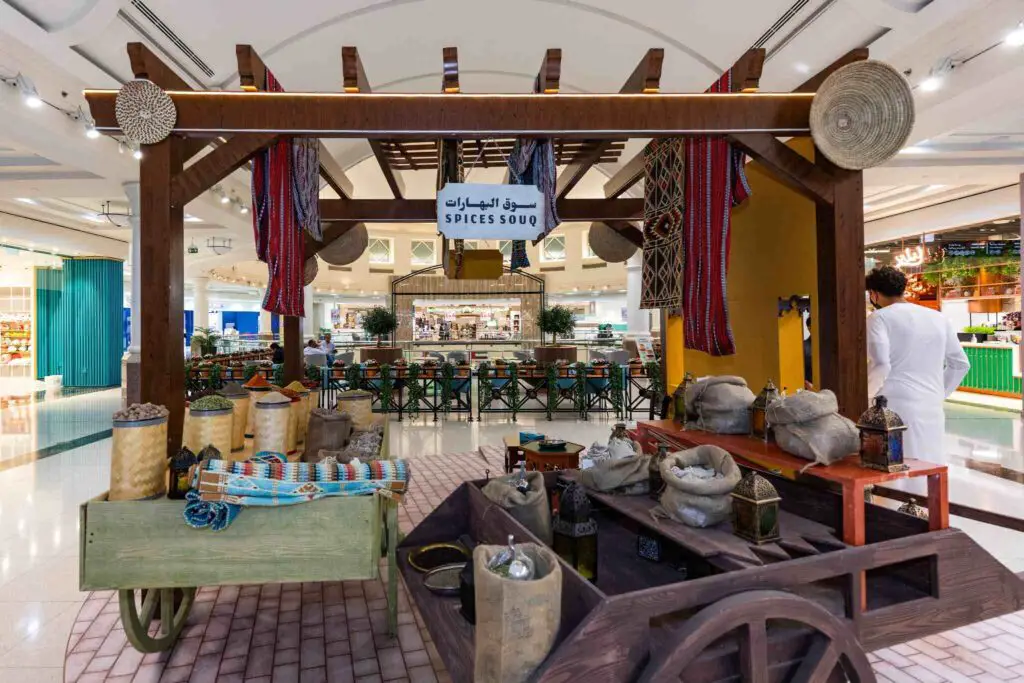 Credit: City Centre Deira
It opened in 1995 and still has the atmosphere to attract a large number of visitors. Features 370 stores based on different features are popular for different values.
Residents visit City Centre Deira shopping mall for entertainment values, availability of gaming centers enhances this fact. There has a Play zone (Magic Planet) for kids makes them entertain themselves unconditionally.
Food courts are available for choice-based food edibles.  Further, purchase traditional items such as handicrafts, perfumes, carpets, caps, rugs, and souvenirs. It becomes fascinating for family entertainment when everything becomes easily accessible.
Facts and figures:
Location: Port Saeed, Dubai
Stores: 370
Cafes and restaurants: (Food courts) Choice-based restaurants
Additional: Daiso, Miniso, and Mumuso discount shops
City Centre Mirdif
Credit: City Centre Mirdif
City Centre Midriff shopping mall featuring over 400 retail choices, a stunning environment, and lovely restaurants make visitors fall in love with this shopping mall. The building, environment, and decorum make it the most beautiful shopping mall in Dubai.
The setup of this shopping mall is family-oriented and can be the best choice for a family get-together. A Kids Zone is available that serves as a recreational hub for kids. For adults, there are food courts like Gazebo, Gourmet Burger Kitchen, and Zafran that help fulfill the appetite.
City Centre Mirdif shopping mall offers multiple brands, and you get whatever you imagine having in your hands. Hamleys, Decathlon, Pottery Barn, Crate & Barrell, Zara, and Mango hold the space.
Facts and figures:
Location: Sheikh Mohammed Bin Zayed Road – Mirdif
Stores: 400+
Cafes and restaurants: (Food courts) Gazebo, Gourmet Burger Kitchen, Zafran
Additional: 12-lane bowling alley for family get-togethers
Dubai Marina Mall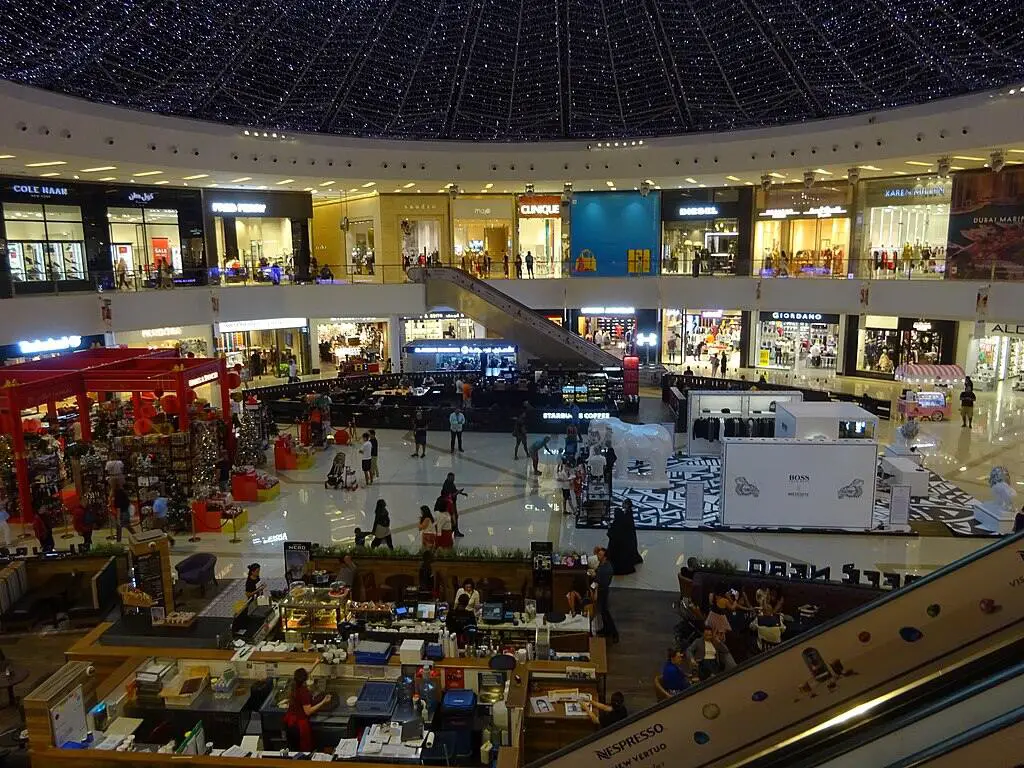 Credit: Jpbowen (Wikimedia Commons)
One of the new malls in Dubai, especially for family shopping and street-based shopping experience. The beauty of Dubai Marina Mall is double because of the Gourmet Tower (new addition). A buyer, visitor, and user-friendly shopping mall in Dubai grabs the attention so easily.
Top-notch cafés and restaurants such as Carluccio's and Baskin Robbins are the best corners for foodies and family gatherings. Even for memorable dining on yearly occasions, the restaurants of Dubai Marina Mall remain the priority of visitors.
UAE's first six-screen cinema was built in Dubai Marina Mall, and it can offer a glamorous experience to movie lovers.
Facts and figures:
Location: Dubai Marina
Stores: 140
Al Ghurair Centre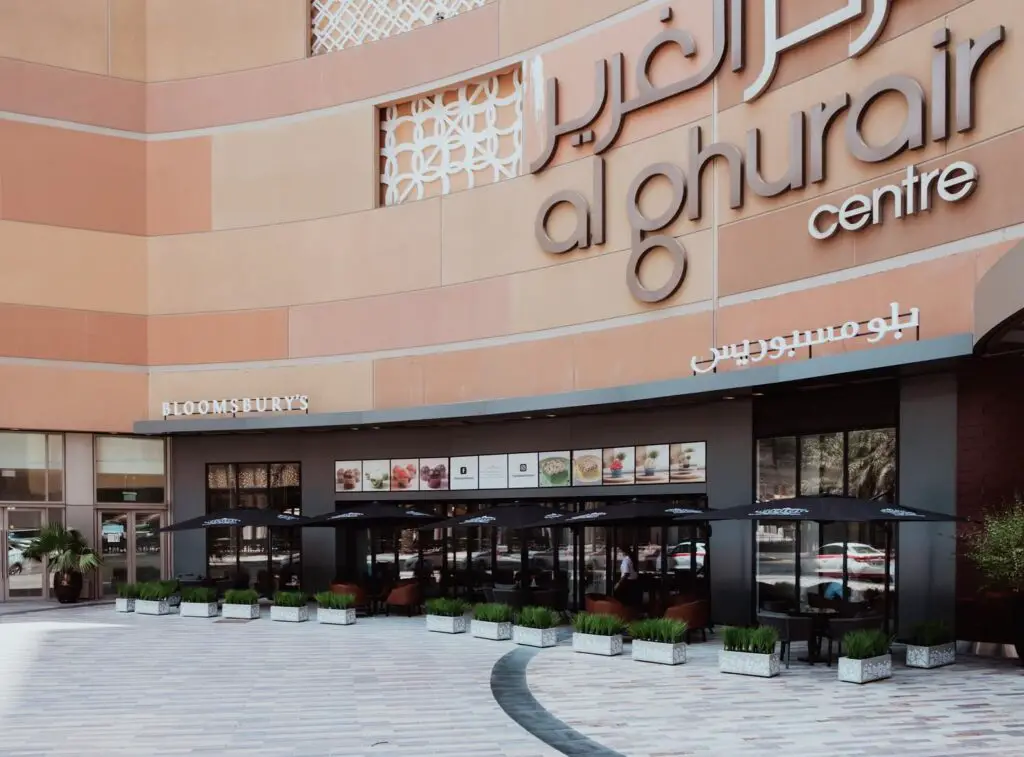 Credit: Al Ghurair Centre
Al Ghurair Centre is considered one of the oldest and biggest shopping malls in Dubai, having more than 300 stores, widely known for having textile setups and productivity of fabrics.
Mostly, Al Ghurair City shopping mall is sports-based as many sports brands such as Adidas and Reebok can be seen. People love to purchase sports accessories, including clothes, footwear, watches, and whatever comes in the field of sports.
Further, people can purchase different items with seasonal discounts and prices offered to them. The cultural touch in the form of Arabic items puts this shopping mall into the limelight.
Facts and figures:
Location: Al Rigga Street, Deira
Stores: 300+
Entertainment zone: one of the best entertainment zones
Additional: Cultural, traditional, and historical glimpse  
Wafi City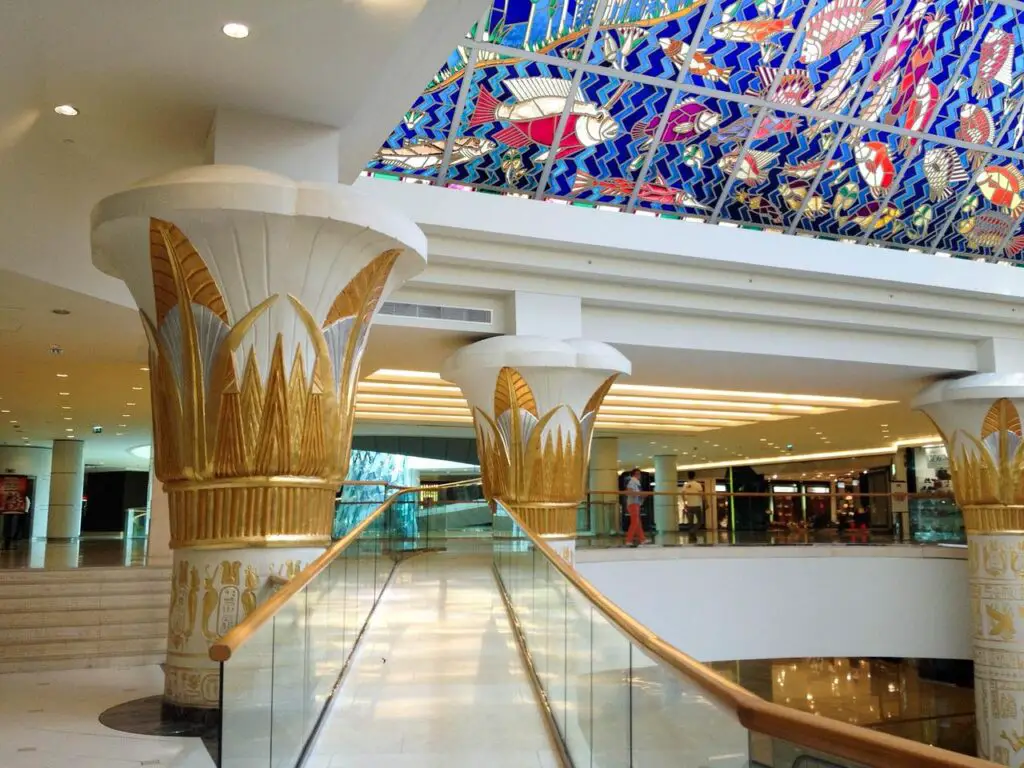 In the list of the ten best shopping malls in Dubai, Wafi City holds its dominant place because of its uniqueness and greatness. This pyramid-shaped and Egyptian-themed based shopping mall attracts a large number of people. Also, Souk Khan Murjan basement based in Baghdad market (in the mall) represents another culture.
In this Egyptian, Baghdadi, and modern amalgamation of traditions, you find every type of brand: Givenchy, Escada, Kitson, Chanel, Roberto Cavalli, Villeroy, or Jaegar.
Raffles Dubai Hotel is the best place for foodies and family gatherings. For kids, Encounter Zone serves as the best place for their recreational activities.
Facts and figures:
Location: Oud Metha Road
Stores: 250+
Cafes and restaurants: Raffles Dubai Hotel
Additional: ancient cultural touch