*This post may contain affiliate links, which means we may receive a small commission, at no additional cost to you, if you make a purchase through a link. Thank You! We really appreciate it!*
Dubai is known for its stunning wonders, such as The World Islands and Palm Jumeirah. Something new, unique, and everlasting in Dubai appears year after year.
There is another fantastic wonder in Dubai that you cannot miss: Love Lake Dubai. This lake is another gorgeous and one of the top attractions in Dubai.
Let's discover more about this beautiful place and the fantastic things to do there!
About Love Lake in Dubai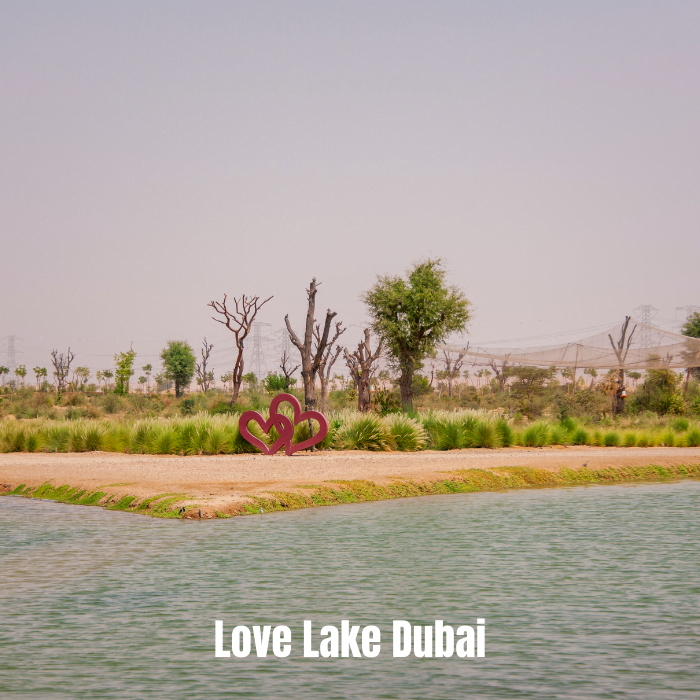 Love lake is an artificial lake and one of the superb tourist locations in Dubai. It's a favorite location for a family outings as well as romantic getaways.
This hidden gem opened in November 2018, and the two giant lakes are shaped as two intersecting hearts, enhancing its reputation as one of the most romantic places to visit in Dubai.
This Dubai "Love Lake" is located in the Al Salam desert region and is approximately a 1-hour drive away from Dubai city.
Love Lake has exploded in popularity since the crown prince of Dubai, Sheikh Hamdan bin Mohammed bin Rashid Al Maktoum, shared a photo of it with the caption, "To all of you."
It's a unique tourism destination for both couples and families. It's ideal for a peaceful and spend some quiet, quality time with friends, dear ones, and of course, with your beloved.
Interesting about Love Lake
It is undoubtedly one of the most romantic destinations in the country. But still, this place is perfect for spending time with your family and friends.
Love lake spans 550,000 square meters. This place attracts thousands of people every month. This area has a wide variety of plants and flowers. Around Love Lake, there are more than 16,000 different types of plants, including many bird species.
Besides the two giant lakes being shaped as two intersecting hearts, a massive amount of vegetation has been used to create the word "Love." You should know that you can only see it from above if you've come to see Love Lake's exact heart shape and "Love" word. Otherwise, all you'll see is a slightly curved lake.
An attractive wooden signboard with the words 'Love Lake' will welcome you as you approach the lake.
One of the best parts is that the Love Lake Dubai entry fee is completely free.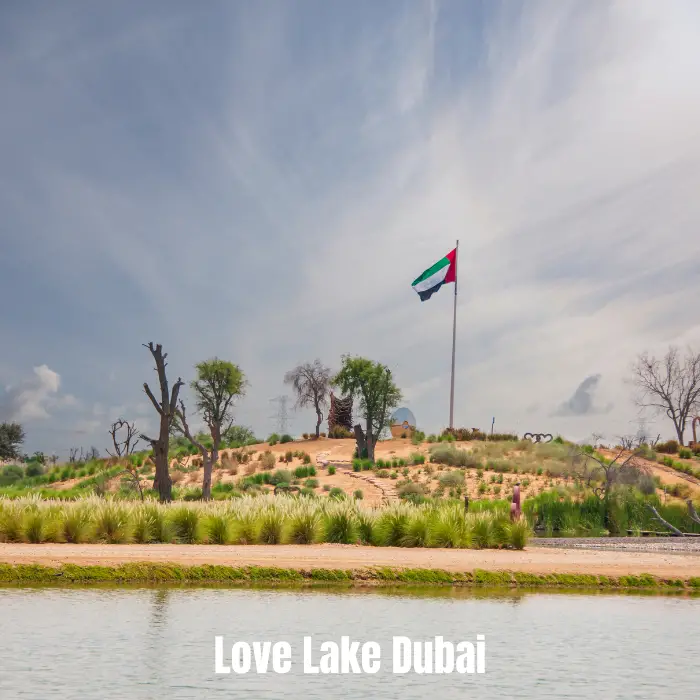 Things to do in Love lake:
Best place to take photographs
The Love Lake in Dubai offers excellent photo opportunities; the entire lake has a wide range of spots ideal for taking great photos.
Furthermore, if you want to capture the breathtaking view of the lake and the words "love" from above, you can bring a drone with you.
Specific laws must be followed when using a drone in Dubai. Make sure you understand them and have the necessary permits before using one.
Watch Beautiful Sunset
Love lake is the perfect place to watch the sunset—Ready your camera to take photos of the beautiful sunset in Dubai to boost your Instagram feed.
Walk along Waterways
Walking while to catch the beautiful flora and fauna around the lake and visitors can enjoy the enthralling beauty of the desert and lake.
Plus, you can watch a lot of different species of birds along the lake. You'll see eagles, ducks, swans, and falcons among the many birds.
Tips Visit Love Lake
Because sand is everywhere, sandals or flip-flops are more comfortable to wear. It is much more challenging to walk in closed shoes.

Make sure you get permission before using a drone.

During winter, this place is much cooler than in the city. Wear proper clothes if you visit this place during winter.

It is strictly forbidden to feed the birds and fish on Love Lake.
Conclusion
This place is worth visiting. This place is not too far from Dubai city. Spend your time visiting and enjoy the view of this place.