*This post may contain affiliate links, which means we may receive a small commission, at no additional cost to you, if you make a purchase through a link. Thank You! We really appreciate it!*
With the magical scenery and breathtaking landscape, Cappadocia is a unique place that should be a hit list if you travel to Turkey.
Located in Central Turkey, this place attracts millions of visitors annually. Cappadocia has positioned itself as one of the world's most popular tourist destinations in the world.
Maybe you don't know what to do in Cappadocia. We list the best things to do in Cappadocia for your reference in your next adventure.
Explore Underground Cities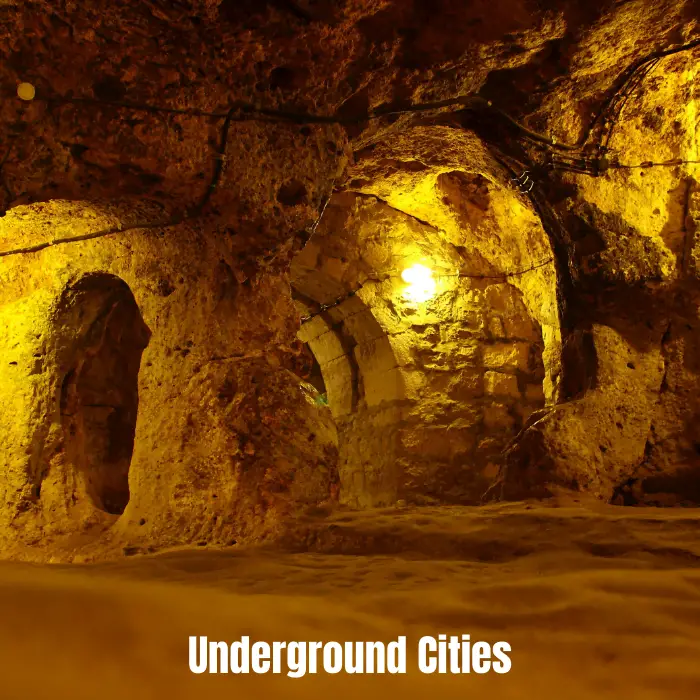 Exploring underground cities is one of Cappadocia's most fascinating cultural experiences. Imagine there is something you can do in the underground of Cappadocia.
These cities are carved from soft volcanic stone and connected by narrow tunnels. There are 36 underground cities in Cappadocia, but the most popular and visited are Derinkuyu and Kaymakli.
Derinkuyu and Kaymakli are part of the UNESCO World Heritage site. Should be reminded that exploring an underground city is not recommended for individuals with claustrophobia or backaches. 
It was amazing and hard to imagine these people could build all these using hand tools.
Visit Uchisar Castle
The highest point in Cappadocia is Uchisar Castle, located in the small village of Uchisar.
You can climb to Uchisar Castle. From the top of the castle, you can enjoy superb panoramic views. With 360 degrees views, you can see the whole town from above and offer fantastic panoramic views of the surrounding valleys.
You need to make a little effort to reach the top using the stairs, but the trail is not too challenging. It's possible to even for kids and individuals who aren't in the best climbing shape.
However, the prize of your struggle will offer you an astonishing panoramic view of the landscape.
Goreme Open-Air Museum
Listed as one of the UNESCO World Heritage Sites, this place is worth visiting.
The Goreme Open-Air Museum is one of Cappadocia's most popular attractions and historical landmarks. This place takes you through centuries of ancient paintings and cave churches.
You can explore each of the churches in this complex and can see the ancient paintings on the walls. Recommended using a tour guide to learn more about the history of this place.
You can still visit this place even without a tour guide by rental audio-guide headsets. Find your time to visit this place.
Zelve Open-Air Museum
Besides Goreme Open-Air Museum, Zelve Open-Air Museum is another top tourist museum attraction in Cappadocia. An extraordinary cave town, a place for historic dwellings, churches, and religious chambers, previously housed one of the region's largest communities.
Now it has become a museum, where people can visit and see the amazingness of this place. Like Goreme Open-air Museum, this place is also recommended to visit using a tour guide. 
Visit Red Valley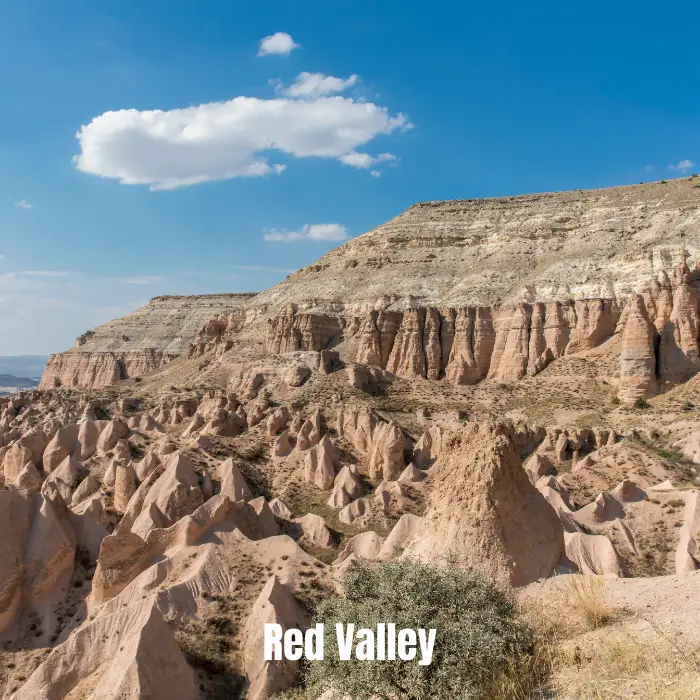 Red Valley has a unique landscape. Red Valley is the best spot for tourists to watch the beautiful sunset. Also perfect for those who love to take photographs of the sunset.
The pinkish red-colored stones make the Red Valley one of the most famous places to visit in Cappadocia. Then, Red Valley is also renowned for hiking lovers. Morning or evening are the best times to go hiking.
This place's views during sunset will amaze you.
Visit Love Valley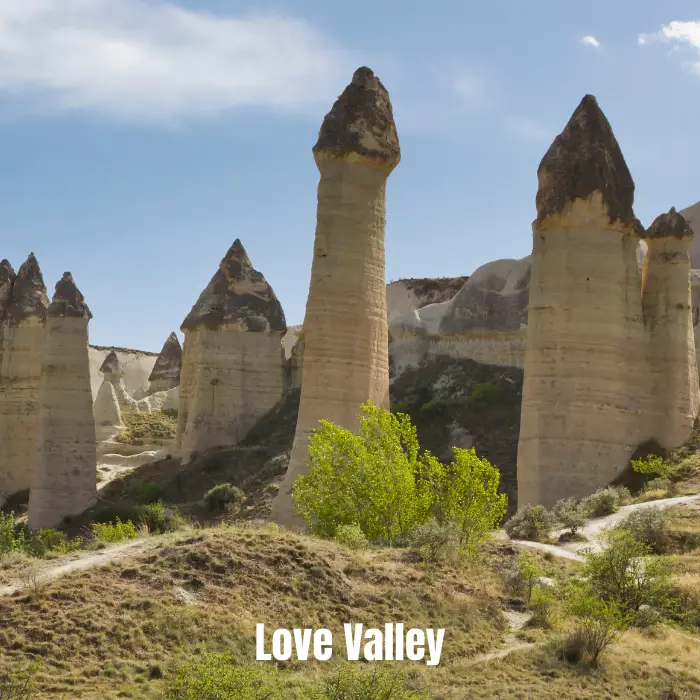 Love Valley is known to place for an interesting rock formation. The Love Valley also gets their names from the uniques rock formation, which looks like a man's private organ (Penis).
Mother nature has left these enormous penis-shaped monuments, which have become a tourist attraction.
This place is popular with couples for marriage proposals. Love Valley is also close to other popular attractions, Uchisar Castle and Pigeon Valley.
Visit Pigeon Valley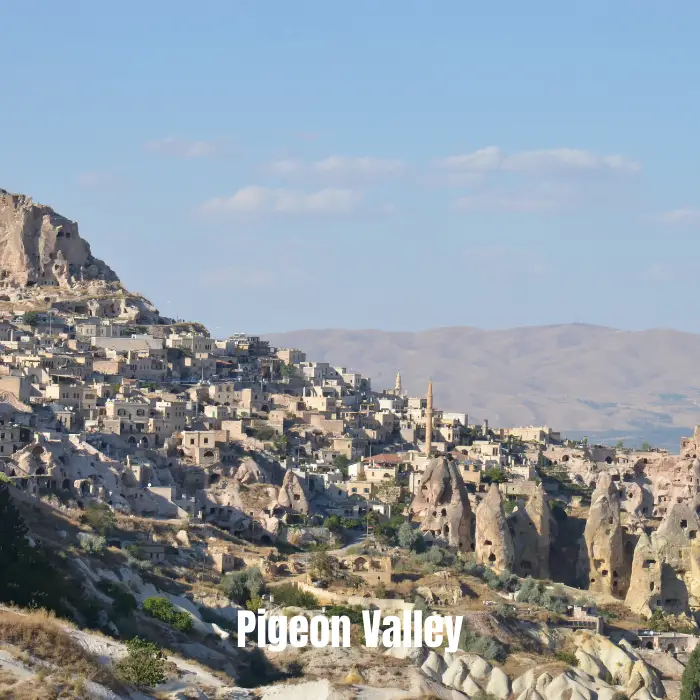 Pigeon Valley is among the most popular hiking trails in Cappadocia. This valley gets its name from hundreds of pigeon-caved houses. 
Pigeons have been used for food and fertilizer in Cappadocia since ancient times.
Pigeon valley ranks first as the most famous among valleys in Cappadocia. In addition, Pigeon Valley place offers you beautiful views of this valley.
---
Recommended Reading:
15 Amazing Places to Visit in Turkey
---
Visit Ihlara Valley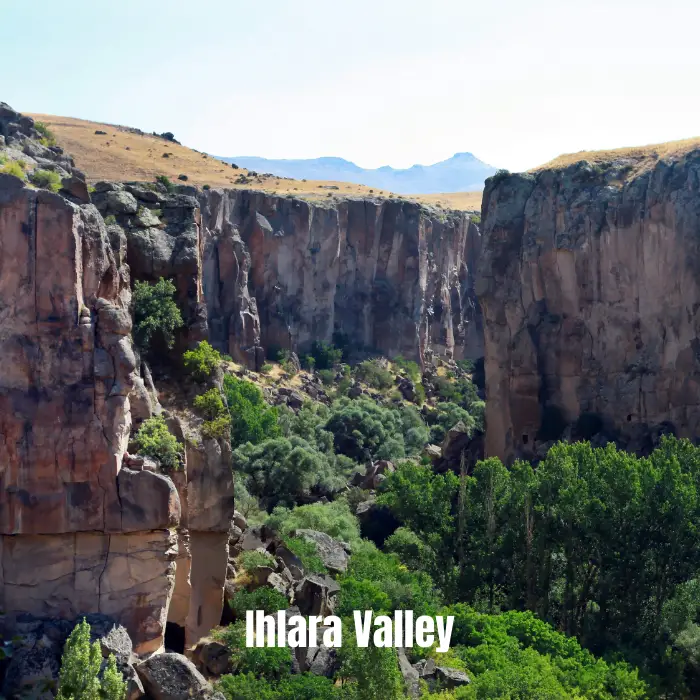 Ihlara Valley is a 15km long and up to 150-meter deep canyon located in the Cappadocia Region. This place has formed because of the volcanic eruption and erosion by the Melendiz River a hundred of thousand years ago.
It's an excellent spot for tourists who want a leisurely walk while enjoying peace and nature. Besides, Ihlara Valley contains hundred of cave churches decorated with frescoes.
The gorge starts at Ihlara village and ends at Selime village.
Explore Devrent Valley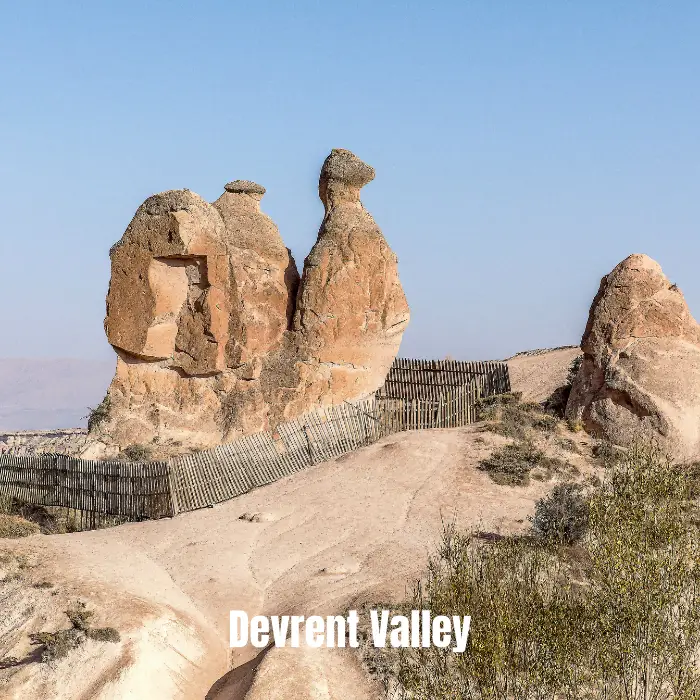 Devrent Valley, also called Imaginary Valley, is one of the hit lists in Cappadocia. Unlike the other valley in Cappadocia, Imaginary Valley does not have cave churches, and it was never inhabited.
This place is popular because of the unusual rock formations. Many rock formations show animal-like shapes, such as camels and other animal shapes.
The coolest part of this fascinating shape is that it is all-natural and created by Mother Nature.
Visit Selime Monastery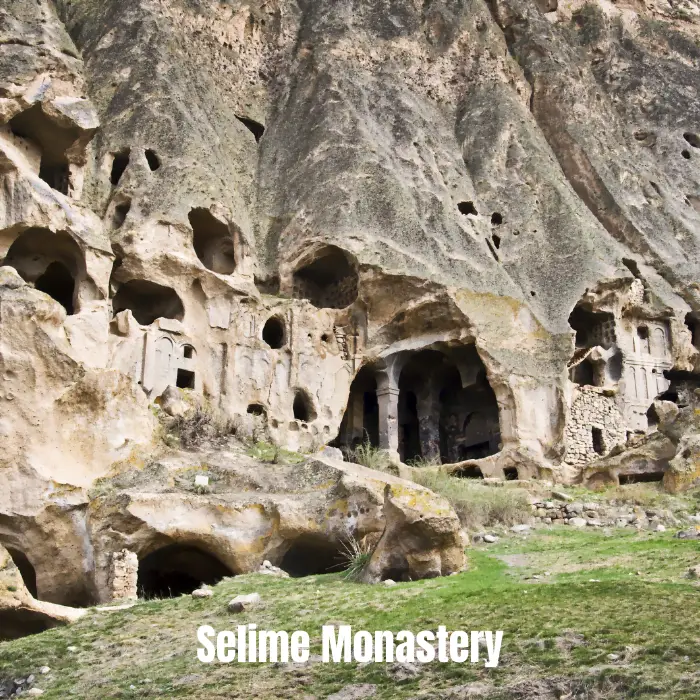 Selime Monastery is a giant rock-cut monastery that has various rooms. It's an enormous religious building in Cappadocia.
Then, experts believe it took more than 200 years to shape the monastery and was used between the 8th and 11th centuries. Since the 16th century, Selime Monastery has been abandoned. Most of the paintings were destroyed, but there are still some remaining.
Spend your time around 1-2 hours to visit this place.
Stay at Cave Hotel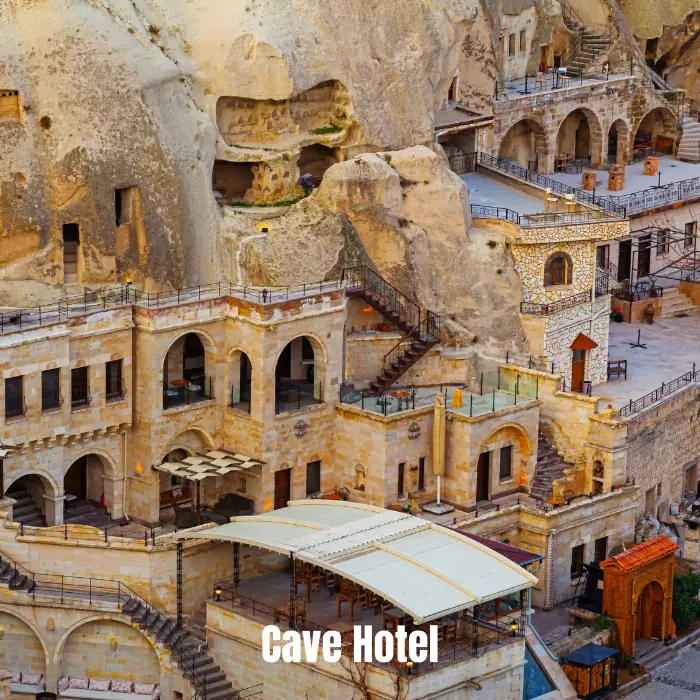 Cappadocia is famous for cave churches, houses, and monasteries. Now there is a cave hotel for your accommodation while traveling to Cappadocia.
If you travel to Cappadocia, at least spend one night to feel the unique experience of staying and sleeping at a cave hotel, which you hard to experience somewhere else.
It's easy to find a cave hotel in Cappadocia. Cappadocia has many cave hotel choices to suit all budgets, from the cheapest to luxuries.
Stay at a cave hotel could be a one-lifetime experience.
Hot Air Balloon Ride
Cappadocia is one of the popular tourist destinations for air hot balloon rides. Even Cappadocia is famous because of the air-hot balloon activities.
If you think Cappadocia is beautiful from the ground, wait until you see it from the skies. It's an entirely different experience to see it from above.
It might be too expensive for an air-hot balloon ride, but it can give you an incredible experience.
It can be a once-in-a-lifetime opportunity that you do not want to miss.
The 12 listed activities above are not the only things you can do in Cappadocia. But we think this list is among the popular activities in Cappadocia.
There are a dozen of other activities you should try. Have fun on your trip!