*This post may contain affiliate links, which means we may receive a small commission, at no additional cost to you, if you make a purchase through a link. Thank You! We really appreciate it!*
With its diverse culture and rich history, Malaysia is one of the must-see countries in Southeast Asia. More than being the home of the Petronas Twin Towers, there are plenty of other attractions to visit.
Though the majority of the population is Muslim, tourists from different religions are welcome as long as local culture is observed. With their tagline "Truly Asia," prepare to experience the rich Asian culture in this country.
Though Malaysia's tourist spots are mostly on land, there are plenty of other places to visit with its islands. Located on the East Coast of Peninsular Malaysia, the state of Terengganu promises a tranquil and traditional experience. It provides a unique Malay character that can be seen in more than just its beaches.
Knowing Terengganu
As Malaysia adapts to modern society, Terengganu is a place where it feels like you'll somehow travel back in time. It has successfully retained some of its original charms, while the neighborhood shares common interests and appreciation for its homeland.
The diverse culture can also be seen in the area, which adds character to the local community.
Traveling to and from Kuala Lumpur and Terengganu
When you look at the map of Malaysia, you'll see that the capital Kuala Lumpur (KUL) is on the left while Terengganu (TGG) is on the right. The easiest and fastest way to reach to and from these 2 locations is to book a plane ticket. Airline companies like Air Asia and Malaysia Airlines offer flights with an estimated travel time of about 1 hour.
If you take a plane, you better choose the Sultan Ismail Petra Airport in Kota Bharu, Kelantan, rather than Sultan Mahmud Airport, Terengganu. Traveling from Sultan Ismail Petra Airport is closer than Kuala Terengganu Airport.
If you would like a cheaper option, bus companies are offering to and from Kuala Lumpur and Kuala Terengganu. Fares usually cost from RM 45 to 50, depending on the type of bus and services that it offers. Locals would recommend taking a bus ride to enjoy the views or taking the sleeper bus to take some rest while traveling. Travel time would usually range from 6 to 7 hours.
Train services are also possible, but there is no direct link between the two. You may still need to take a bus ride, so it's better to choose the other options. Traveling by car would usually take 5 hours, but you'll have the freedom to stop at some attractions along the way or just enjoy the view.
The 3 Most Popular Islands in Terengganu:
Perhentian Island
Famous for water activities such as diving and snorkeling, the Perhentian Islands are the home of different seashells and aquatic animals. It is also the farthest of the three islands in this blog post, located near the rural state of Kelantan in the northern part of Malaysia.
The word "Perhentian" – where it got its name – can be translated to "stopping point." It is divided into 2 islands, called Perhentian Kecil and Perhentian Besar. In the local language, Kecil and Besar mean "small" and "big," respectively.
Kecil Island offers more modern options for accommodations. It is highly recommended to take a walk along Kecil's Long Beach, where you can also see Perhentian Besar from afar. In general, this island is the best for solo travelers and budget backpackers as it offers more reasonable prices from food to accommodation. The bigger island – Perhentian Besar – is best for families. There are more options for beach resorts, including various day tour options.
To reach Perhentian Island, head to Kuala Besut by public bus or by car. This is where you can ride a boat to reach the island.
Redang Island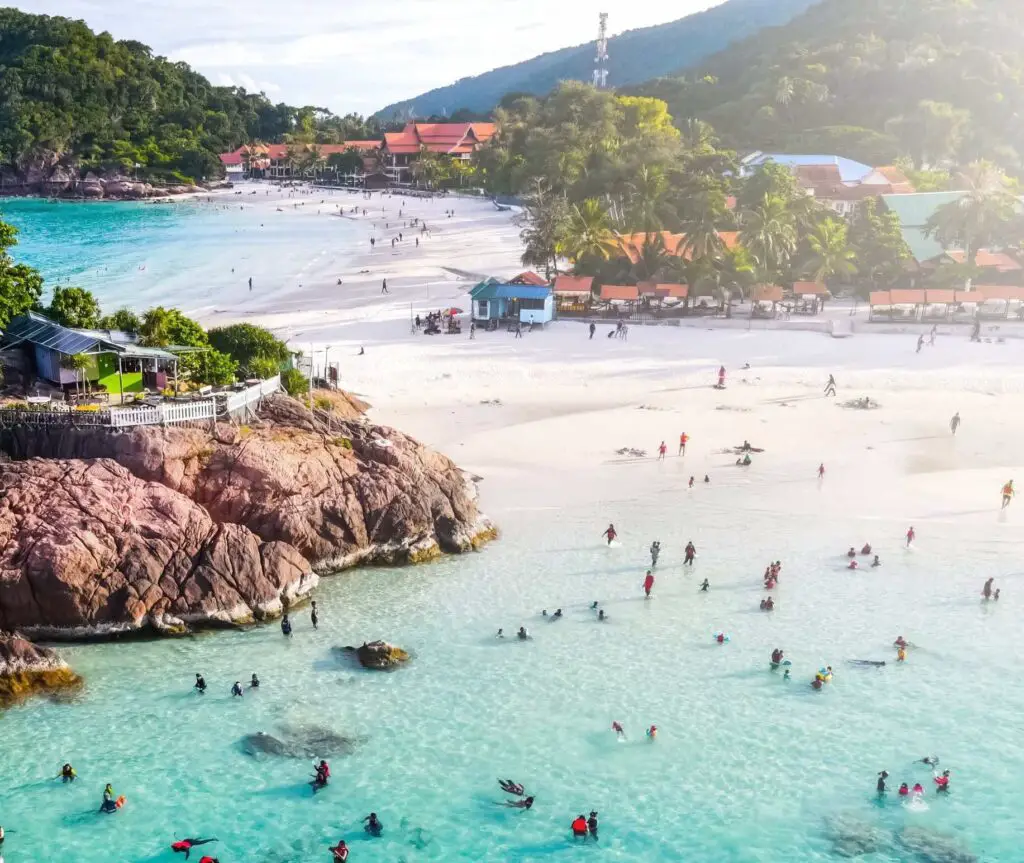 Familiar with locals such as Pulau Redang, it is more popular with tourists with its more accessible beach resorts. Its beautiful clear waters have different shades of blue in combination with its white sand.
However, there are not many activities available, and the island is more for a relaxing vacation. Diving, snorkeling, and visiting the Redang Marine Park are the common things to do on Redang Island.
For your information, among these three islands, Redang island is the best spot to see turtles. While doing the snorkeling or diving activity, you have a chance to swim with the turtle.
To reach Redang Island is to take a boat, whether from Merang Jetty or Shahbandar Jetty. Take a public ferry which may take one and a half hours to reach the island. 
Kapas Island
The nearest island to the city proper of Terengganu, Kapas Island, is only about 6 kilometers from Marang. It is one of the white-sand islands of Malaysia and translates to "cotton island" in the local language. 
This island is ideal for visitors who want a private, quiet and peaceful vacation. Aside from enjoying the beach, usual water activities such as kayaking, snorkeling, and scuba diving are available for tourists. Interesting rock formations or discovering the jungle is an exciting activity too.
From Kapas Island, you can see Gemia Island, which is only 800 meters away. You can visit this small and secluded island, where you can also book an overnight stay (Gem Island Resort & Spa).
To visit this wonderful island from Kuala Lumpur:
Ride on a bus going to Kuala Terengganu and alight at the MBKT Bus Terminal.

From there, take another ride going to Marang Jetty (buses and taxis are easily available).

Once you have reached the jetty, buy a boat ticket, and it may take around half hour to reach the island.
Important Infomation
It is important to note that most of these boats do not operate, and the island is closed due to the monsoon season, which is the monsoon starting around November until February or Mac (depending on the weather).
Due to its growing popularity, many tourists are now discovering the beautiful islands of Terengganu. These islands are a popular area for water activities and a place where you can appreciate its beautiful white sands. It also showcases the traditional cultures of Malaysia in communities that are surrounded by bodies of water.
Aside from being seasonally accessible, the islands of Terengganu are great for those seeking a 2-day adventure while in Malaysia.